I do not intend to write about this wonderful trip in Laâyoune & Khnifiss National Park but my good friend Tarek was right, just put it on standby article and publish whenever I feel like sharing. Hell yeah! I guess it's worth it sharing especially the navigation part since there's no public transportation going to the park. It was my second time in Laâyoune and my first time wasn't that enjoyable since I sustained an ankle injury after prior to that trip in November 2018. My second one was an epic for we were able to explore the almost untouched fine sand dunes of Laâyoune with interesting migratory birds, wander the cool Atlantic coast, and see most of the city. In Khnifiss, we had the time of our lives exploring the natural wonders and unique landscapes. I hope you enjoy reading our personal experience!
First Day: February 09, 2020
Now, I came back with my two friends in this city built of nowhere. We woke up in the endless desert a few miles away from Laâyoune. The arid landscape which supports less vegetation plus the gloomy sky added to the exhaustion we had. The 12 hours CTM bus ride from Marrakech was really draining. Added with the passport check at the city entrance. In November 2018, the first time I visited El Aaiun (Laâyoune), I promised myself not to take the bus anymore, but here I go again. After more than an hour of waiting at the bus station, we decided to just look for a café and sit down. The welcoming people, the easy conversation with them, and some good advice made us comfortable while sipping our very sweet mint tea. Finally, my good friend Oussama arrived and that's the start of our journey.
Our search for lunch
Laâyoune isn't that big. With just an hour by car, you can see almost all of it. We had a struggle looking for a place to eat. The first restaurant we checked only serves sandwiches since their chef hasn't arrived yet. Piece of advice, do not enter the restaurant when it's not the time for eating. Normally around 2:30 PM for lunch. We were too early for that. We made another turn at the city and pulled over to this Italian looking restaurant and luckily, they agreed to serve us ahead of time. Sometimes, the early bird catches something. Hahaha!
So we found ourselves sitting outside of the restaurant, enjoying the warm Saharan breeze while waiting for our meal. There was nothing special with the food we had but faith in humanity has been restored after I had a few slices of seafood pizza. Just for compliance though.
Second Day: The city outskirts and fine sand dunes
This city built in the middle of nowhere only provides the basic necessities such as banks, few hotels, some not-so-big grocery stores, petrol stations, a military hospital at the city entrance, restaurants, male-dominated cafes, and McDonald's fast food!
The second day of our visit was purely self-exploration and a long-through hike beyond the sand dunes. I love to do this kind of activity. I hate being on a tour and herded by these guys holding flags. We took our time sipping our freshly-brewed coffee and tolerable croissants at the coffee shop. My discriminating appetite didn't really pass with the quality of breakfast we had in that café. After breakfast, we roamed around the city and finally reached the outskirts. This is the dirty side of the city where they dumped all the rubbish including dead animals. Yucky but we made it there.  Imagine being in an apocalyptic movie! That's it. Our greatest challenge was to cross the river so we tried to navigate beside it and found the edge as the only way to get into the other side where sand dunes are waiting for us.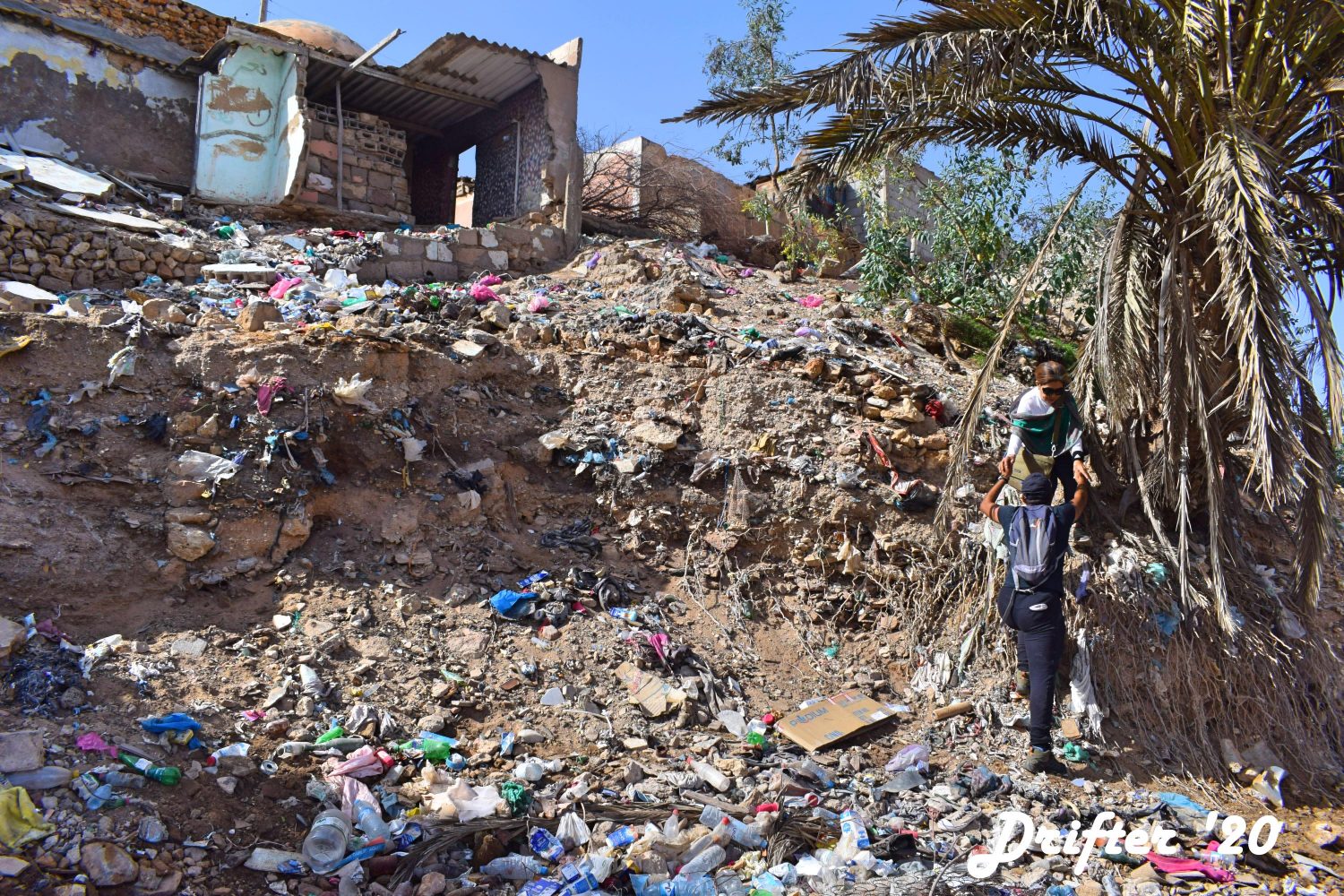 While crossing the river, we encountered hundreds of flamingos and other endemic birds taking their time to hunt fish. That was a polluted river. We noticed a lot of big fish dried along the muddy trails. Later on, we found that it was due to water pollution. Reaching the sand dunes part, we took time to enjoy by walking and sliding in between those fine grains of sand. If you don't want to eat sand, please bring something to cover your face. Mind you, the wind was merciless! Always take with you some bandana to protect your face from the blowing sand.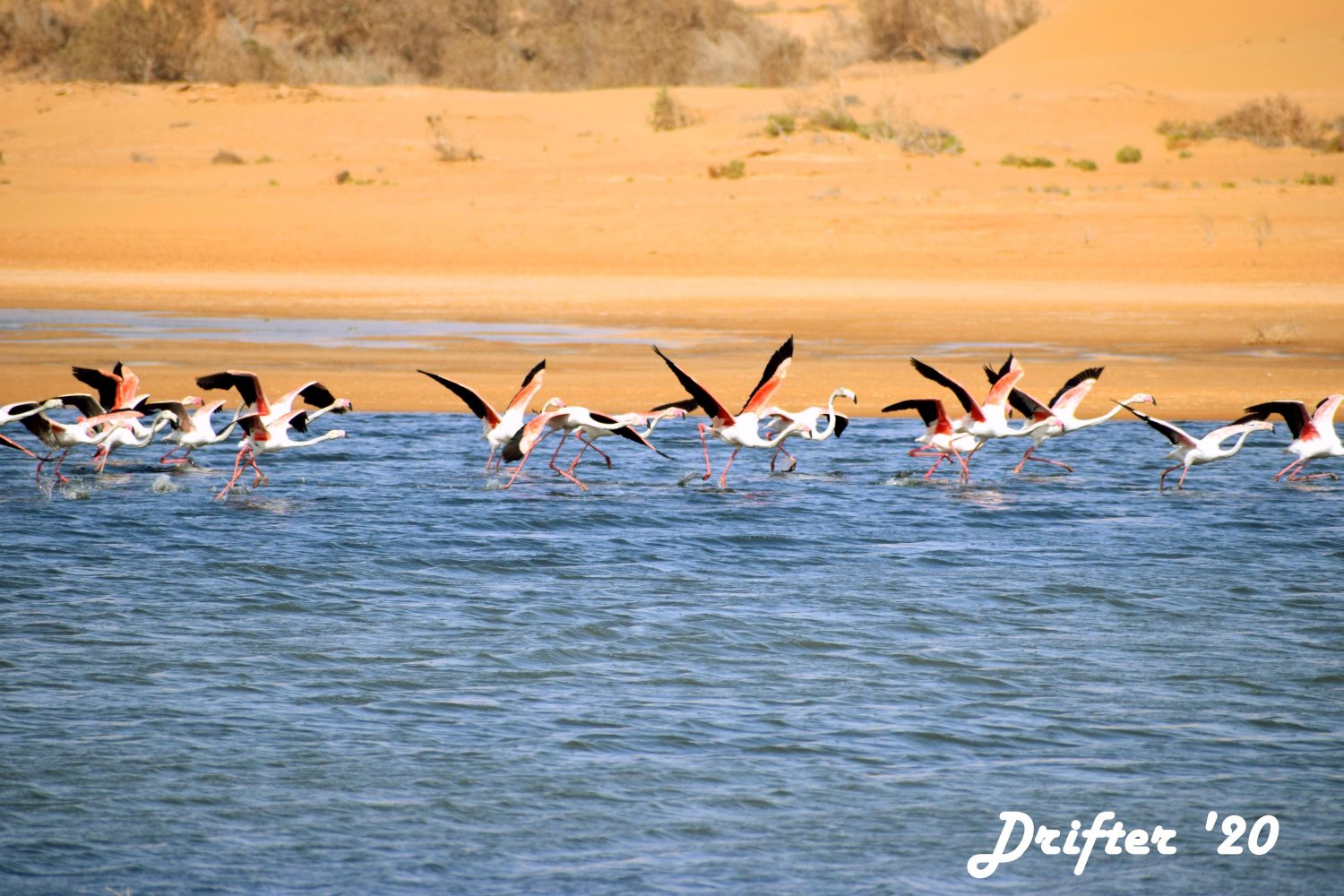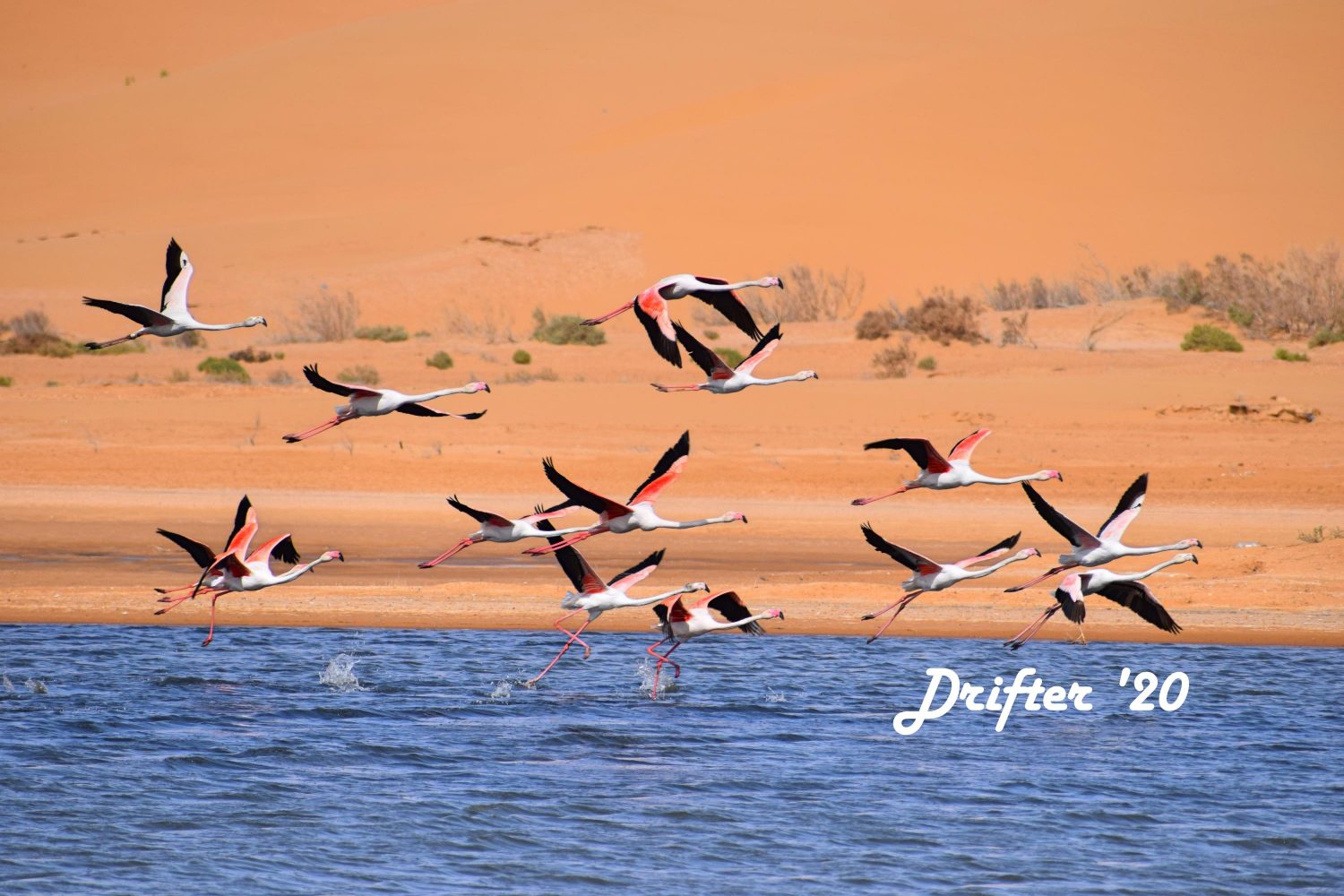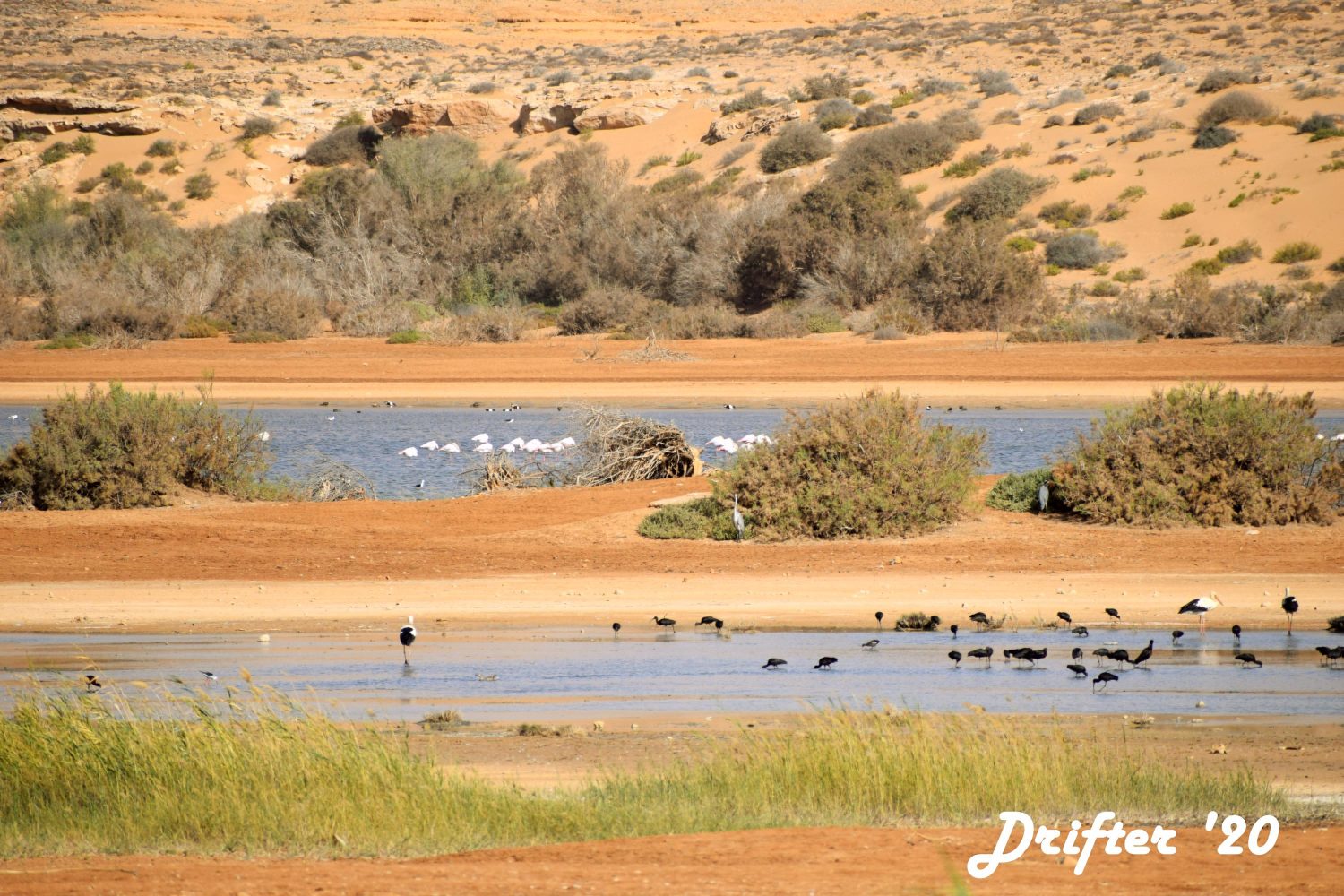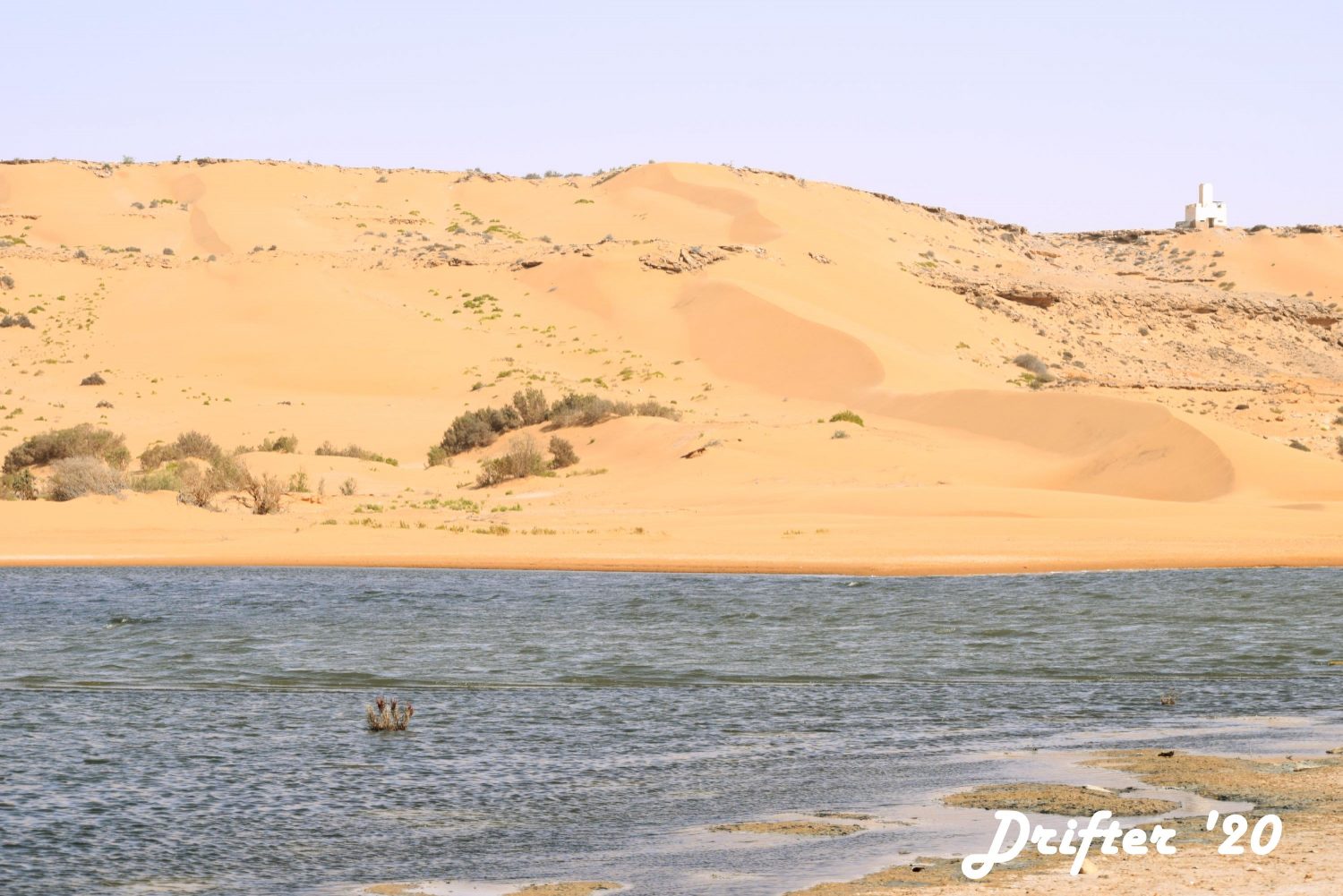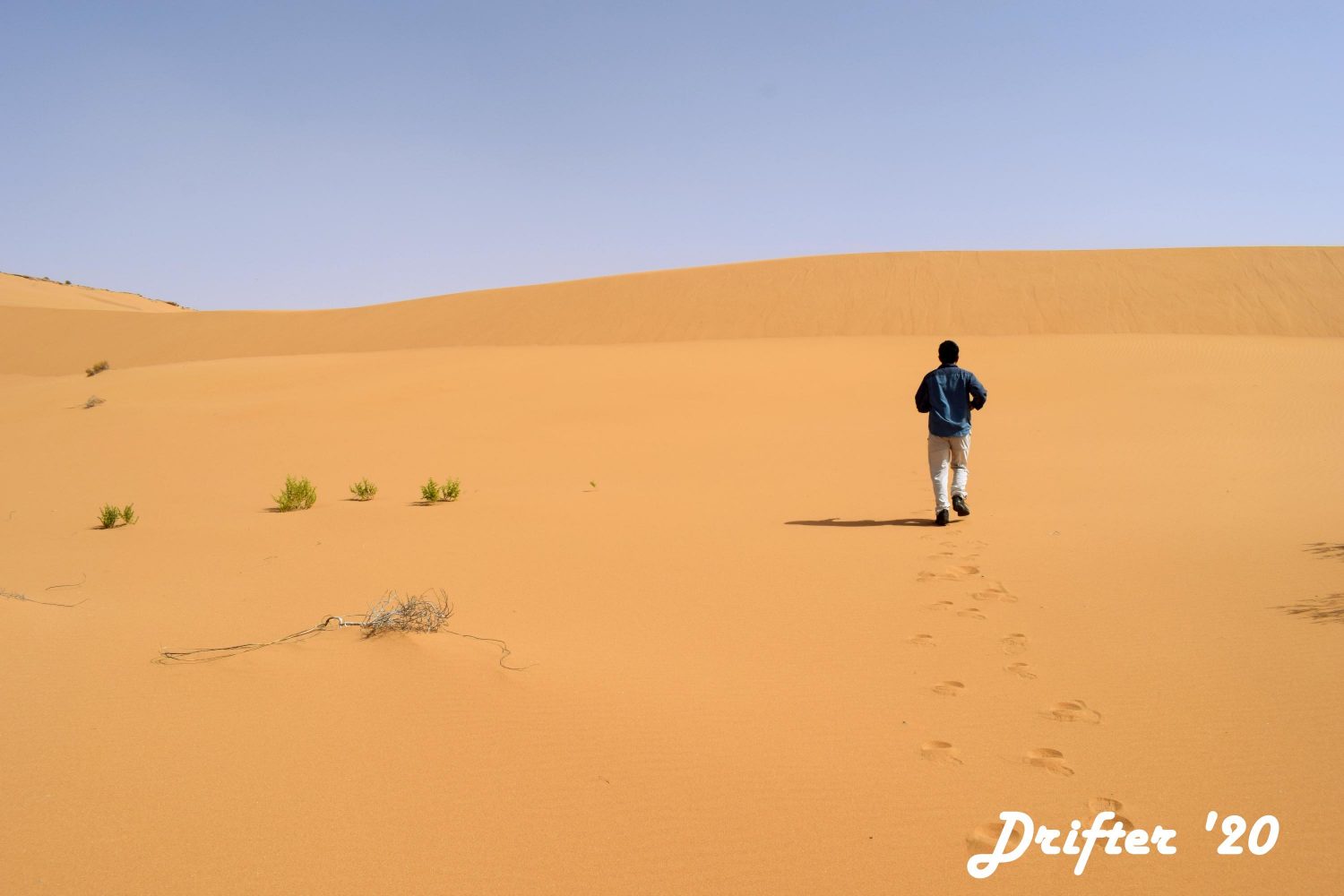 We had enough of the sand and heat so we went back to the city taking the same trail we had. Passing by those muddy, flowing, and stinky lagoons. We had successfully made it back to the city alive and intact. It was like we were terrorists approaching the walled city. Kids were cautious about us. I guess they were aware of the NCOV outbreak. My friend Alice got bullied in Chaouen a week before that trip. Kids inside the school bus shouting o her "CORONA"! They just came into a halt when I started making a video.
Now going back to the city, we passed by into their fish market. That was the cleanest wet fish market I had ever gone to in my entire existence. They got all fish and other kinds of seafood you could ever imagine. We bought the best-quality sardines for 8 MAD a kilo for dinner. I would love to go back here someday.
Third Day: City walk and the ultimate search for a grocery store
I can't fathom why there are plenty of commercial banks here but not even one big supermarket exists in Laâyoune. Whatever the reason is, I hope someday, someone will invest in this kind of business. After a few hours of search, we found a decent supermarket enough to buy what we need for our next destination. In the afternoon, after preparing dinner, we visited the Atlantic coast. After a few minutes of wandering and collecting some rock souvenirs, we decided to spend dinner at the desert camping. The guy at the camping wants to charge us for a whole night so we just went home and enjoyed our vegetarian pasta and Tanduay Rhum.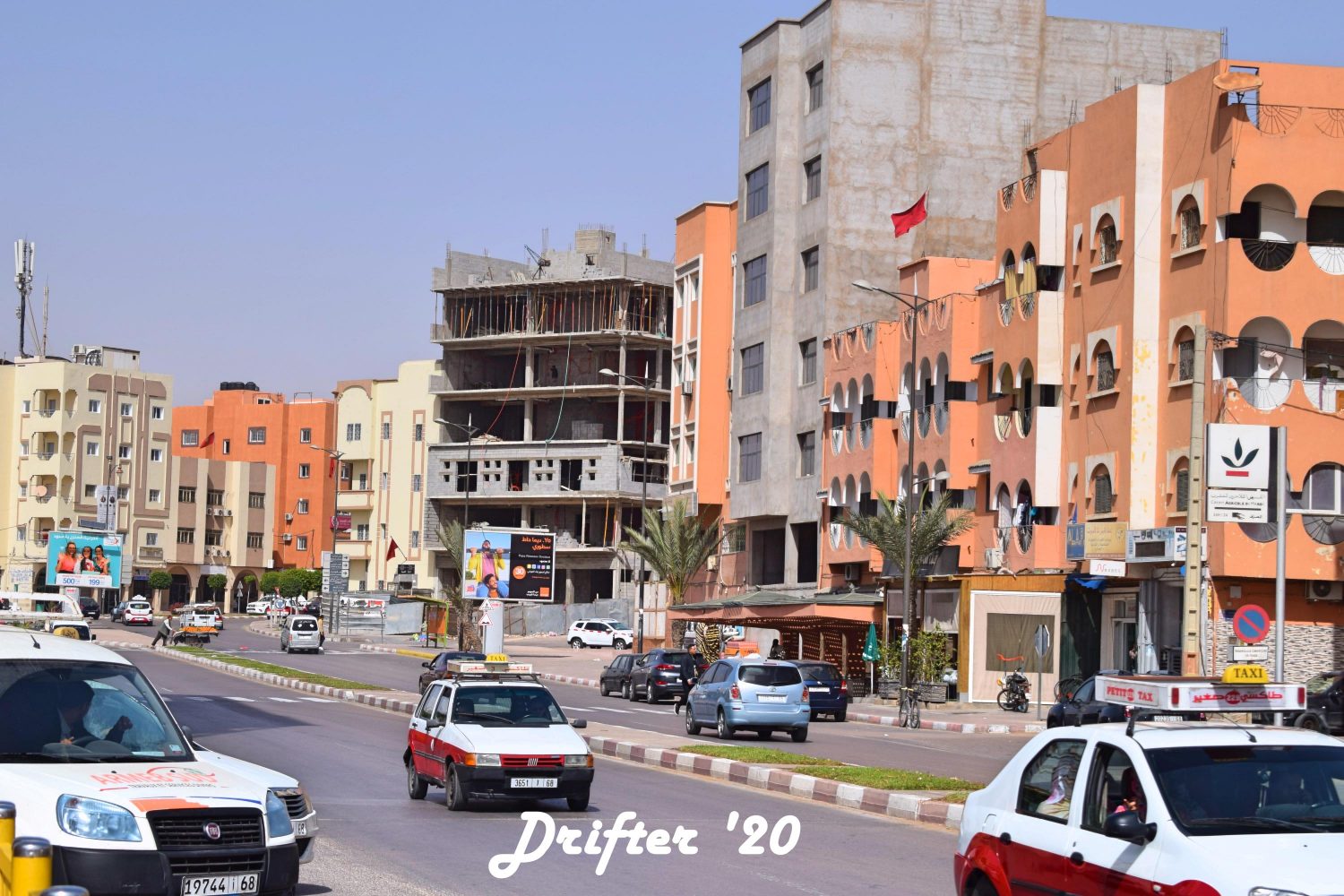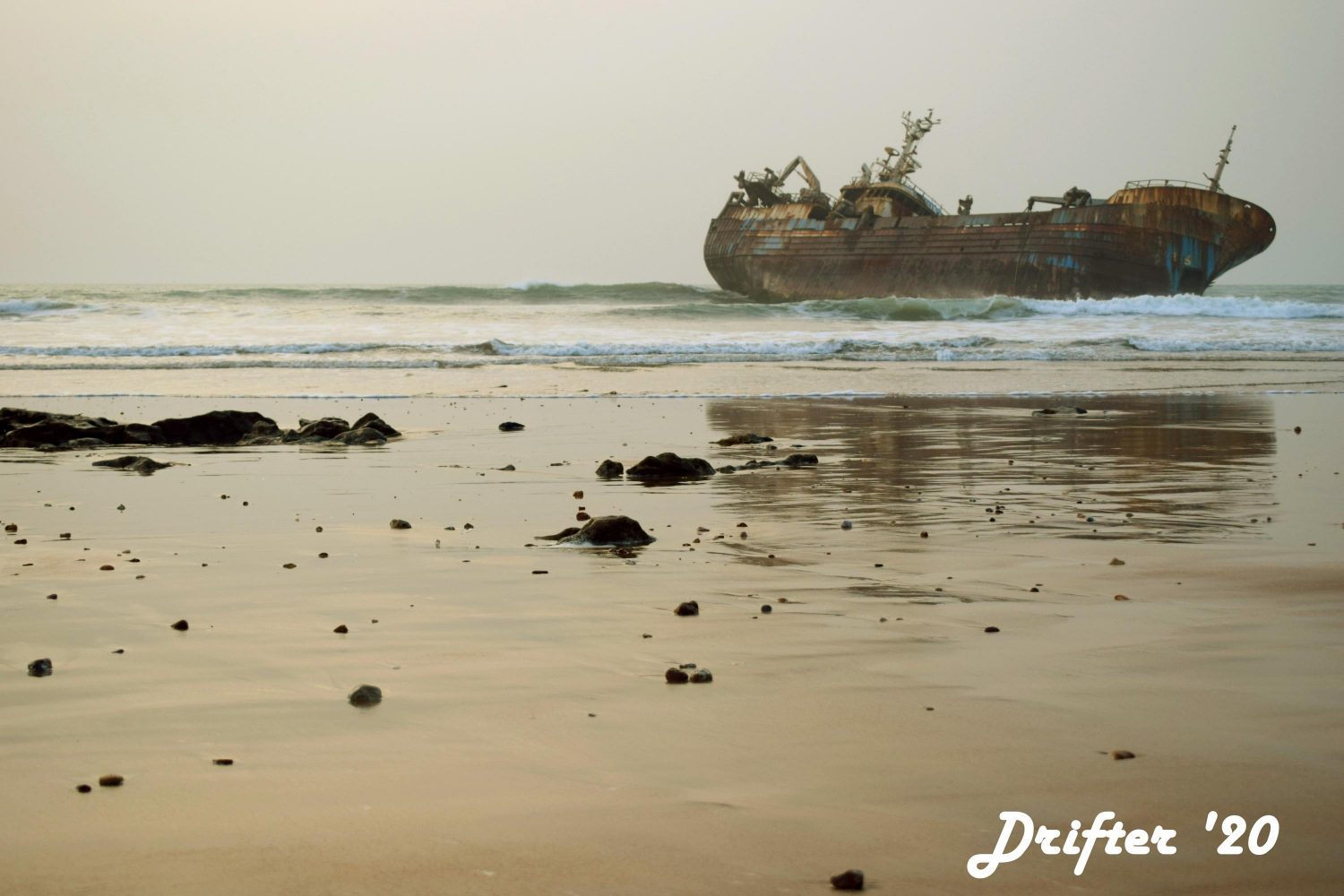 Fourth Day: Moving To Our Next Destination
It was a bit of an adventure and a whole lot of fun how we got to our next destination in Khnifiss National Park. My fascination with this park started last year when I came across this illustrated book of Khnifiss. This is probably the least visited park in Morocco due to its inaccessibility. There's no public transportation going there. After breakfast at Oussama's place, we walked to the entrance gate of Laâyoune and waited for some vehicles where we can hitch. There were also some people patiently trying their luck. Some white taxis and private vehicles can only offer 1 seat so we declined. Finally, after an hour, we got someone who can take us to the park. Swilm and his family visited Laâyoune and on the way back home to Sidi Akhfennir, he agreed to drop us in Khnifiss for the amount of 50 Dhs each.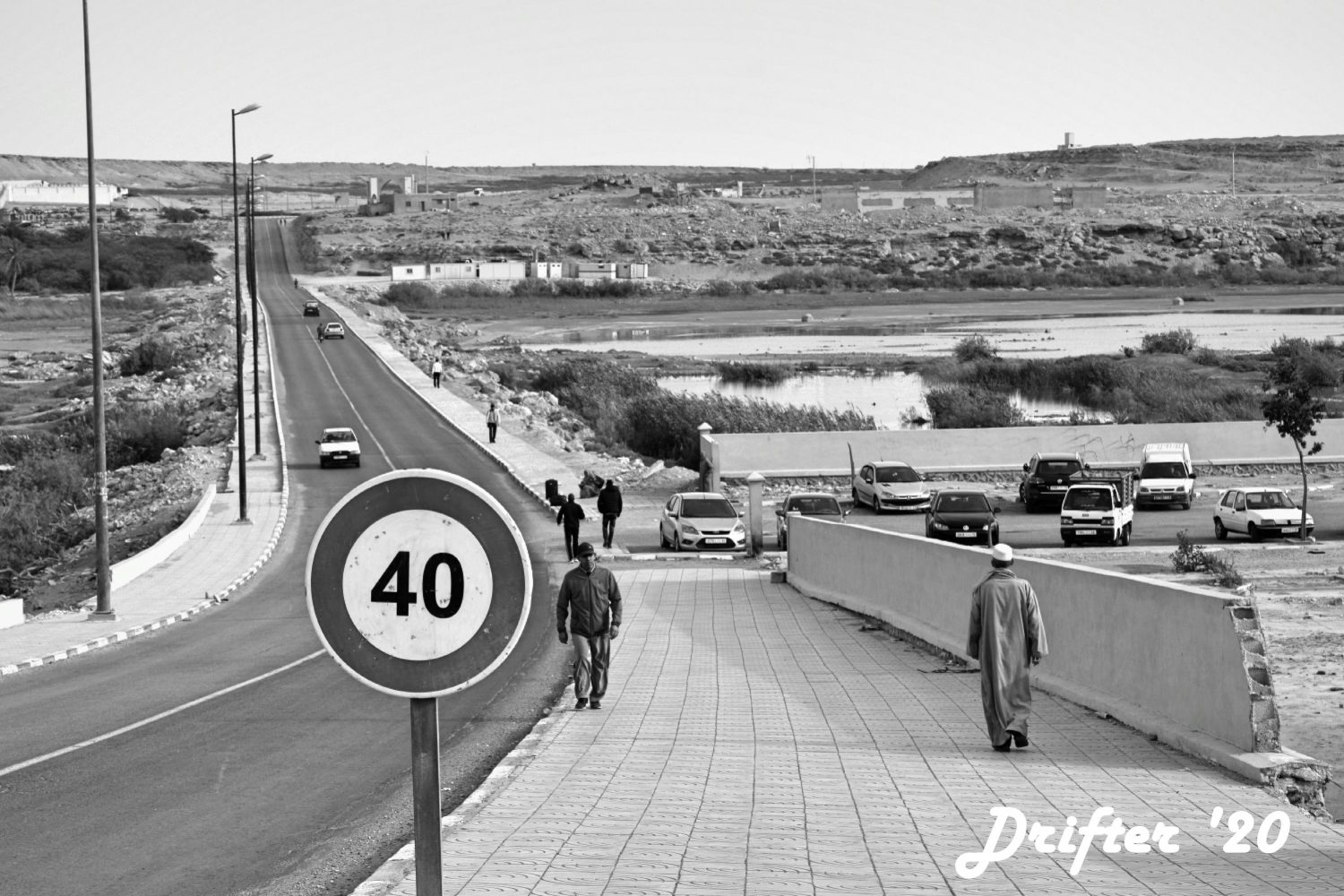 Tarek, Alice, and I left Laâyoune with indelible images of tourist-free sand dunes, freezing Atlantic coast, lively people, and the laidback city built in the middle of nowhere. Loaded our bags at the trunk of an old white Mercedes Benz and traversed the 124km+ of bone-jarring ride passing by Tah and Tarfaya. One thing I liked with Swilm is his professional driving skills like in action movies. He can escape in those narrow rocky road and skip from colliding with other cars which we really experienced. Well, it was just my 2 friends since I was asleep when we encountered the near-death situation. Tarek told me that I could have been awake in heaven if Swilm didn't make it.
We safely arrived in Khnifiss. Took Swilm's mobile phone and started the trek to the lagoon. Our drop off coordinates were: 27°59'30.3″N 12°15'30.7″W.
A Walk In The Park
The scorching heat from the sun didn't bother us to continue the journey to the lagoon. After all, there's now a place for us to rest or find a tree. We are in the middle of the desert. Far from civilization and don't know what's in there for us. Guided with our offline map, we continued the trek and found a safe place to leave our bags while exploring. After lunch of leftover sautéed vegetables, bread and banana, we explored the wetlands of the park and was amazed by the rich biodiversity with the presence of ducks in several special including marbled duck, flamingos, and some edible shells. The mudflats were the most entertaining part of the trip when my friend Alice got stuck in it. I guess it was her first time and she was crying to death. Next, we checked was the sand dunes and the limestone formations. One whole day isn't enough to explore the vast 1850 square kilometers. After we checked the endless limestone plateau, we went back to where we left the bags and continued to the endless sabkhas. This is a typical Saharan landscape of coastal, supratidal mud or sandflat. Saline minerals usually accumulate forming a hard surface. But be very careful. Looks can be deceiving. While trying to figure out as to where we set our tents, we came up with this idea of going up to the plateau and check for some options. We never regretted and saw a few structures. Later on, it was the park ranger's station standing every 5-10 kilometers beside the lagoon.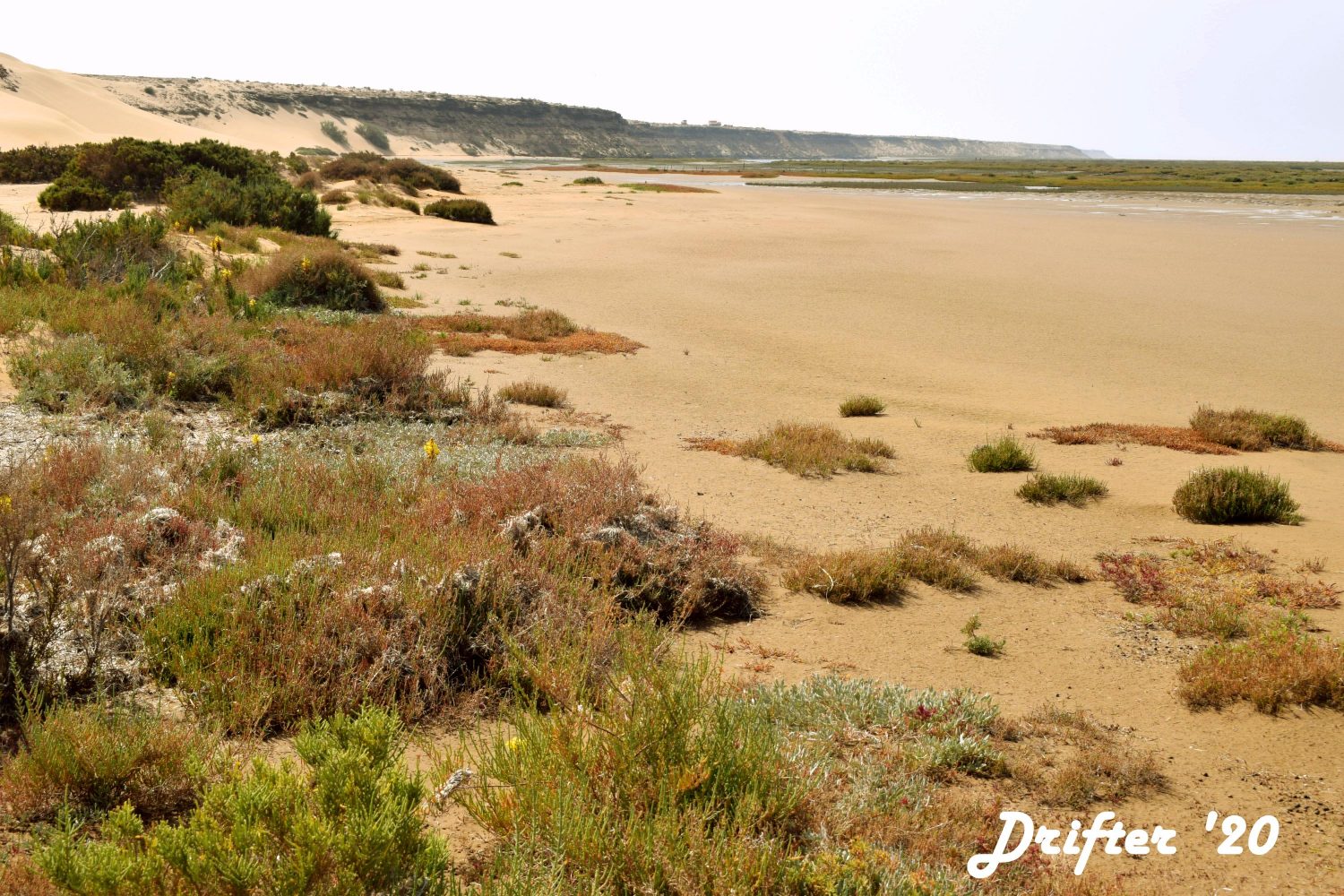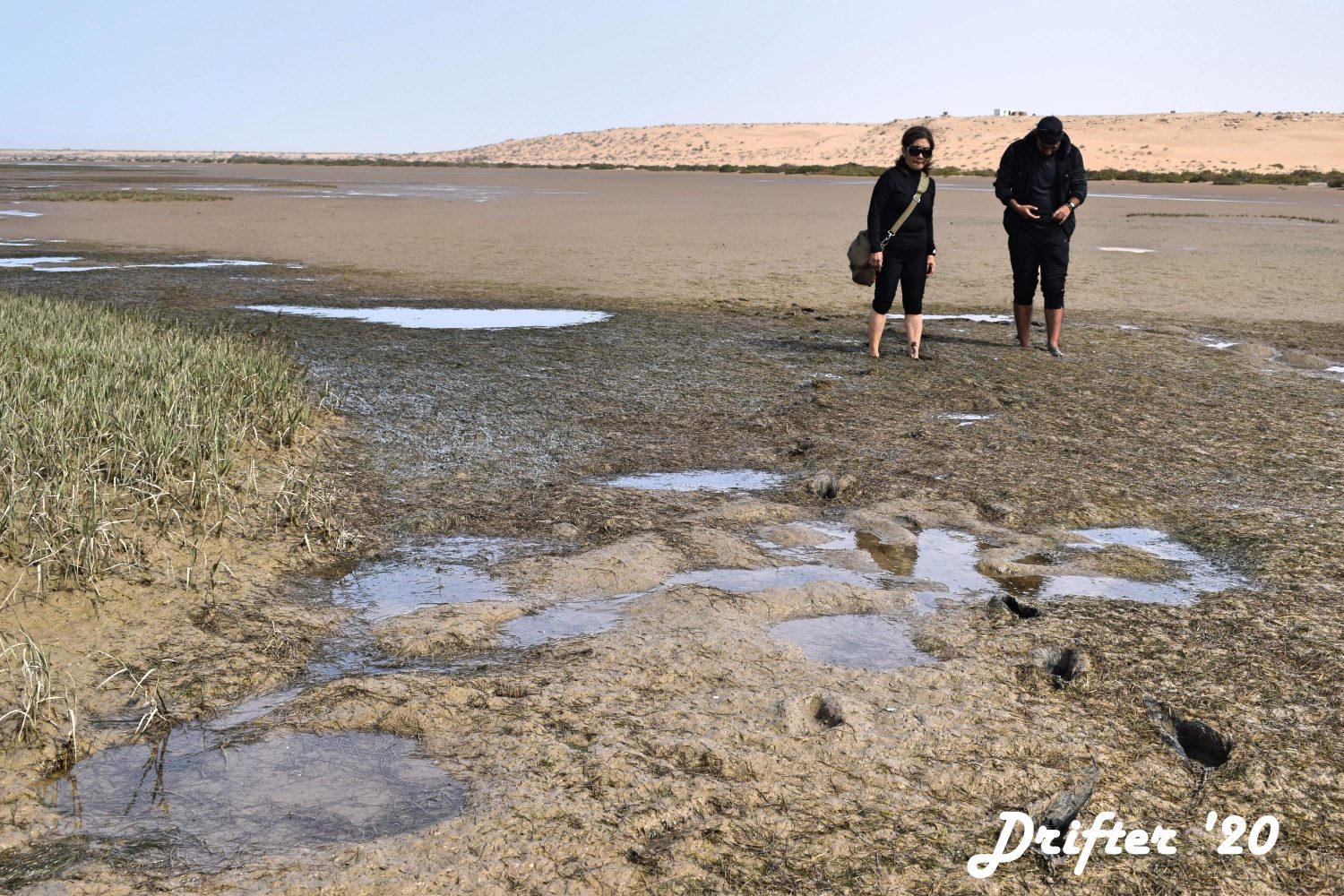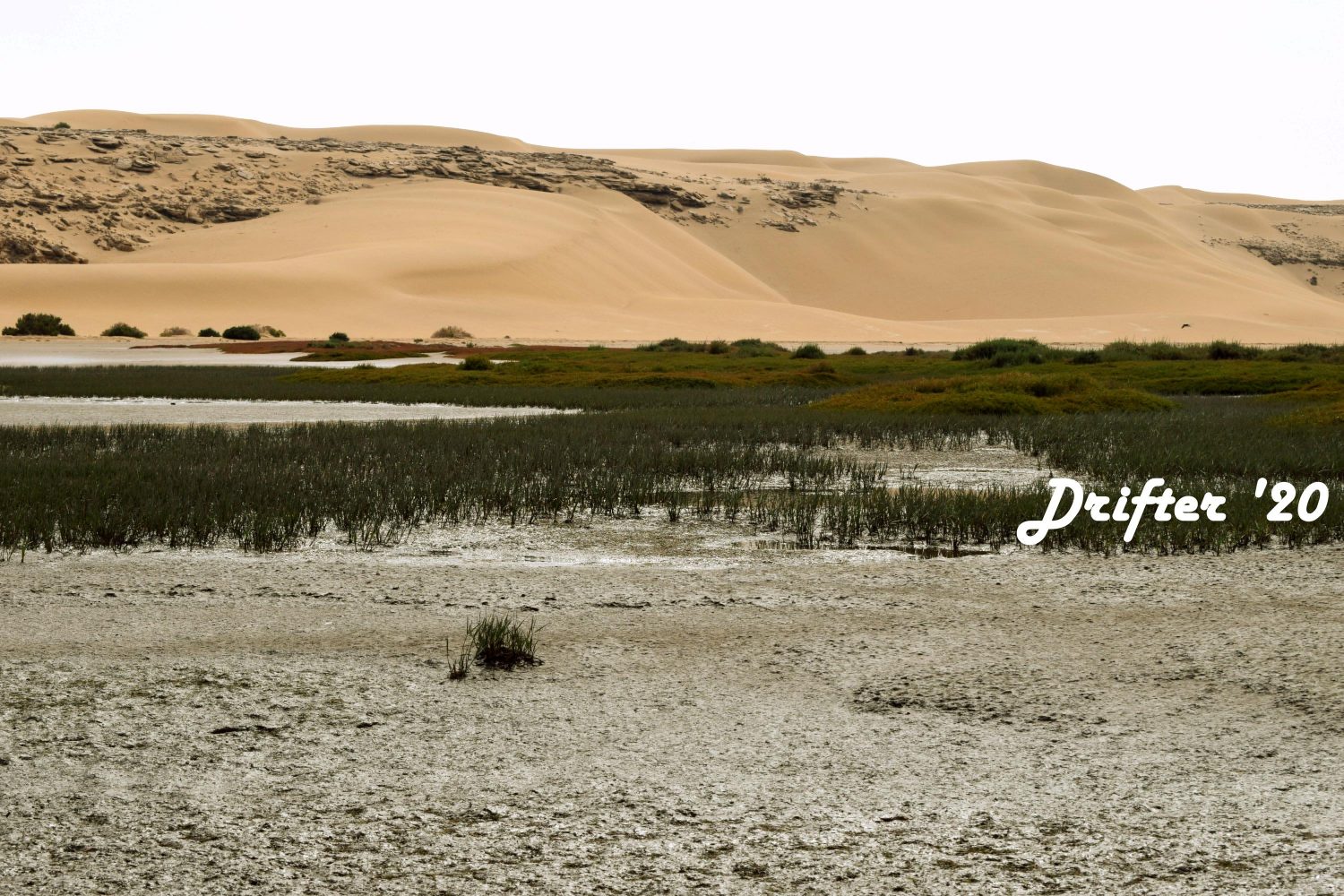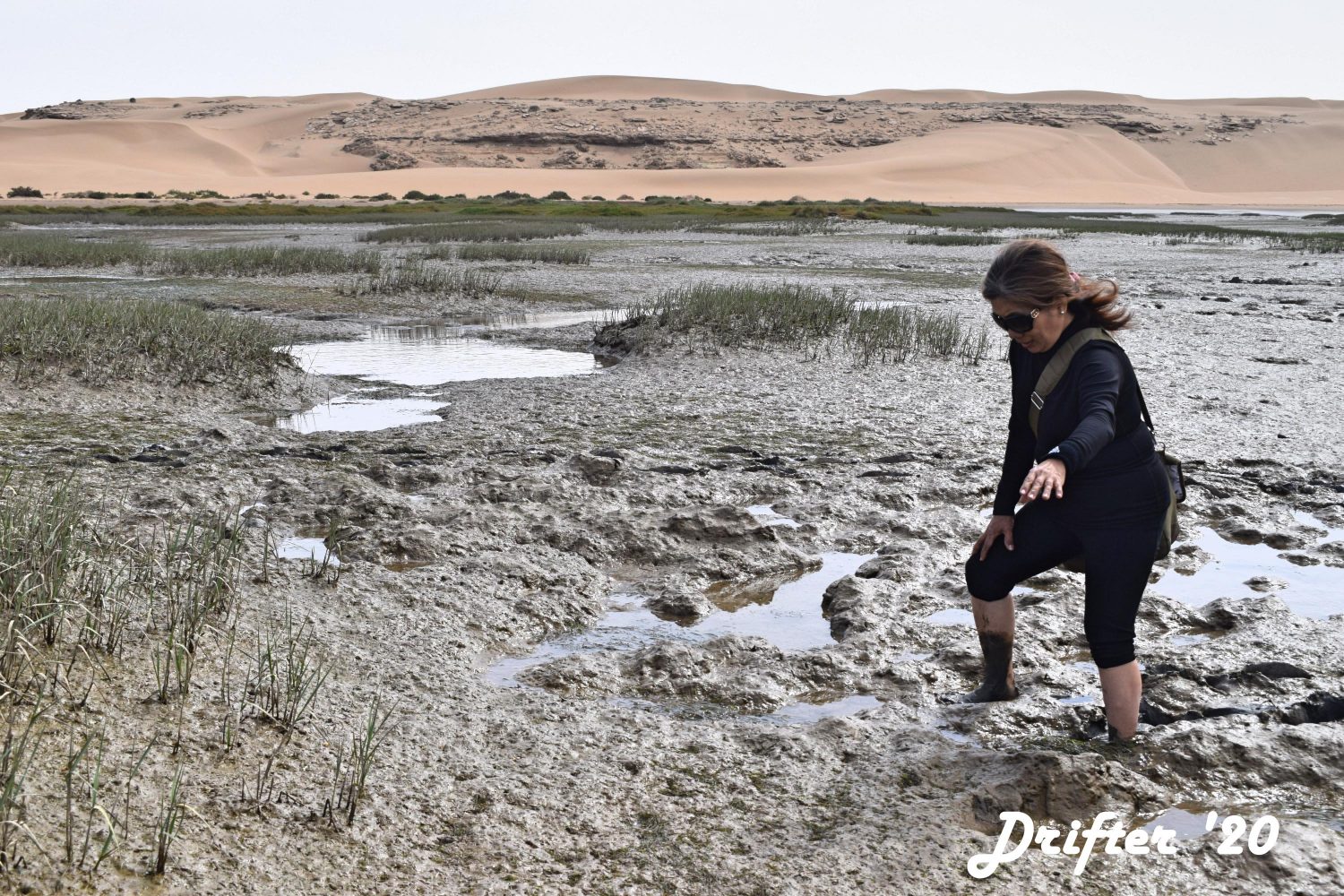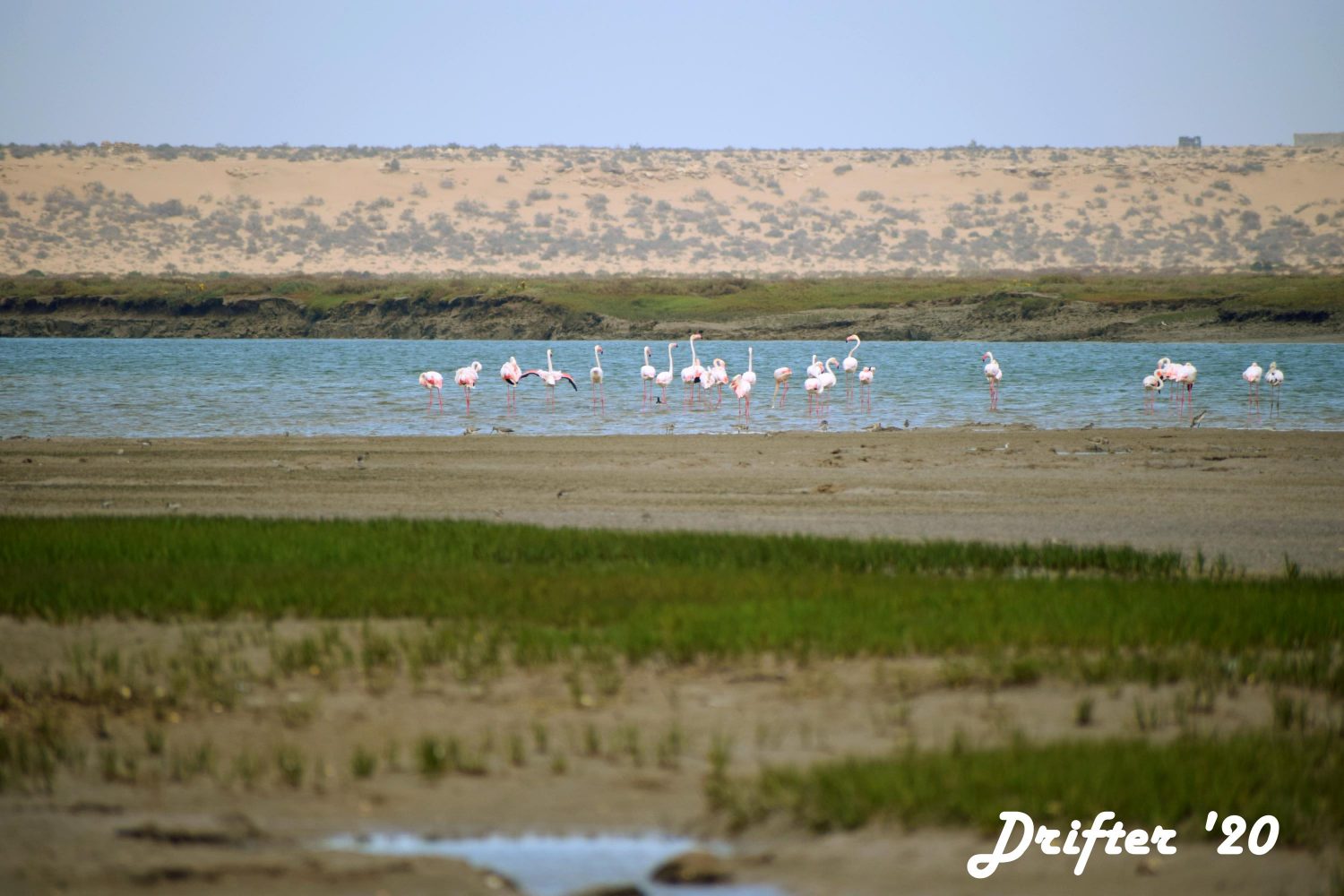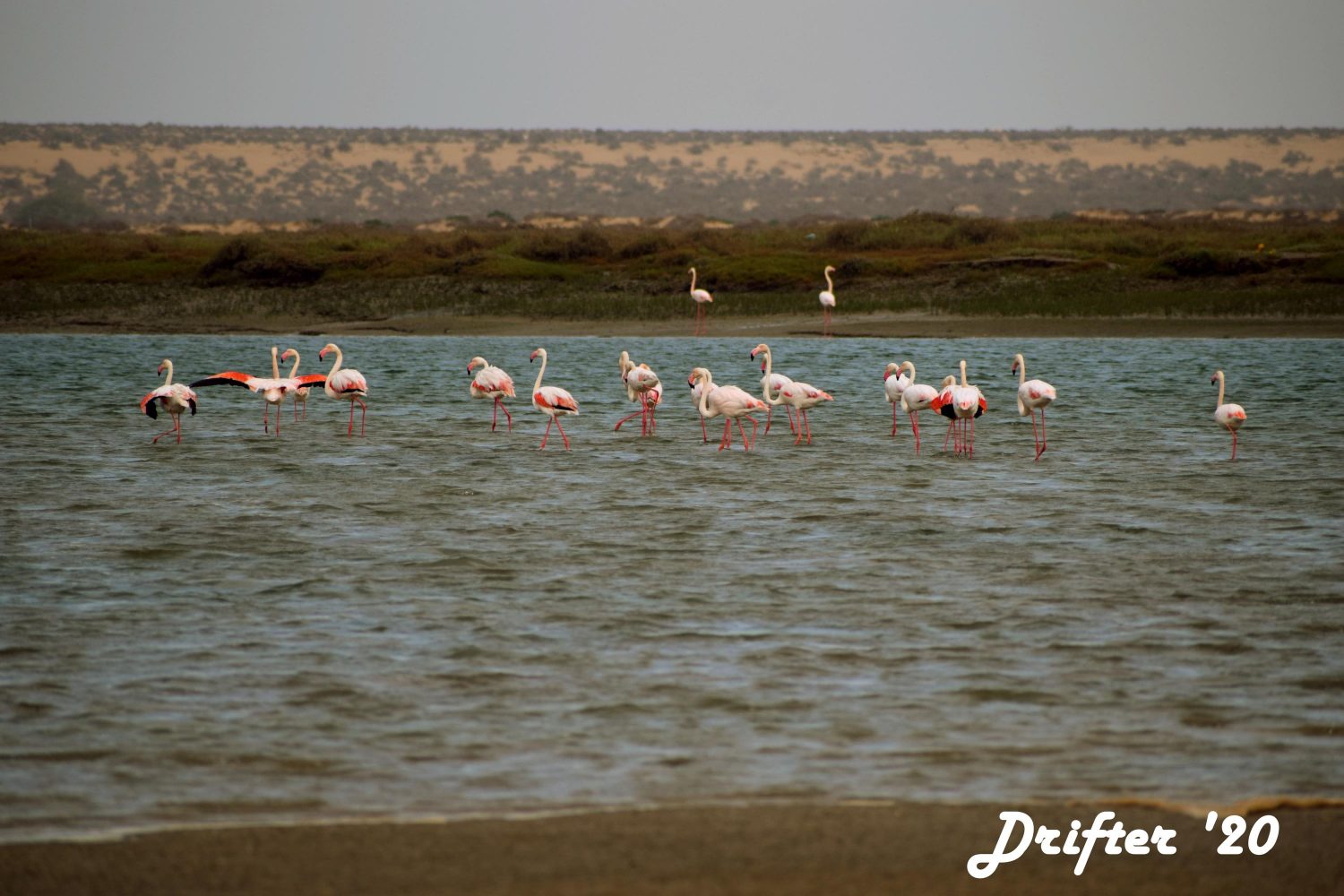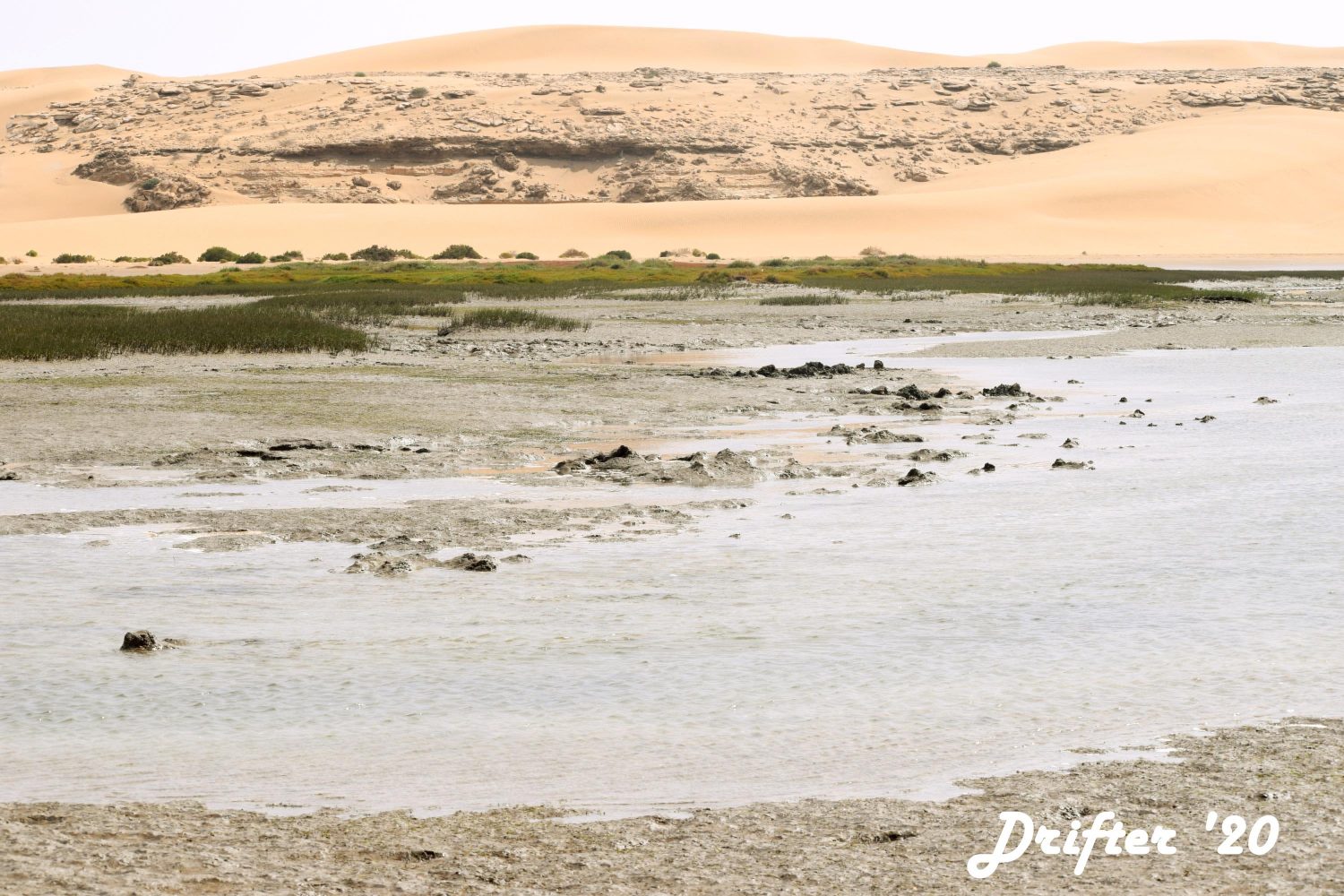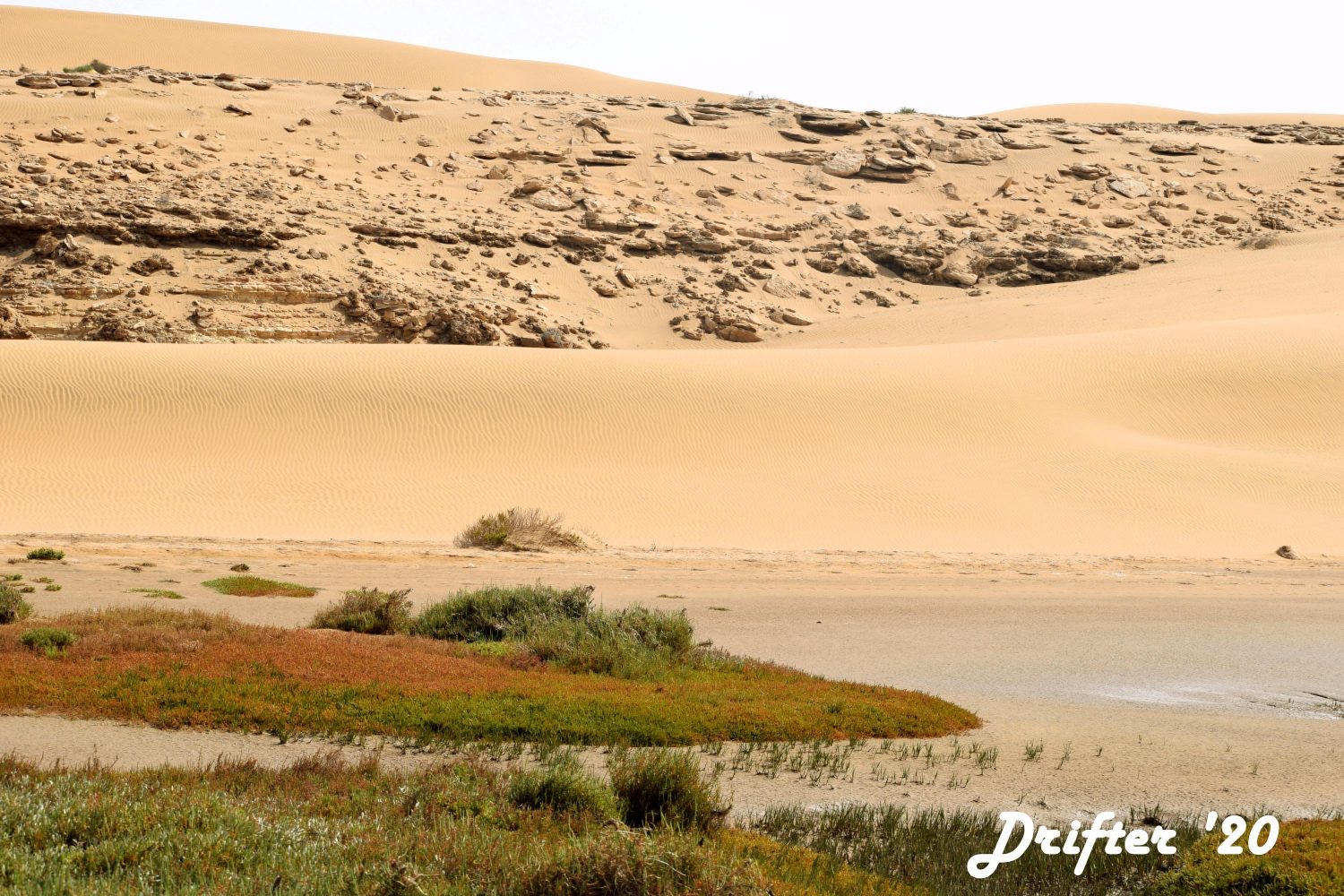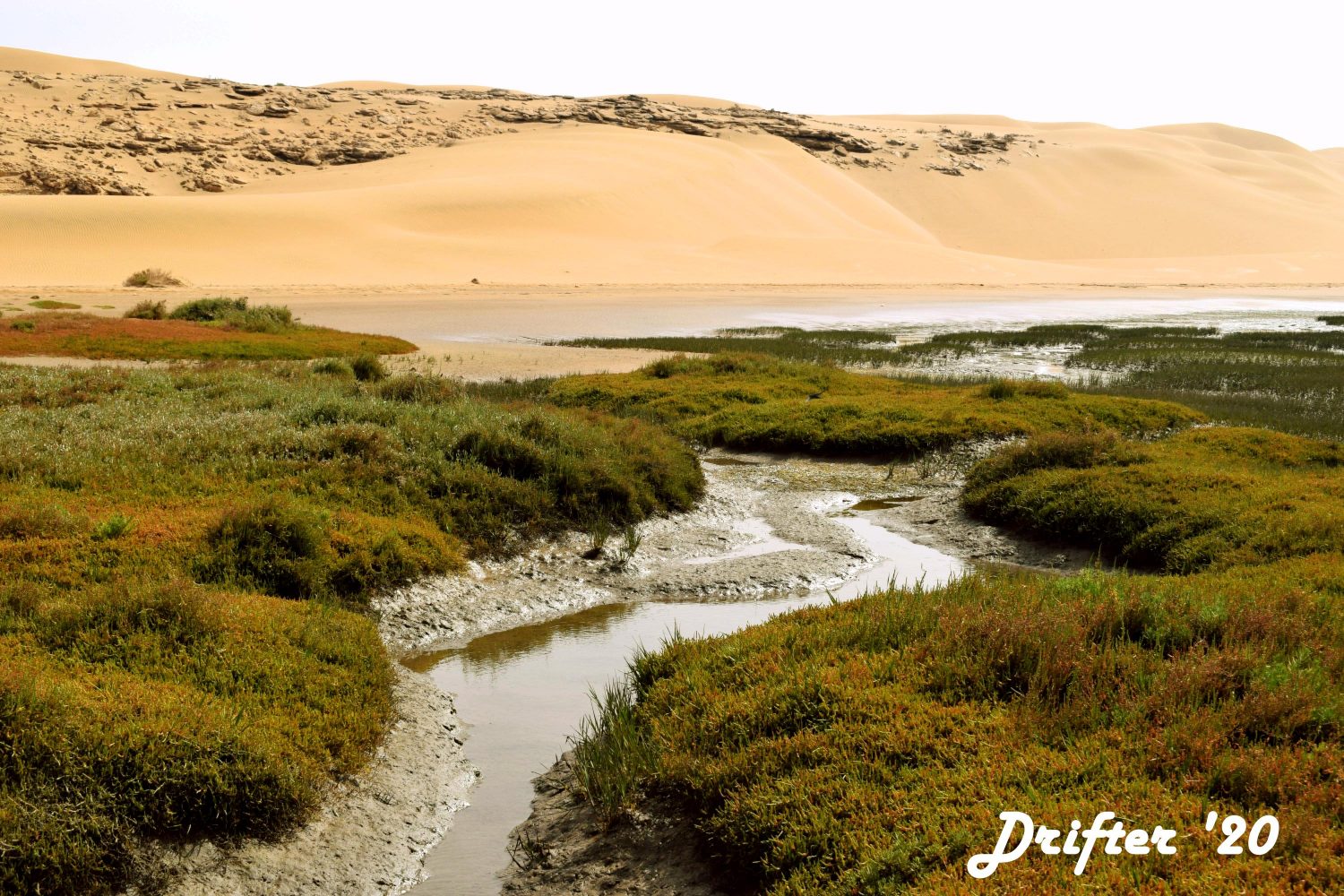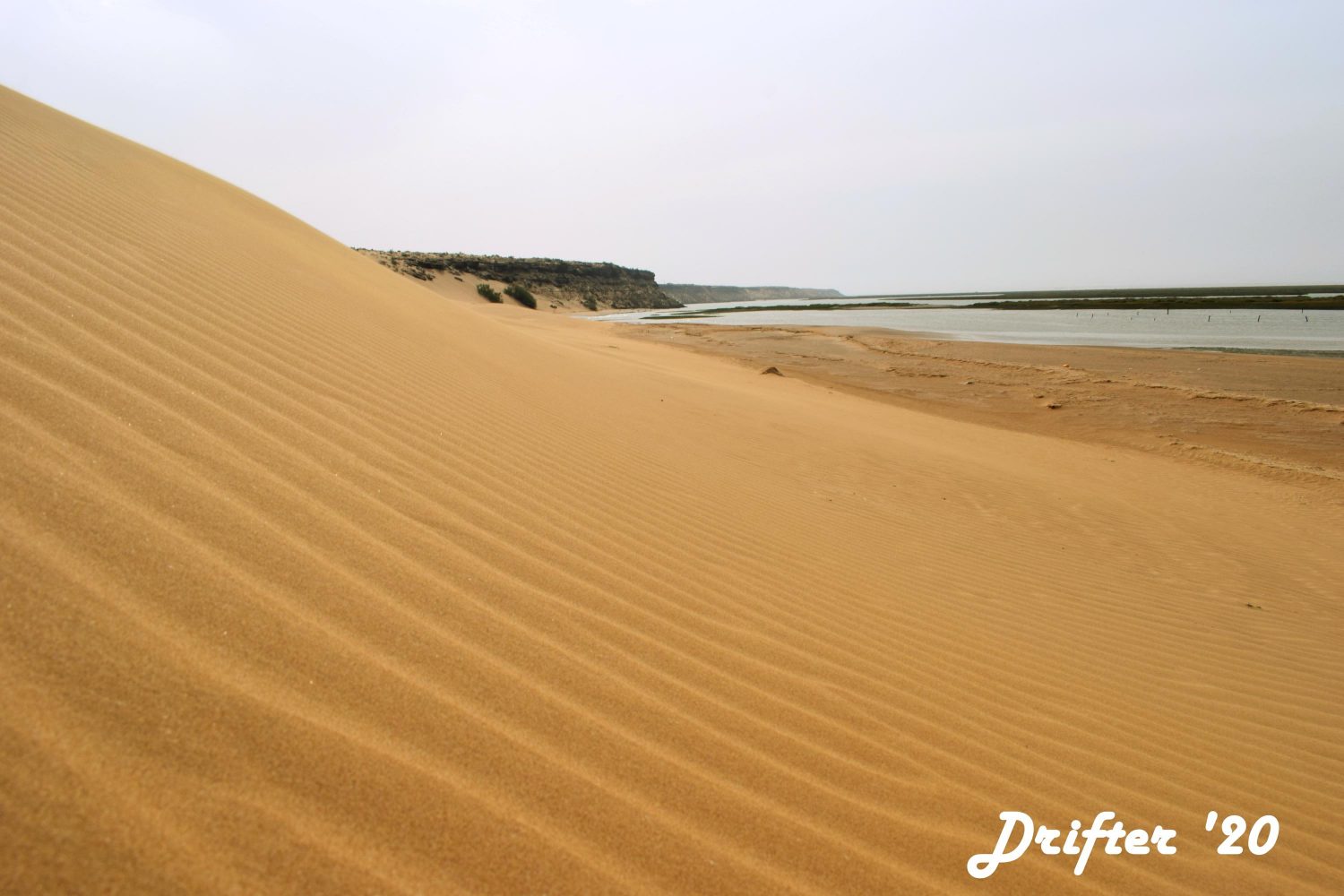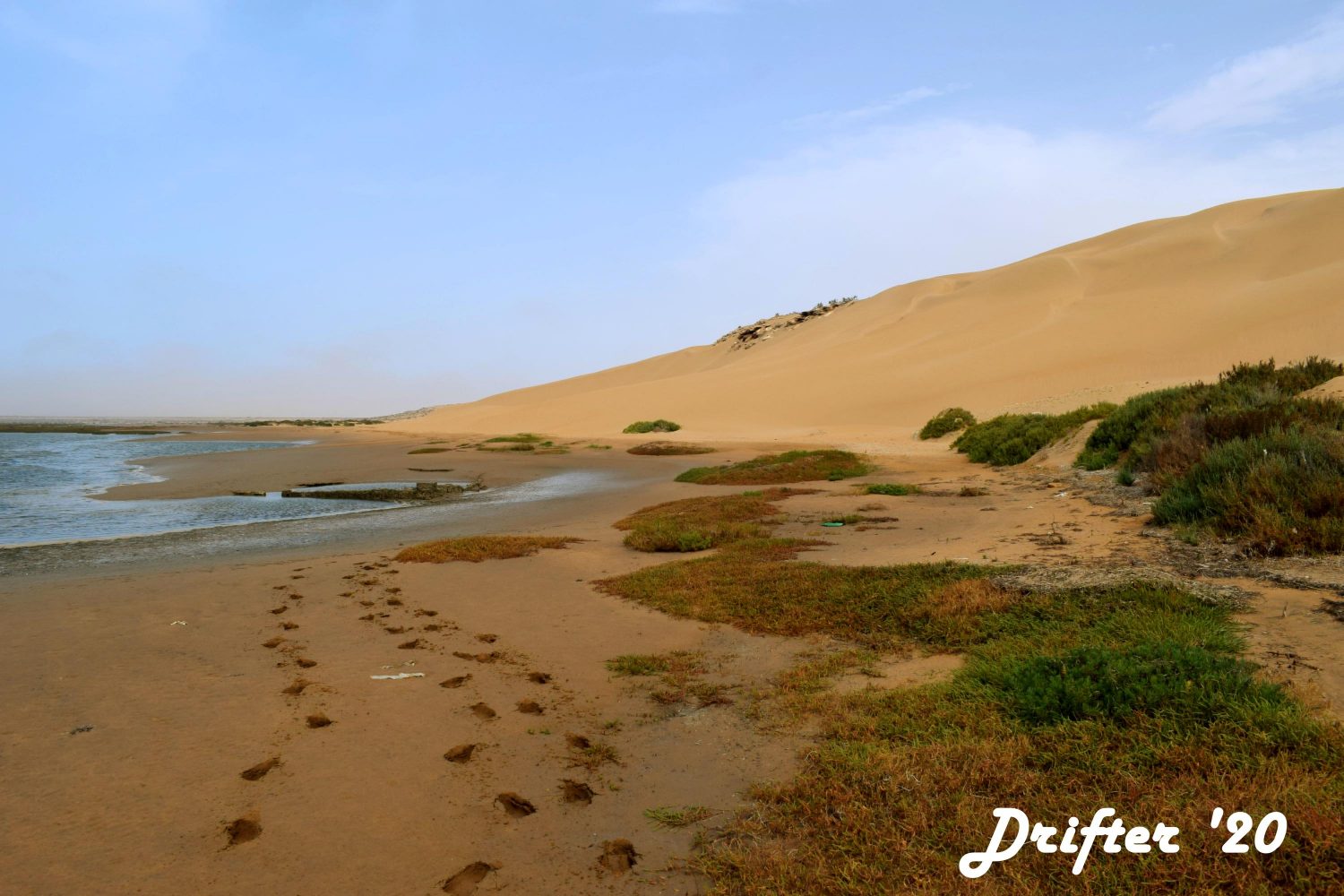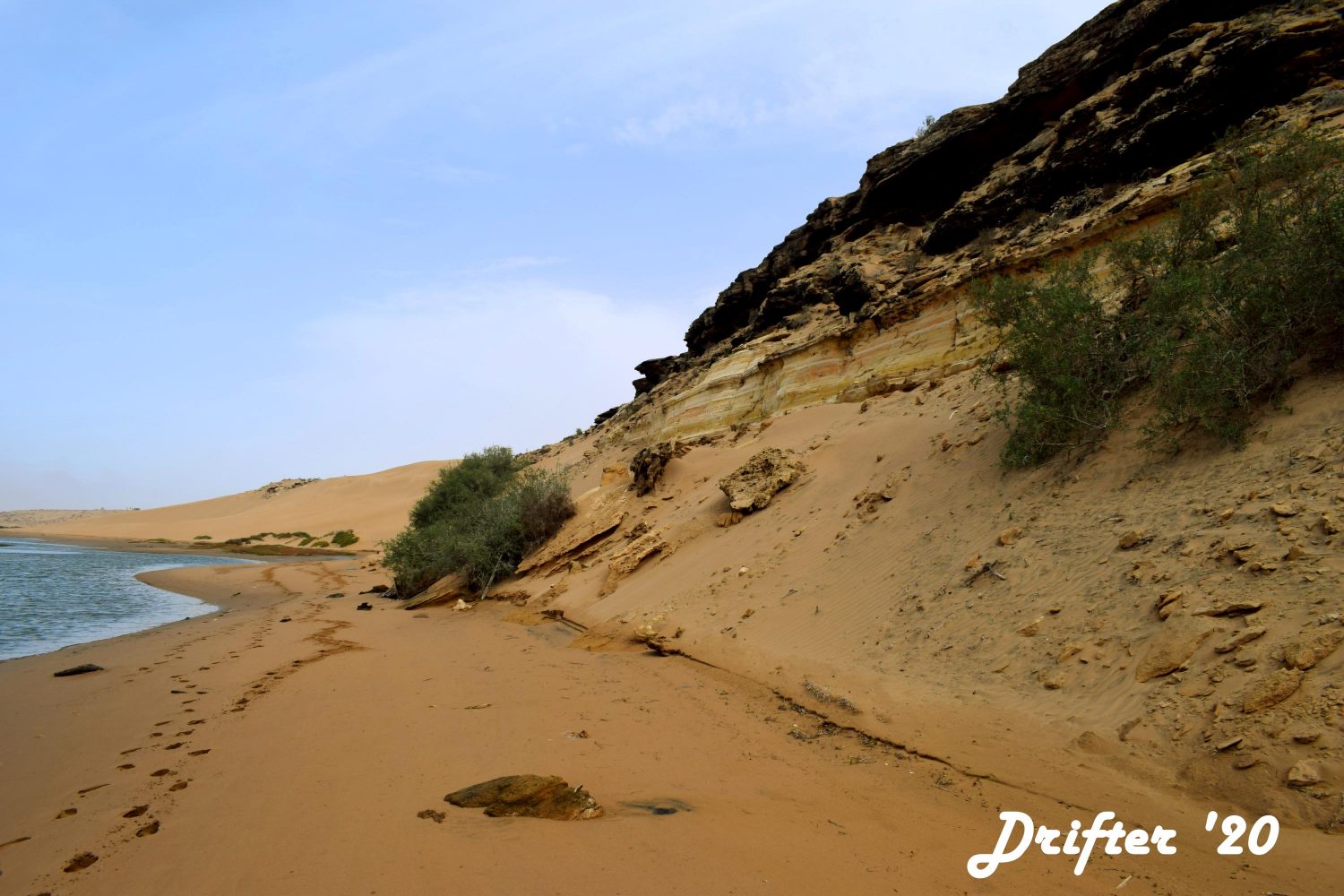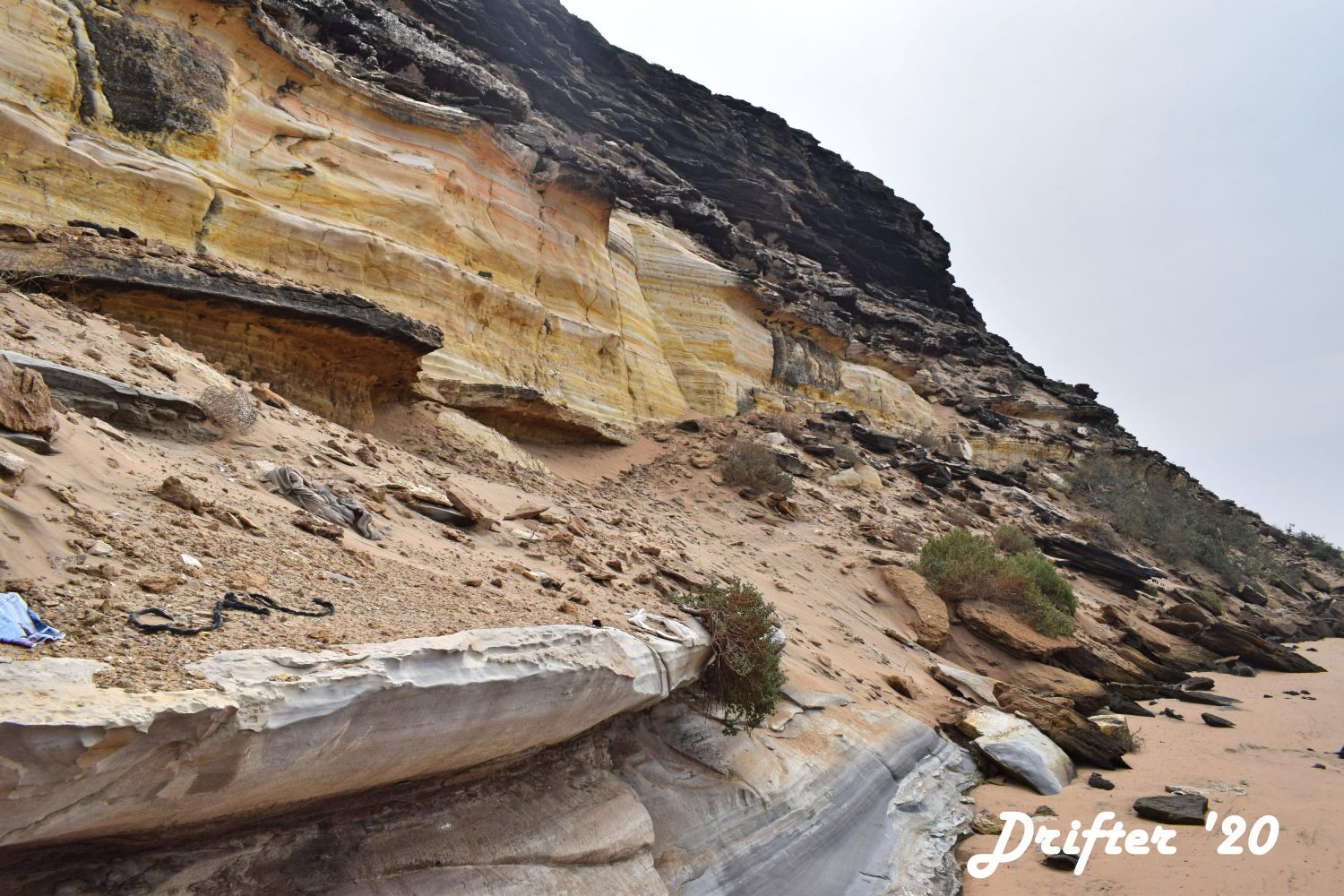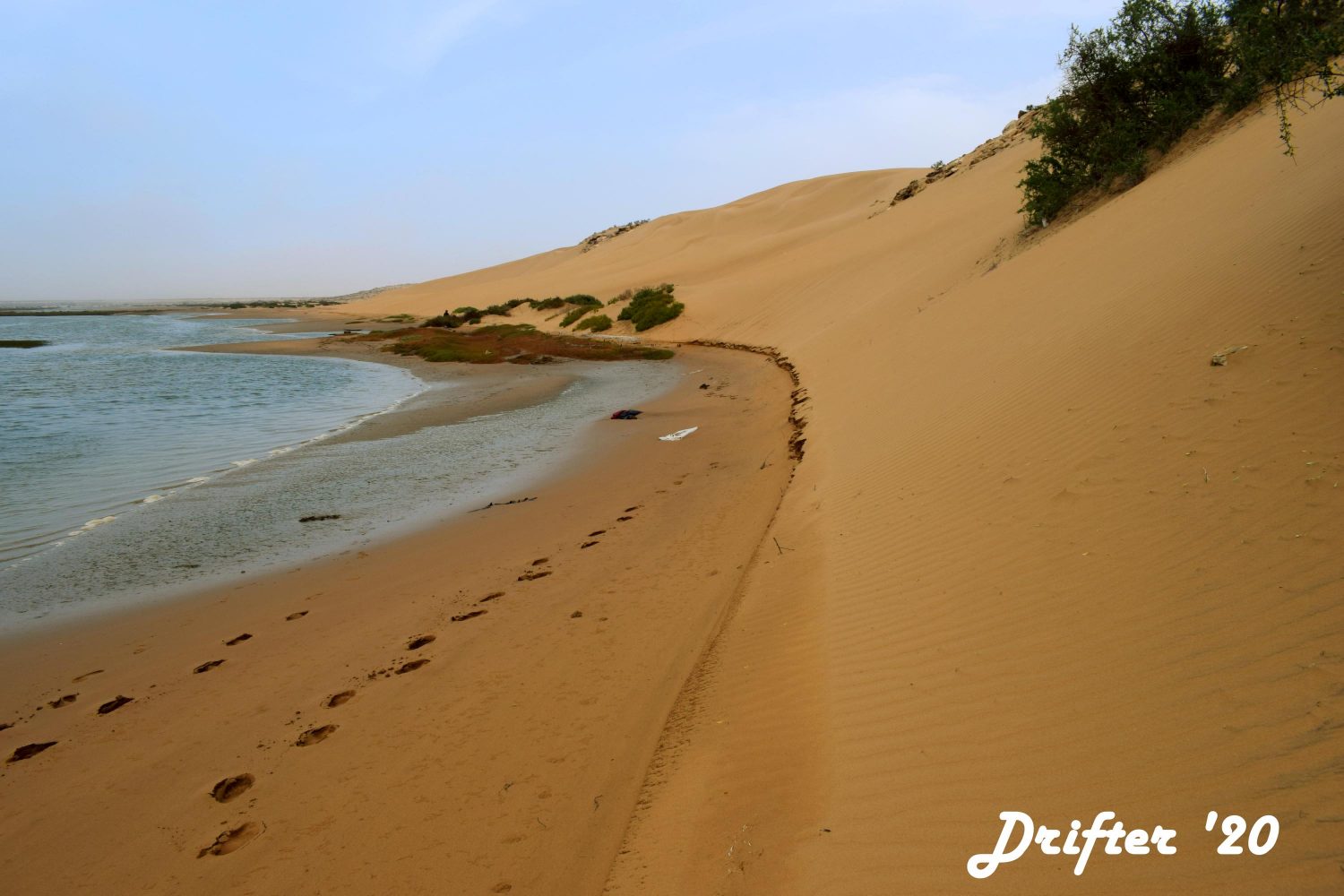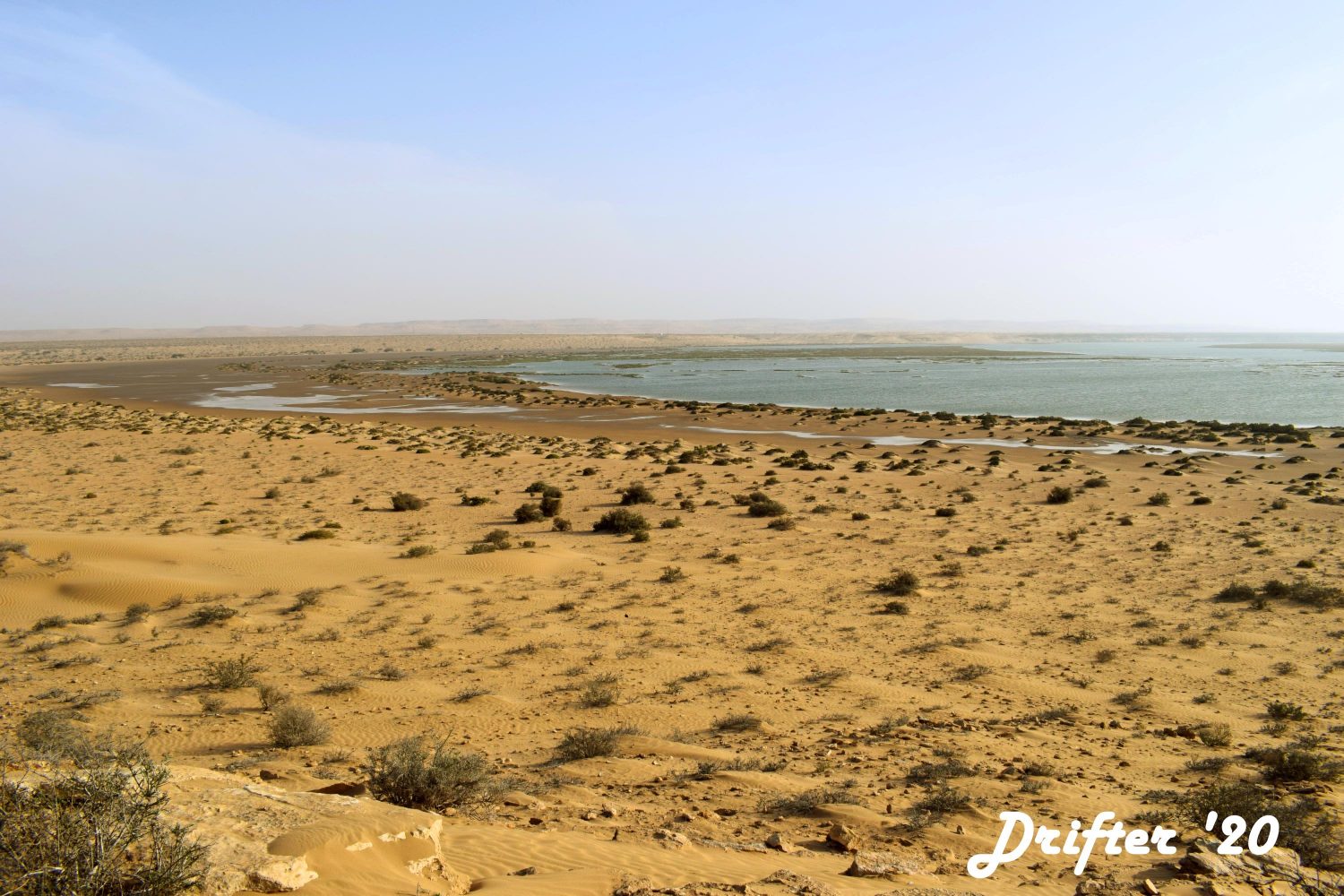 Immediately after we unloaded our packs, we can't wait to explore the area. It was so vast. Imagine yourself sitting beside the plateau beside the lagoon. On the other side were the endless sand dunes and finally the Atlantic Ocean. Breath-taking views with the background of humming seagulls. I stared at this scene as if I want to be absorbed by the deepness of the lagoon and be blown away by the wind swiftly caressing the dunes. As minutes passed by, it became reflective. I thought of my family and friends out there, would pass their lives busy making living not knowing that a place like this even exists in the world.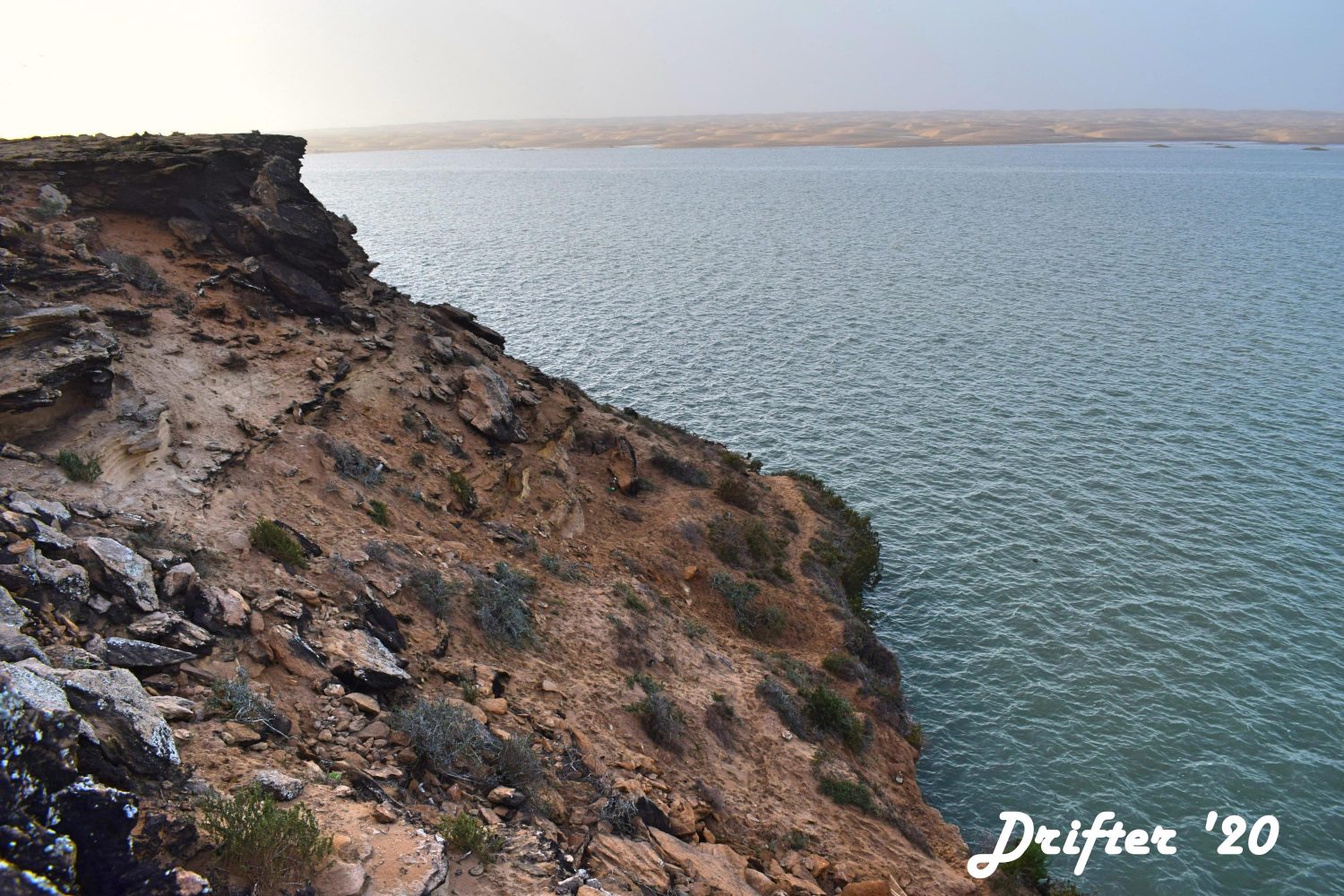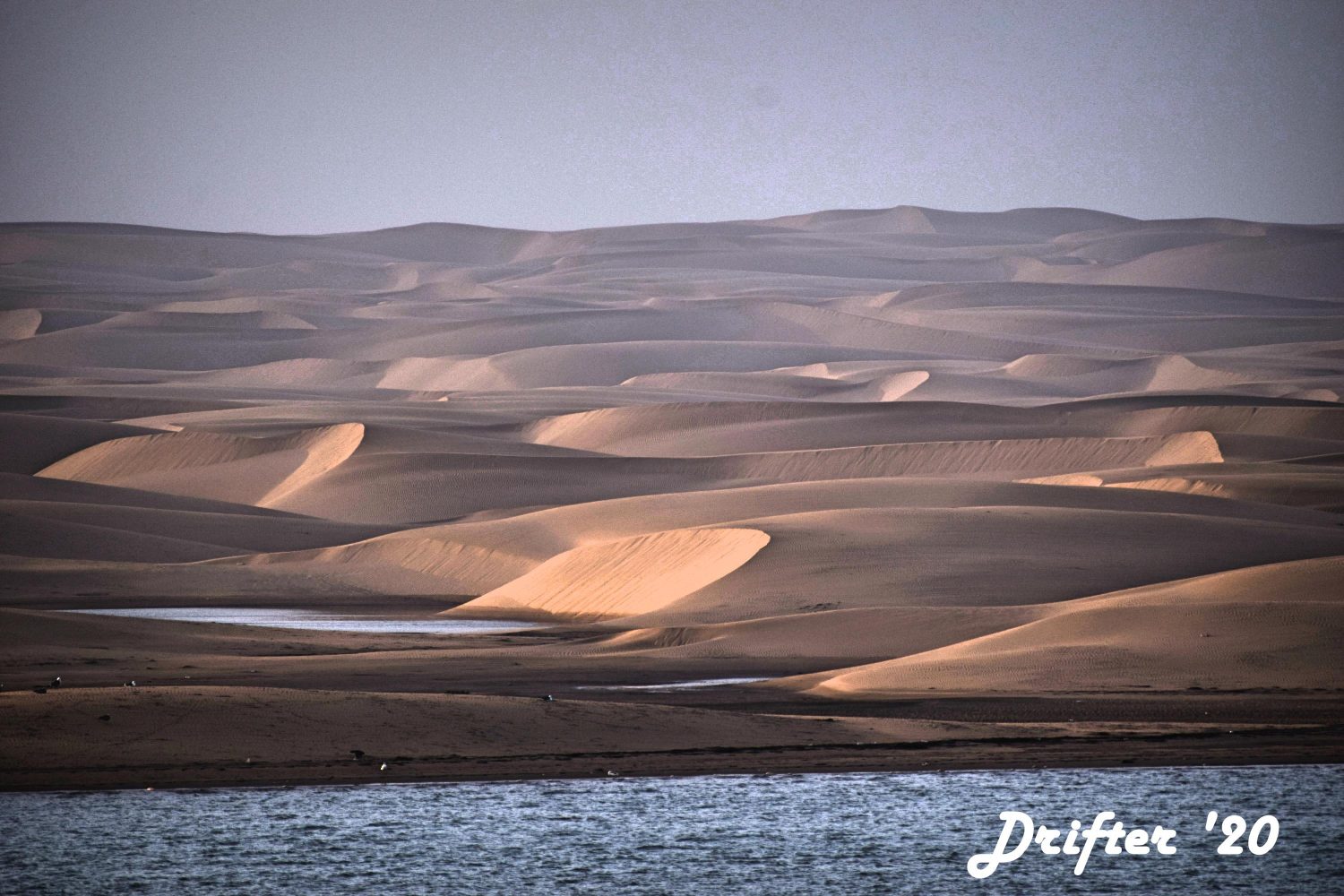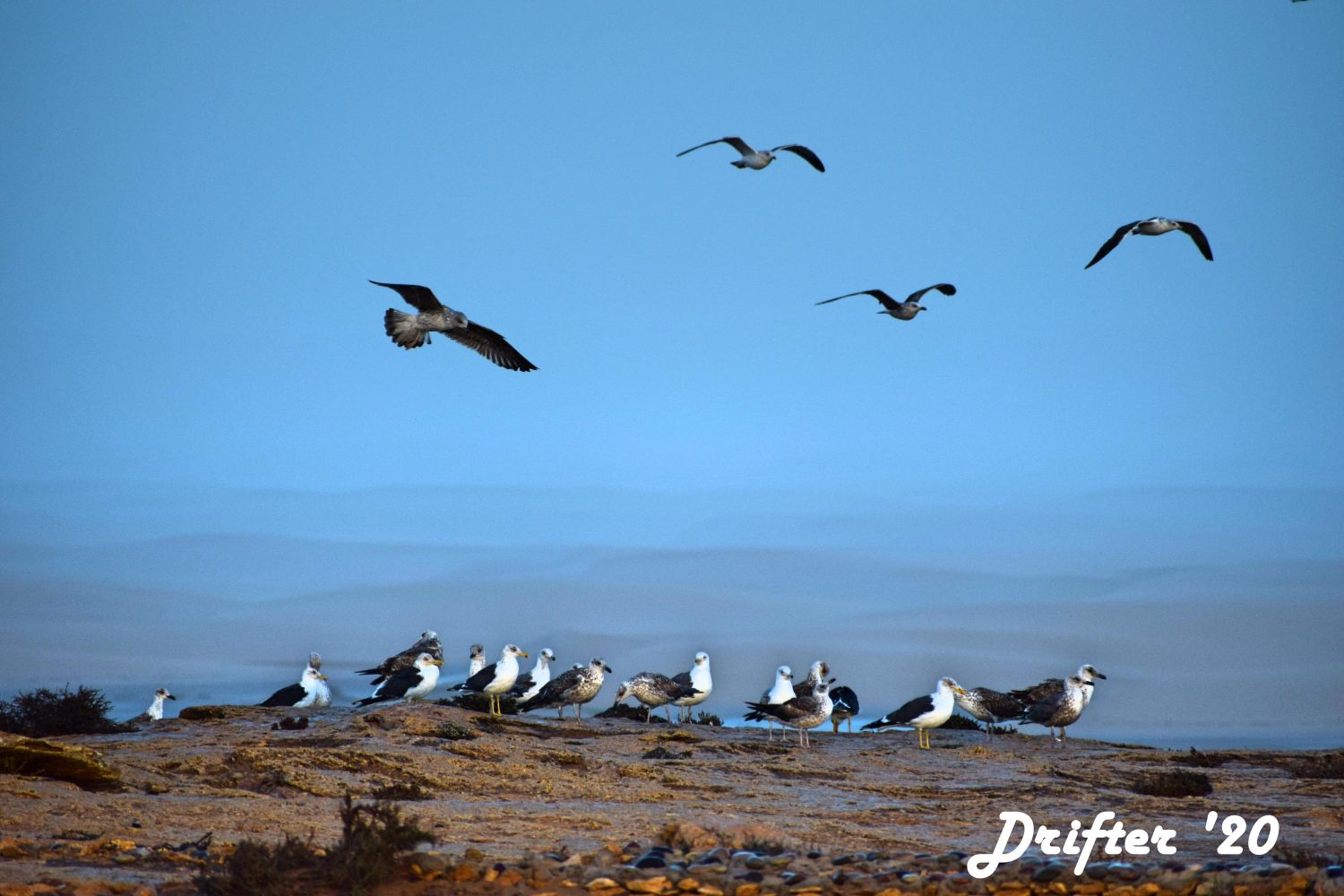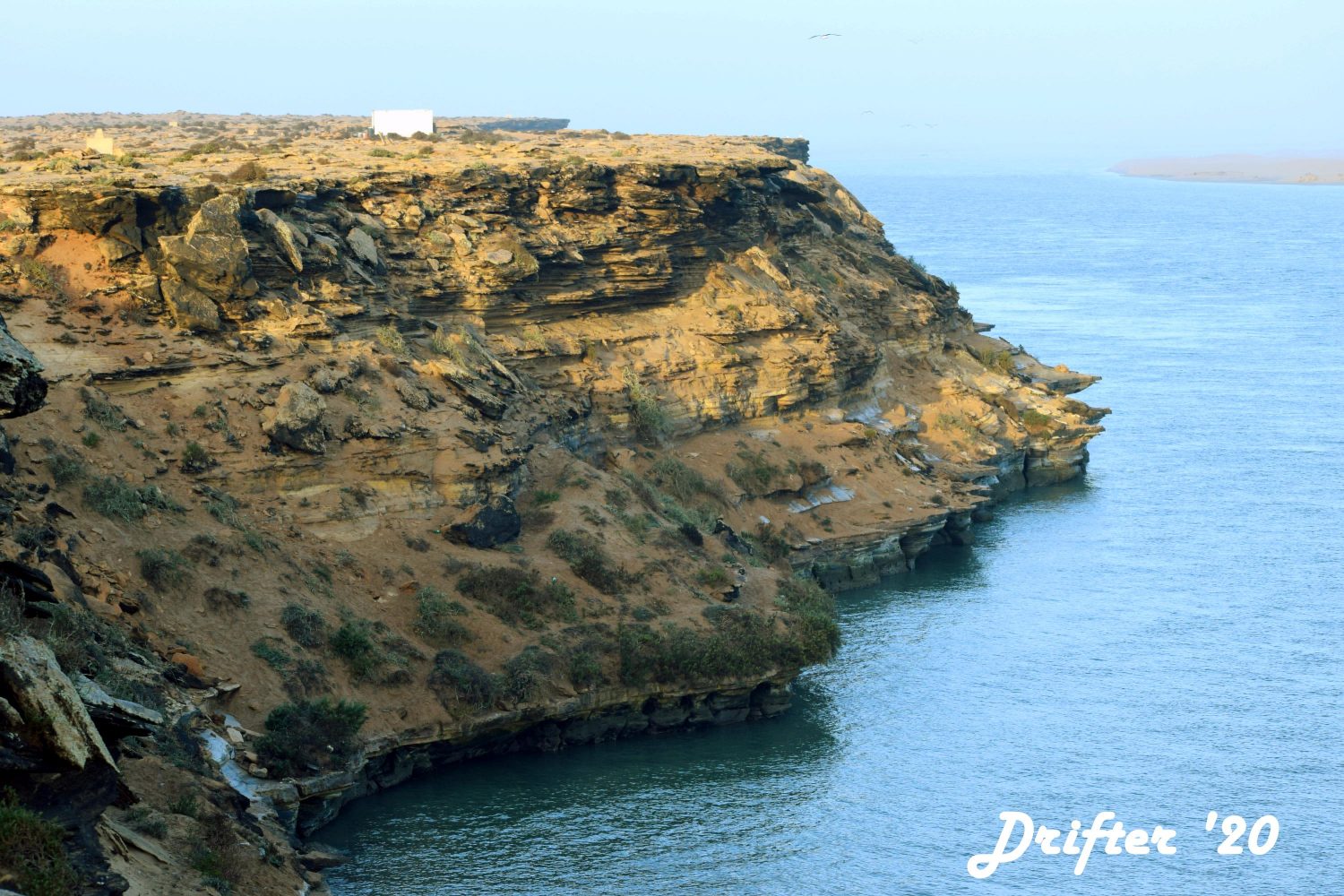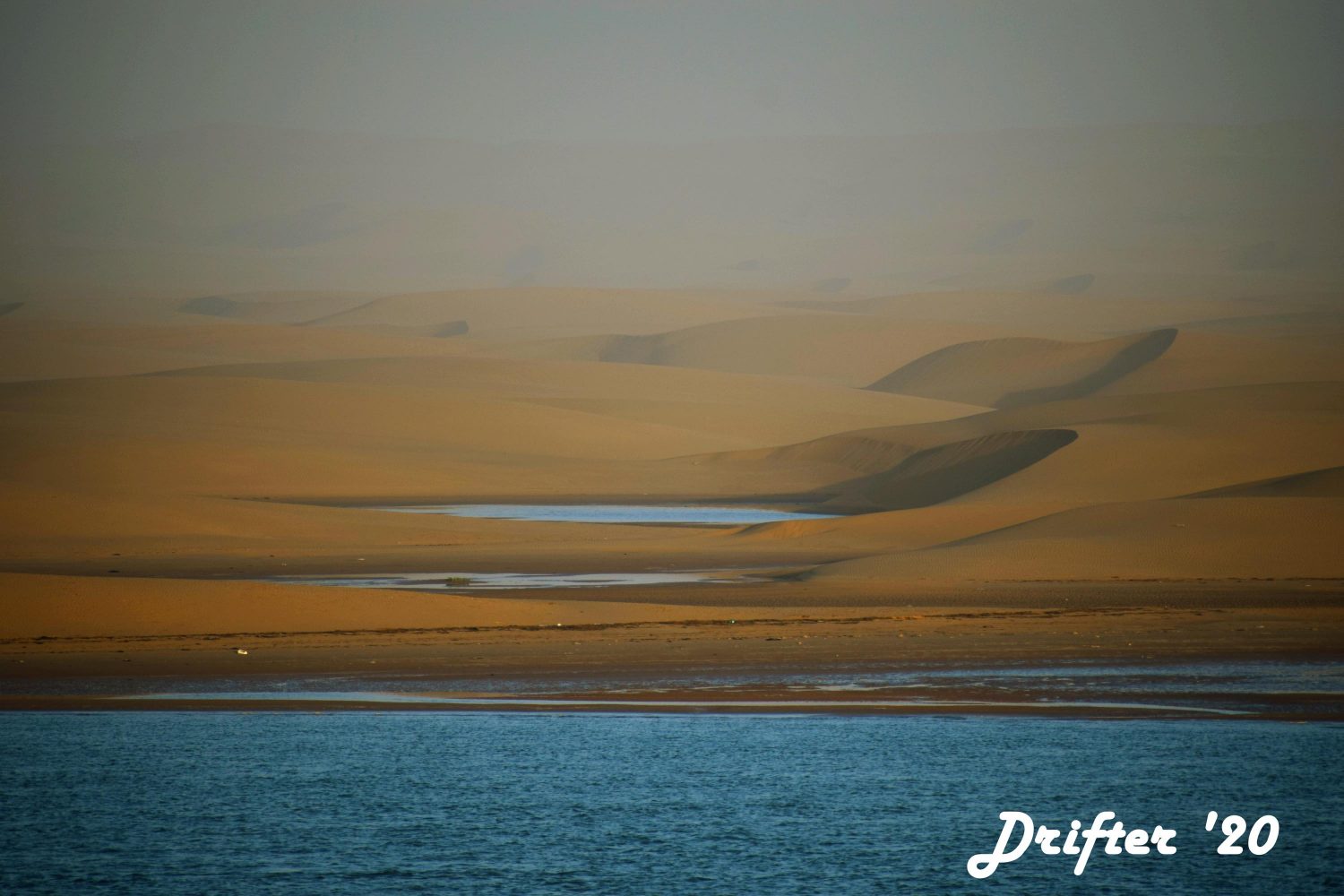 Now after that soul-penetrating drama, we found our campsite in the middle of nowhere. One of the park rangers approached us and cautioned not to throw any liquids. Snakes are easily attracted to any liquid substances. After pitching tents, we shared a pot of rice and 3 cans of sardines. It was a simple and filling dinner. The dark enveloped the whole scenario and after a few hours, 2 park rangers visited us to get our passport details. You know the feeling that you are already at the first stage of sleep when your muscles are relaxed and your brain activity starts to slow and suddenly you get awaken by an unexpected guest!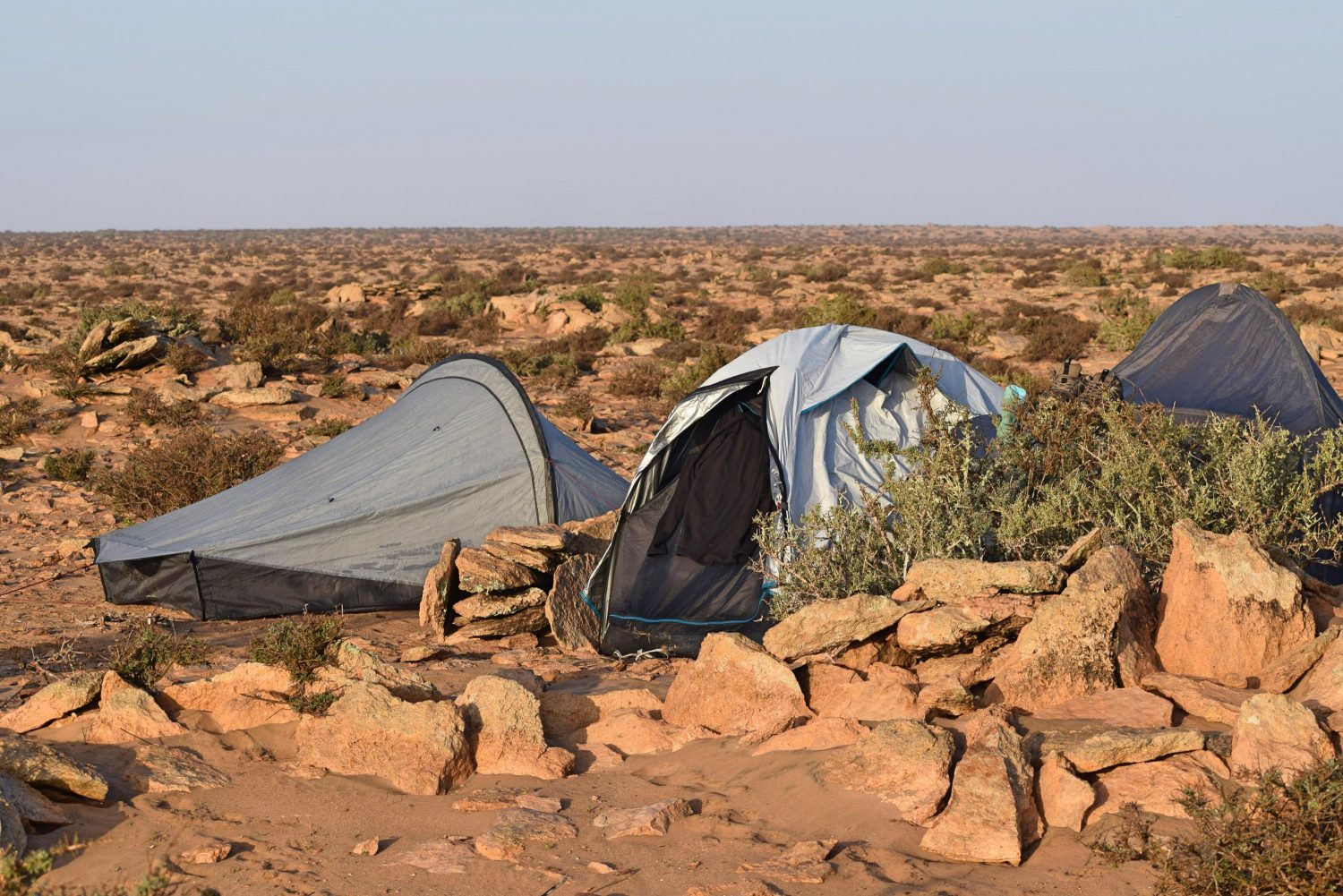 Fifth Day. Time To Say Goodbye
We were blessed with a good sunset. Thankfully, we survived camping in the semi-desert landscape. I started my stove for coffee, as it purrs like a cat, we slowly decamped. Our breakfast consists of a banana and freshly-brewed coffee. That was one of the best treats I had in my life. Al least we got something to fill our stomach. We hiked a few kilometers and reached the national park museum, took time to check what's inside but not much interesting stuff to see. It was just tarpaulins of what's you'll see inside the park, the wildlife and so on. Tarek had a small conversation with the caretaker which we never understood. The only good thing is that you can stay there overnight at the guesthouse should you arrive unprepared. There's a water source here just in case you plan to go camping. Our advice is to camp next to the museum for water access and safety.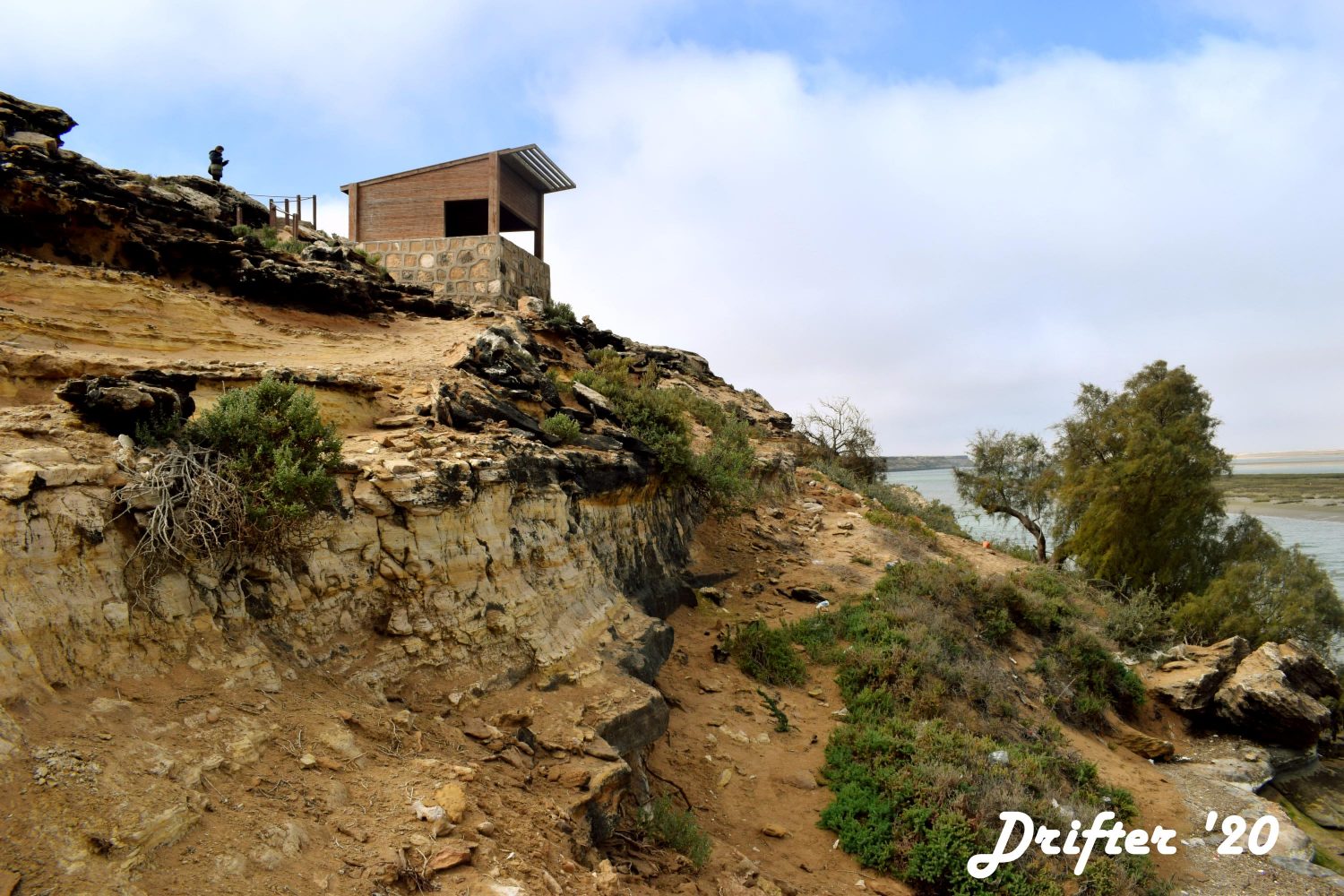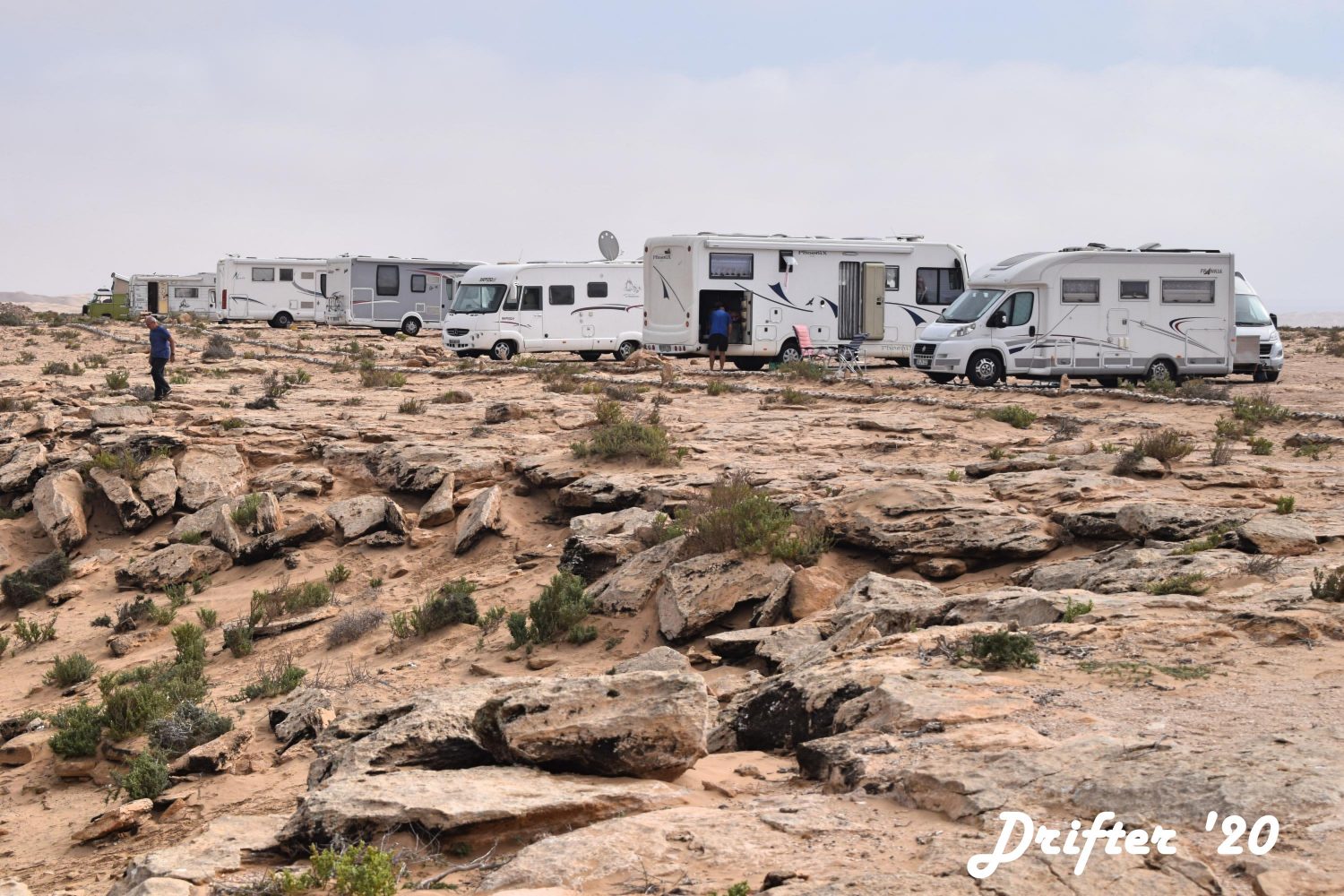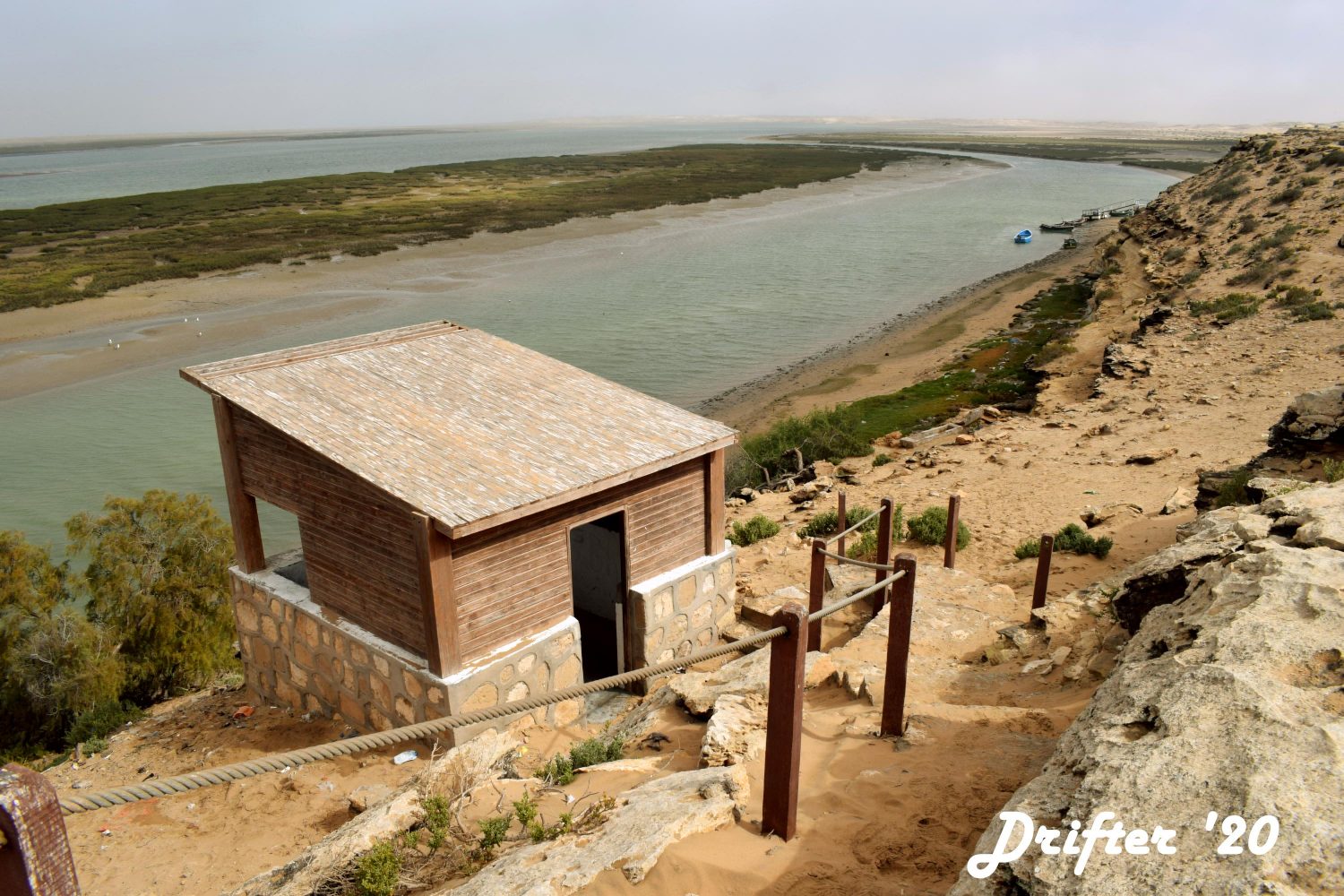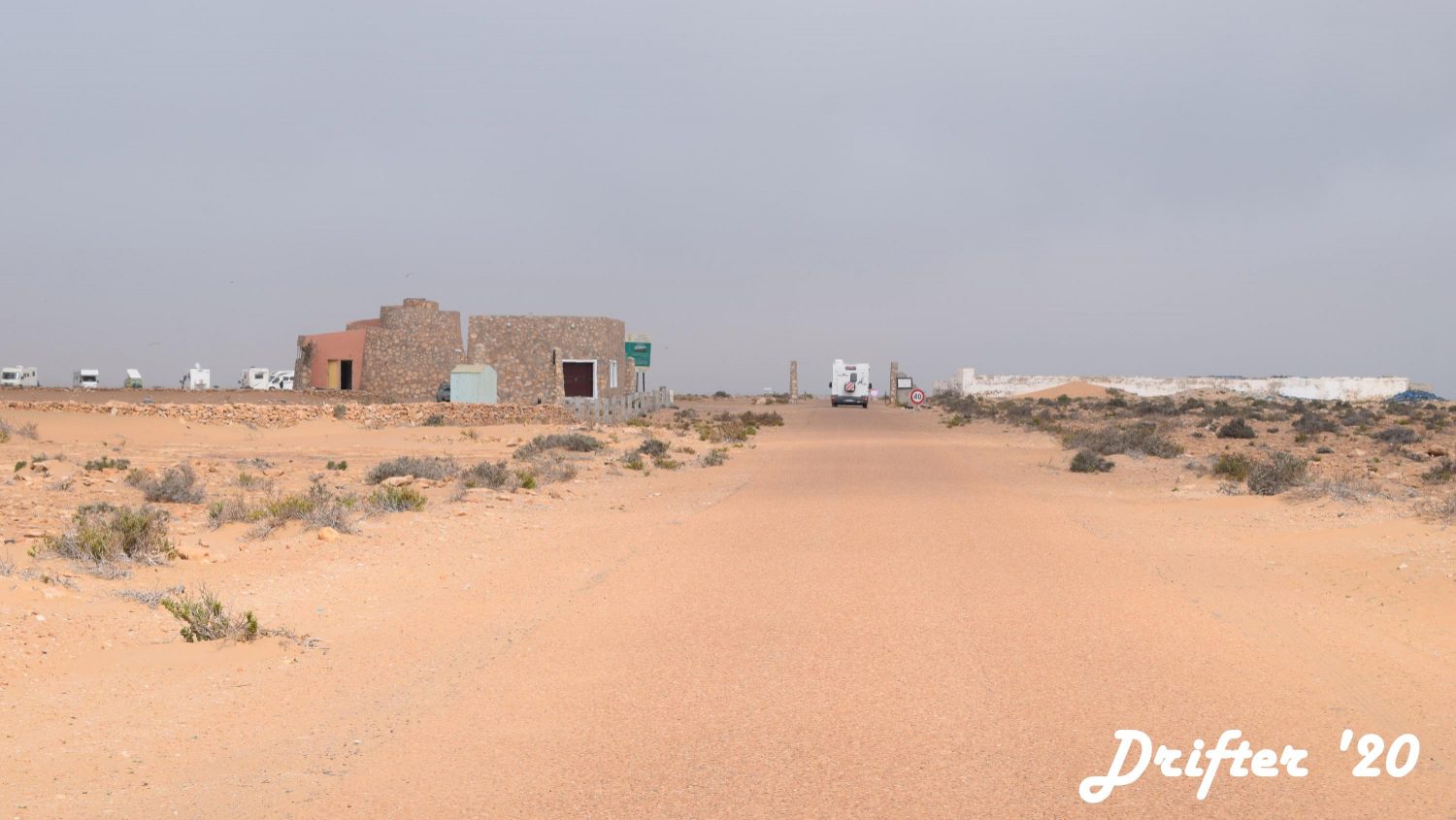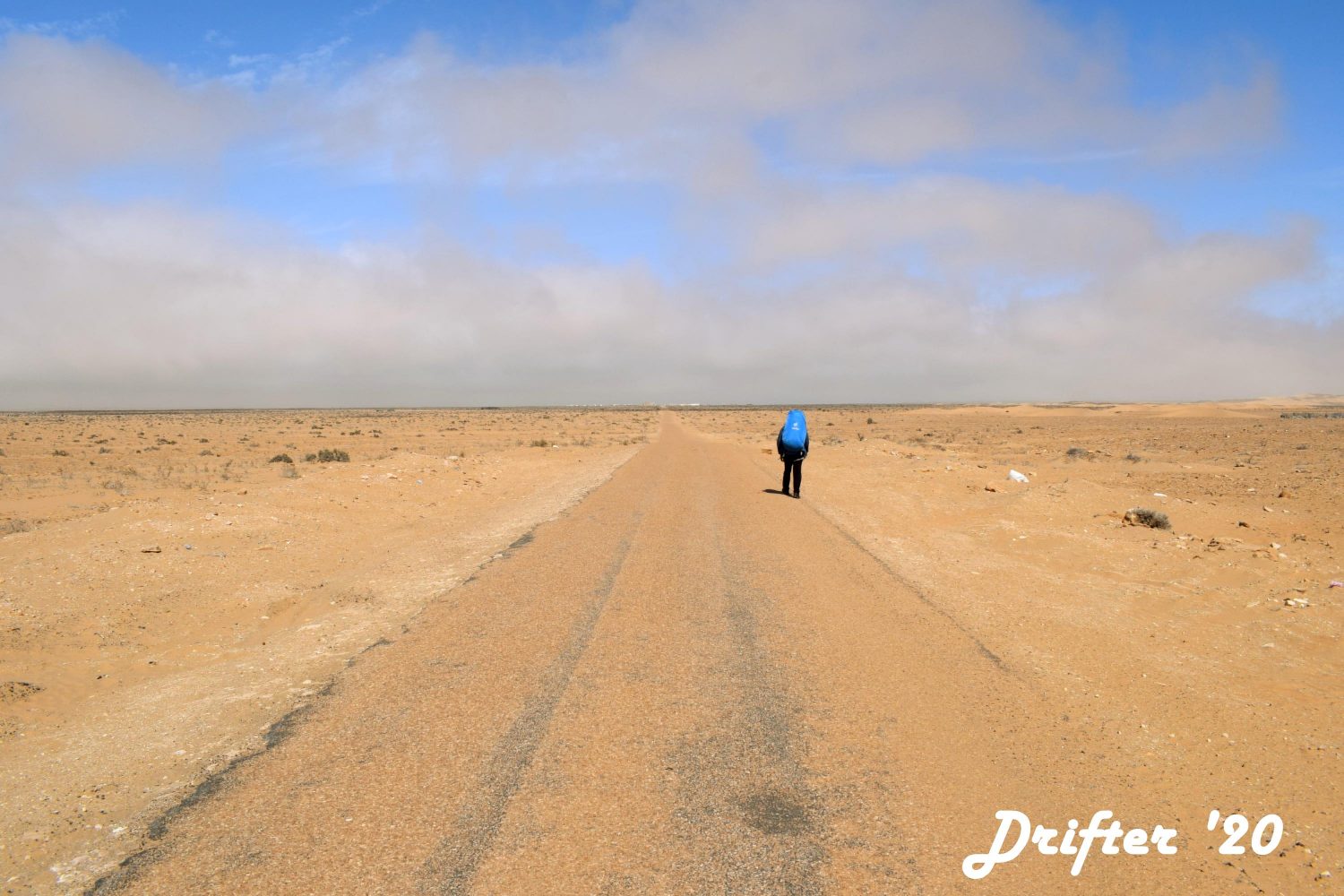 My friend Tarek had some important matters to do in Rabat. I planned to continue the journey by myself but ended up joining them back. So we walked for a few kilometers again for 2 hours until we reached the main road. From there, we had to call Swilm from Akhfennir to fetch us.
Sidi Akhfennir to Tantan
Faith in humanity had been restored. We were like prisoners who escaped from the cell. The moment we stepped out of Swilm's car, we sit at the seafood restaurant right in. I ordered gilt-head bream or dorade fish which I haven't finished. Good thing I still got some for my sandwich. The biggest challenge we had that day was how to get back to civilization. We are still 983 kilometers away from Rabat. No public transportation available and we had to hitchhike. I guess one of us was really lucky. With Swilm's help, we were able to join in the chartered bus. It was a Moroccan football team. I forgot the name even Tarek. They're probably not that popular.  We finally arrived in Tantan alive and intact. The pastel sky once again appeared while sipping a hot cup of crѐme de café.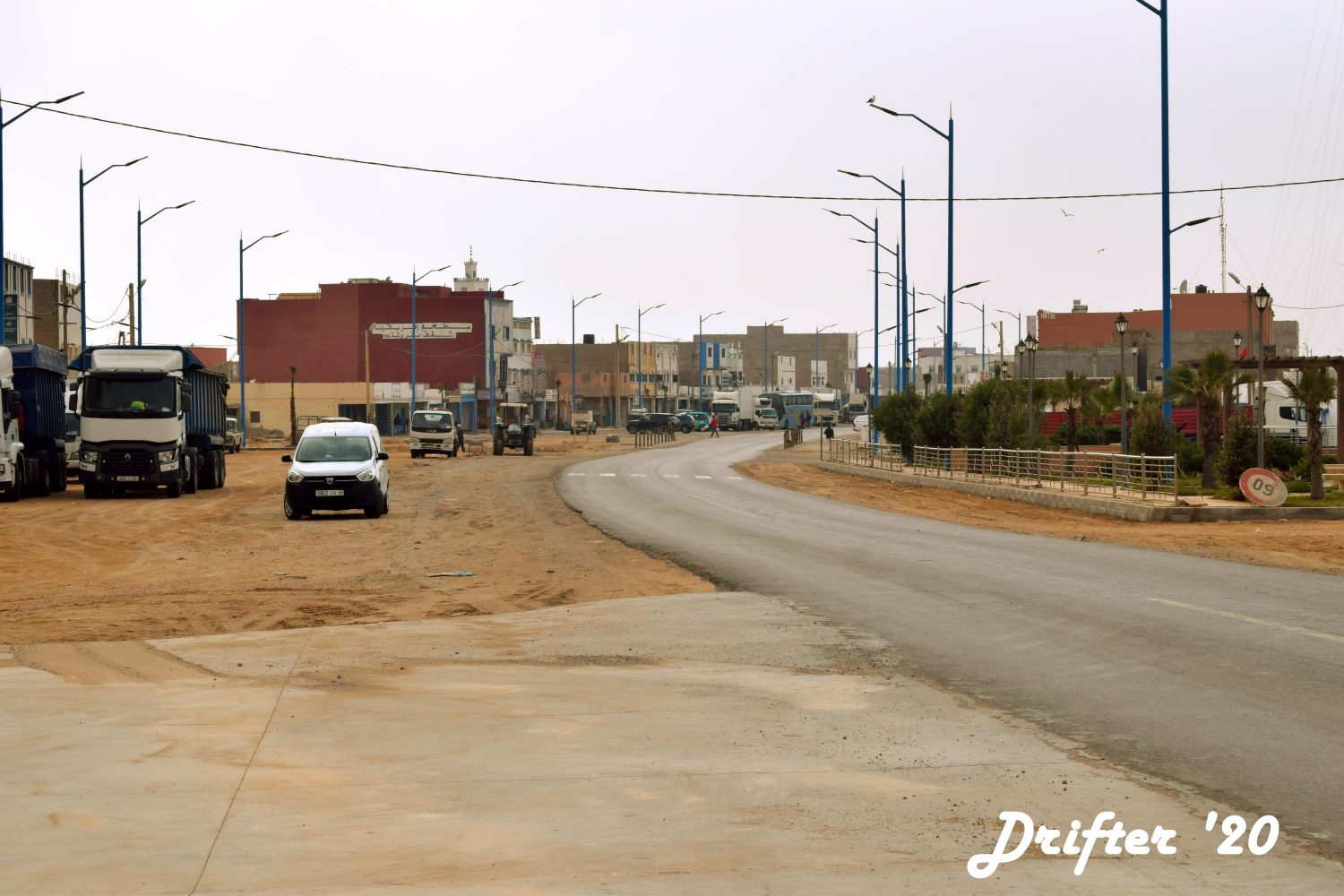 Expenses:
Rabat to Marrakech by train          171 MAD
Marrakech to Laâyoune                 360 MAD
Laayoune to Khnifiss National Park 50 MAD
Khnifiss National Park to Akhfennir 50 MAD
Akhfennir to Tantan                       50 MAD
Tantan to Rabat via CTM                 355 MAD
How To Get To Khnifiss National Park
If coming from the north, there is a taxi from Tantan going to Akhfennir. From Akhfennir, you can charter Swilm's cute Mercedez Benz. Here's his contact number: 0668 831653. If coming from the south or Laâyoune, charter private cars or hitchhike. There's no bus or taxis passing by in Khnifiss.
Where to Stay in Laâyoune & Khnifiss National Park
There's no problem with the accommodation in Laâyoune since there are plenty of hotels you can book online. In Khnifiss, there is a guesthouse you can stay beside the museum or just bring your tent and pitch it at the designated campsite.
This article was written out of boredom from the home quarantine. COVID-19 outbreak. How I miss the road…