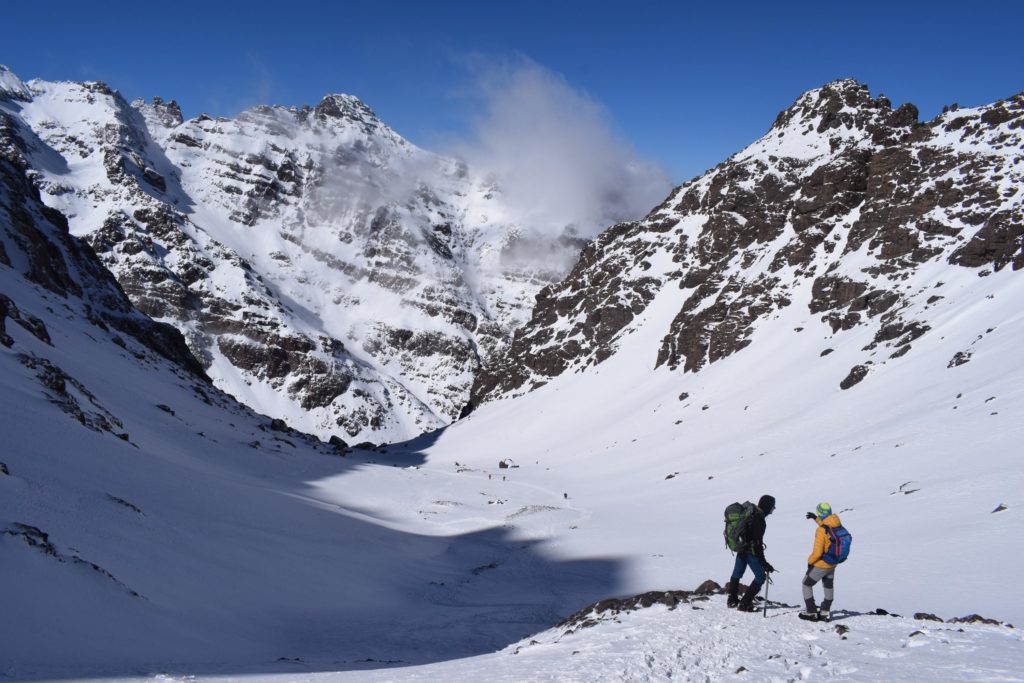 Day 1. Rabat to Imlil.
After a few weeks of observing the weather, I finally decided to fulfill my dream of scaling Mt. Toubkal. Been eyeing this mountain since we arrived here in Morocco. There is that feeling that you really wanna go to the mountains and just chill. Since this is my first snow mountain, I equipped myself with proper mental conditioning. Made a little research on basic but experience was still the best teacher. One can take either bus or train from Rabat to Marrakesh. Upon arrival at the train station, took a petit taxi to Jamaa El Fnaa. Just give the driver 10 Dhs if it is shared with other passengers or simply walk going to the grand taxi terminal located exactly at Rue Oqba Ben Nafaa. It is just a few meters away from Winxo petrol station. The grand taxi to Imlil would cost 50 Dhs. Arrived in Imlil almost dark and a sporadic drop of hail. Upon reaching from my guesthouse, I was welcomed by a fresh Moroccan tea. Climbers from all over the world gathered at the receiving area waiting for dinner, sharing their travel experiences. Such a fantastic atmosphere!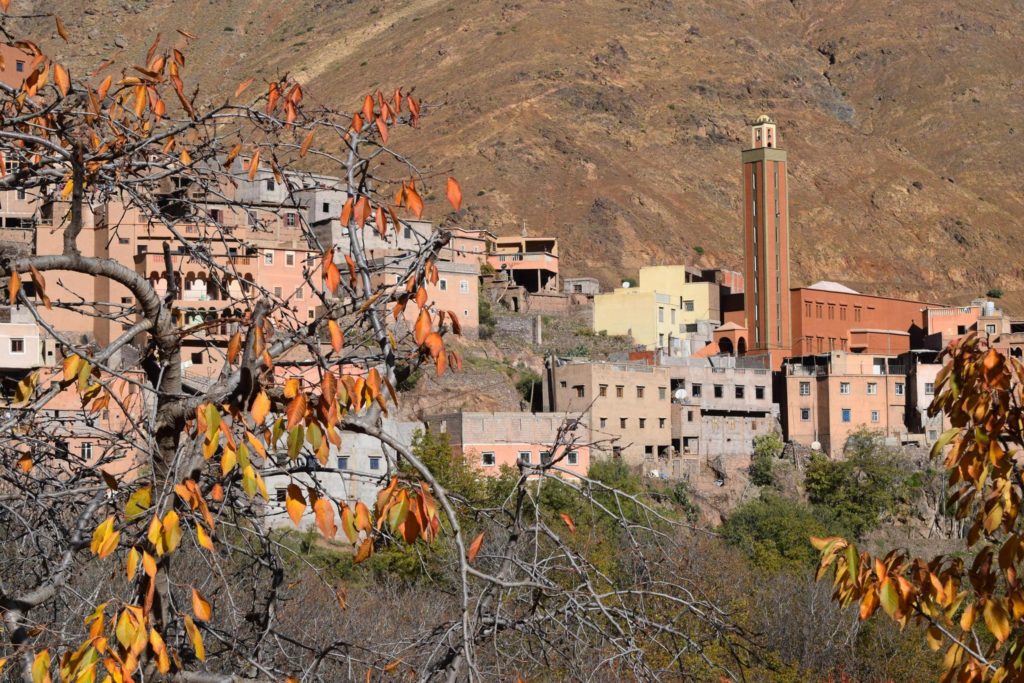 Day 2. Imlil to Cabine Alpine Français.
I woke up with a thick fog blanketing the terrace of my room. A few minutes later, I got a full panoramic view of the Atlas ranges. After a few minutes of equipment check, I was excited for my breakfast since I've read from the reviews that they serve a good breakfast. Reality vs expectation, it wasn't good at all.  I decided to just start the trek. Full of energy during that first day. I didn't really eat for breakfast since my expectation was different from what they served at the gite (guesthouse). They said you get what you paid for. For €8 a night which I booked online, they served traditional Moroccan bread with butter, tea, and a piece of boiled egg. With the advice of Hassan (the son of the guesthouse owner) to take the easiest route of long and winding road to the top, I gasped my breath reaching to the almost summit of that mountain road. From there, you will witness the panoramic vistas of Imlil and small villages clinging on the sides of the mountains. The DIY climb requires a lot of inquiries from the locals especially the starting point. Luckily, I managed to the park entrance. It's true that you will never be lost in Toubkal. Just follow the mules and it'll lead you to the refuge in a few hours.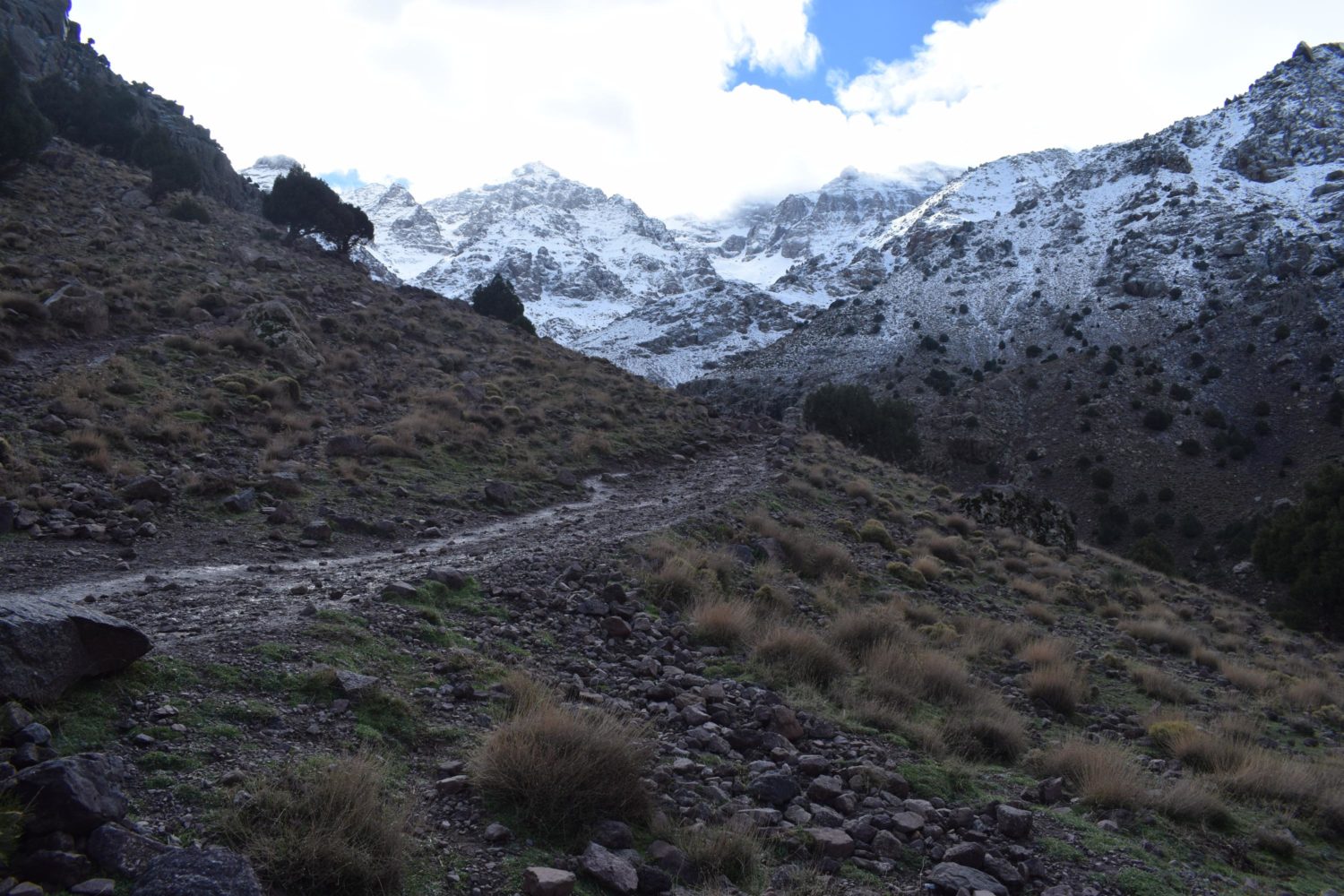 There were four refreshment stopovers along the way where they offer freshly brewed coffee and Moroccan tea, orange juice or simply a bottle of soda for 10 Dhs.  After a quick break, I continued my trek and meet some incredible people with few stories to tell. Now here comes the part which is close to the refuge where I really found a total deafening silence. The snow was dropping, and I was so exhausted carrying my full pack loaded with equipment, camera, food, and some clothes. I've got no other choice than continue. When I saw the park signage, I felt that I am almost there. And I was right.
Arrived at the refuge at around 1630H. It took me 5 and a half hours. I guess it would be lesser if I don't have a full pack with me. Anyway, I charged it with experience. Upon arrival, you need to register at their logbook and pay the overnight rate of 195 Dhs. I booked my bunk bed 2 days before arrival. It is winter so fewer people are climbing. We were only 3 people in our dormitory room. It has a good foam bed and a very thick blanket for extra insulation. I brought with me 2 sleeping bags so it is more than enough protection against cold temperature. Here comes dinner time. I met a couple from Spain named Roxana and Pedro who were traveling around Morocco with their camper van, Omar who is also from Spain and doing his second attempt to Toubkal and Dawid from Poland. The policy is you are not allowed to stay at the mess hall if you will not eat there. I found it inhospitable. Anyway, I just ordered dinner for 70.00Dhs of chicken couscous and Lipton tea shared with my new found friends.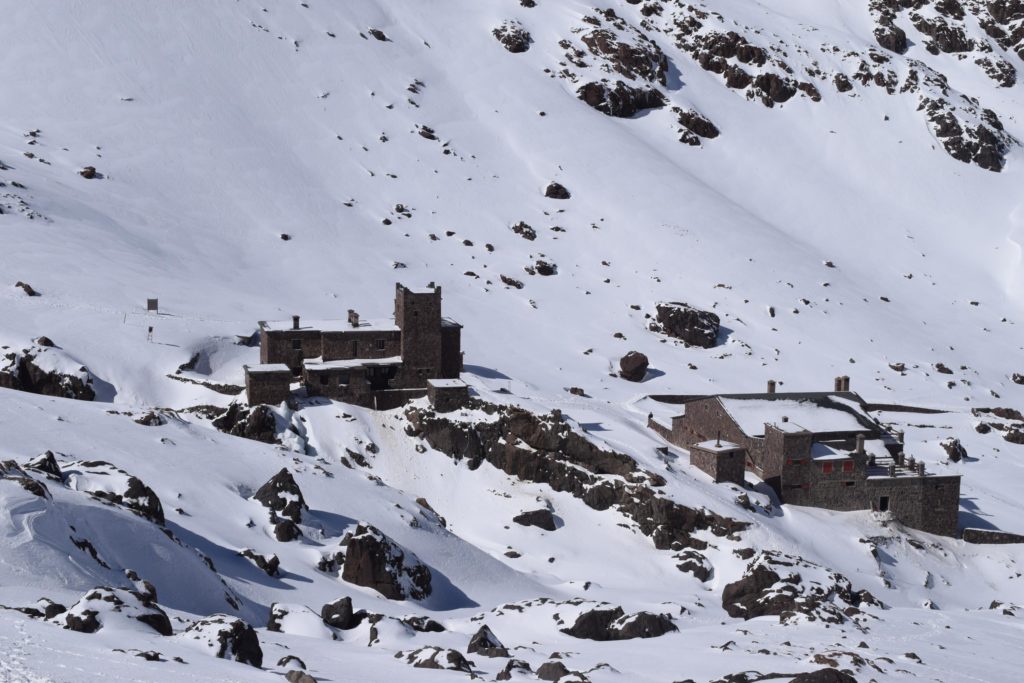 Day 3. Summit assault.
With ample information over the internet before leaving for Toubkal, I am certain that there will have a bigger chance of having good weather on my summit assault. Nana, Dawid and I started the trek at 0618H with -9 temperature and a wind speed of 35 km/h. Several groups decided to go back to the refuge after an hour of continuous walking on thick snow. My friend asked me if we will continue and I was determined to be on the summit. We continued until we reached half of the snow trail and joined with the other 3 British. It was almost light and we can see the whole range of thickly covered mountain snow. I was just hoping that we are on our way to the summit before we get exhausted. That was my first time so I tried to conserve my energy as much as possible. Reaching one of the top of the range, I can vividly imagine the feeling of seeing the summit marker on the other side. With pure joy, I was 100% determined to be at the summit of Toubkal. I just need to figure out how to navigate through it. There were no visible tracks so I just figured out how to maneuver. This last push was the most difficult since I'm doing it alone. I was almost on the summit and saw 2 climbers enjoying the magnificent 360' view of the Atlas. Finally reached the summit at 1111H. I took a few photos and left a gift on the summit. Timm, Omar and I descended together safely and back to the refuge at 1330H. Getting back to the refuge was one of the best feelings. You got hot mint tea full of sugar and rest a bit. I just discovered that my crampons were dislodged causing friction on my calf and a terrible abrasion. My foot was numbed so there's no way for me to notice it.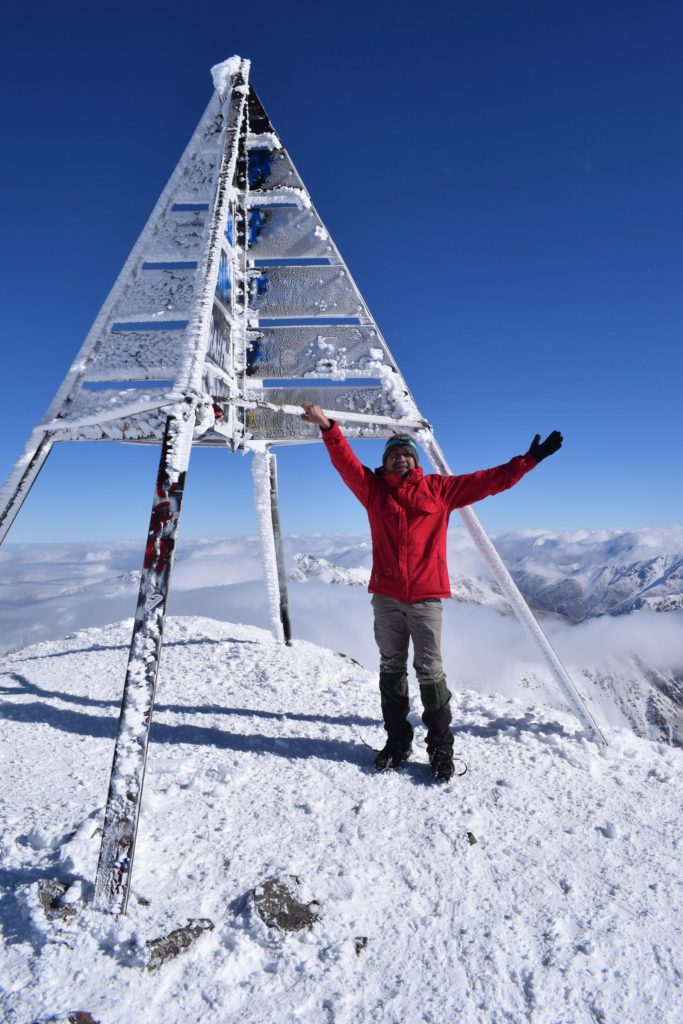 After  2 hours of rest, I decided to go back to Imlil. Darkness covered the whole Atlas and I was thinking of going on bivouac since my foot is too painful.  Managed to reach the park landmark with the rest of every 20 minutes. I knew that I can make it to my guesthouse but the question is what time? Reached at Gite Atlas Masik at 2330H. Good thing Hassan was still awake and he was about to go to town to buy something. My foot was in terrible pain. I planned to take a hot shower but I just closed my eyes and hope it will be alright tomorrow.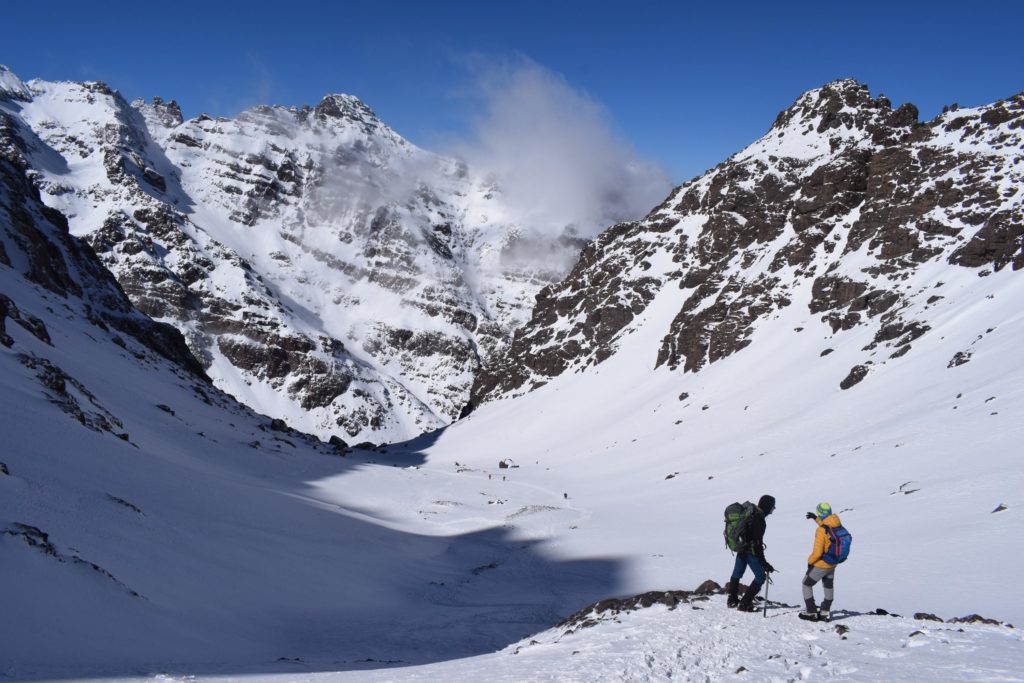 BUDGET PER PERSON (DIY)
Grand taxi at Jamaa El Fna, Marrakech to Imlil         50 Dhs
Guide Fee (Depends on the number of climbers)       400Dhs for 7 persons
Overnight at Cabine Alpine Français                          195 Dhs
Dinner in CAF (Optional)                                          70 Dhs
Update: As of February 23, 2019, few changes were observed following the murder of 2 Scandinavian girls. A guide is mandatory for 400 Dhs a day, good for 7 persons maximum. You can always bargain for this price or find some climbers to join you and split the cost. 3 police checkpoints were assigned along the trails for proper identification of people climbing. Prepare a passport or national identity card. Lastly, gates are closed at 1500H so be early.