When preparing to travel, lay out all your clothes and all your money. Then take half of your clothes and twice the money.
I met Ron months ago after their Samar trip with his friend Bing Radoc who's also a couchsurfer (couchsurfing.com). The rain is pouring outside of the van terminal and the aroma of brewing coffee outside was tempting. The van left the terminal at 0800H and arrived at the Naval Public Terminal at 1000H. We decided to have lunch before heading to our destination. After having a hearty meal, we looked for buses that'll take us to Caibiran. Luckily, we were able to catch the last bus. If not, we'll gonna rent a motorbike which is too expensive for 2 travelers. Prior to our trip, we decided to just spend minimally. The bus ride to Caibiran was a bit bumpy. Roads are being constructed along the way.
Upon arrival in the town, we looked for a habal-habal that'll take us to our itineraries like Tomalistis Falls, Tinago Falls, Kinaraha Cascades & hot springs, San Bernardino Public Pool and more. We paid 400 Php to the driver/tour guide as payment for the trip and that includes the gas. Not bad!
First stop: Tomalistis Falls. It would take a  couple of steps to have a glimpse of the cascading falls and some of its cascades are diverted to the community as the water source. They said, it is the sweetest water in the world, I don't know how do they declare it as the sweetest or who declared it. No clear authority I can dig up to answer that question. I've been contemplating it many times before we decided to visit this place. But one thing is for sure, we had a good dip at it.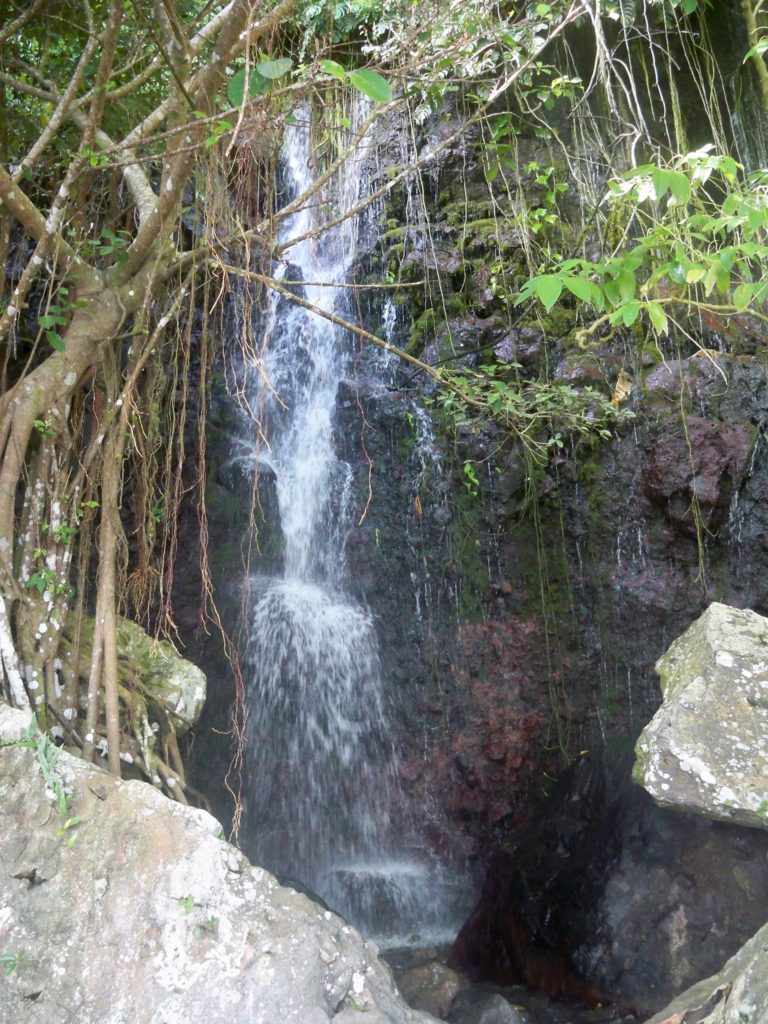 Second stop: San Bernardino Public Pool which is a few minutes' drive from Tomalistis. The pool is crowded with kids diving and running around. It is covered with big banyan trees and really cool. Its excess water keeps on flowing down to the ocean. We never joined the crowd and just took a bunch of pictures and head to Kinaraha Cascades. It has hot springs nearby. Ron and I never wasted our time to navigate the place. We enjoyed splashing into the waters and cascades. Unfortunately, Ron fell off to the slimy rock! We were wondering if where the hot springs are so we searched for it. To no avail, we didn't find it so we decided to look for some folks to ask the location and came across to this old lady and inquired for the location of it. We rushed to the place and was amazed by the boiling water from the underground. The people made some pool where you can trap the hot water and hooray, you got a natural jacuzzi! It was nice dipping your body into the hot springs. Considered to be therapeutic.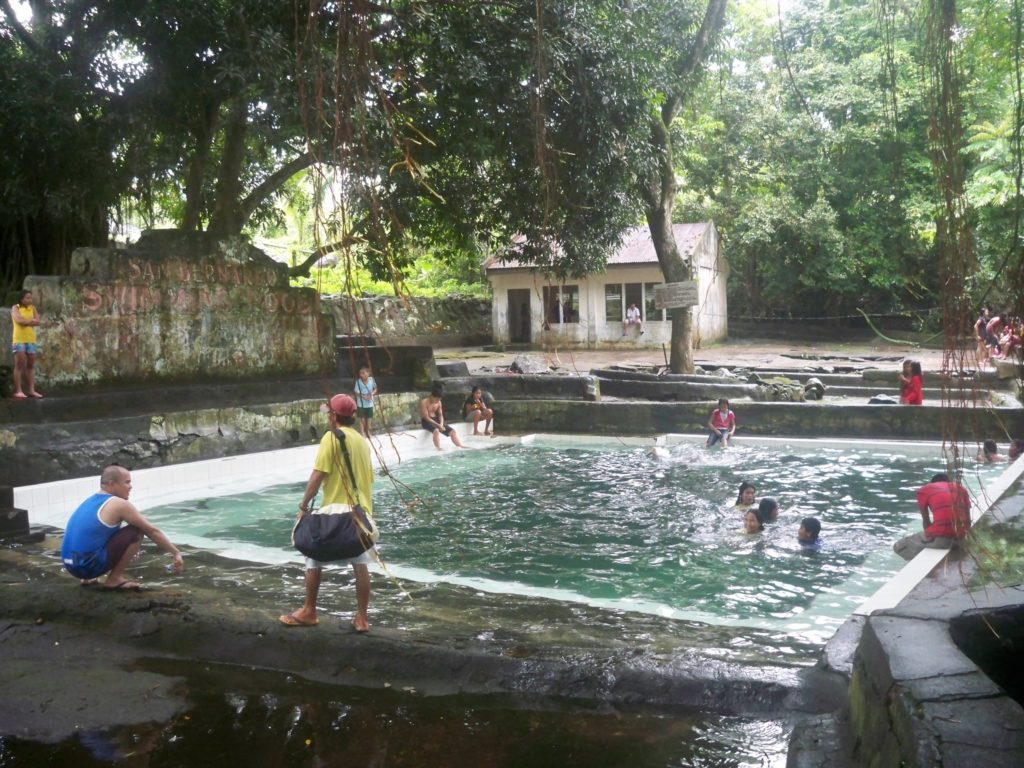 Last stop: We're running out of time so we decided to proceed to our last itinerary, Tinago Falls. It is so famous in Biliran. Provincial Government constructed some tourist facility but nobody's around so we had a free entrance.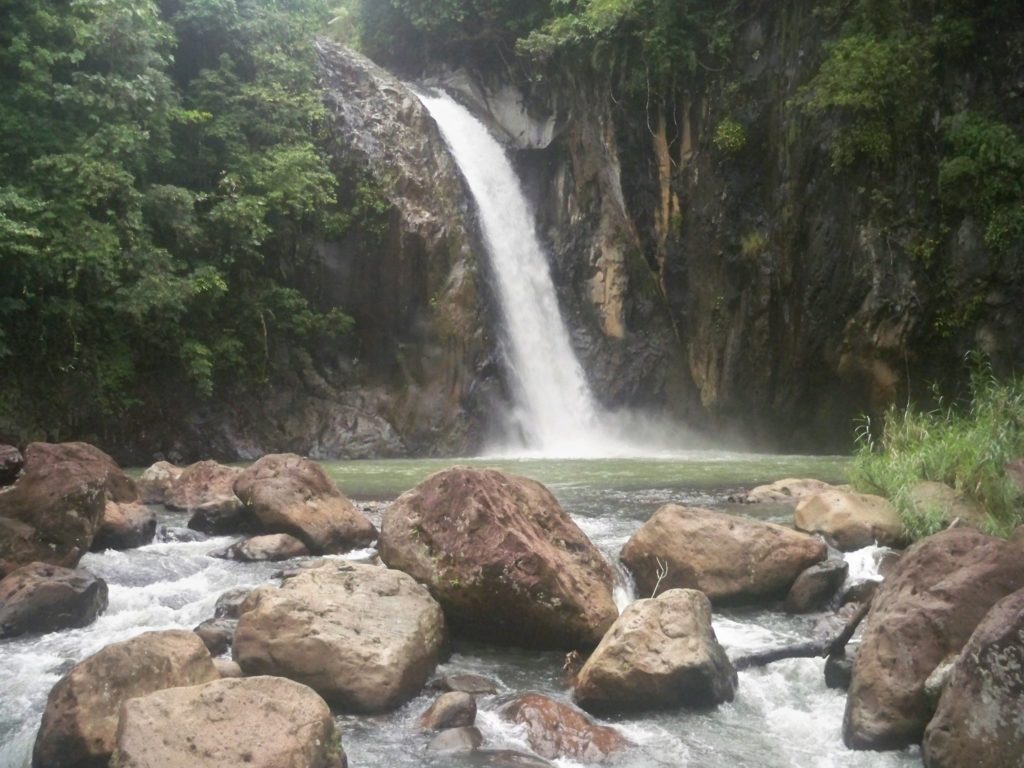 It's almost dark and we didn't really enjoy the scenery so we just had some dip at the falls, ate some sandwiches and head to the town proper to look for a place to stay. The cheapest place we can find is a house for transient travelers. It's adjacent to the public market. We finally found a place to stay overnight at Felan's Pension House. The place is so nice, covered with fruit-bearing trees at the façade with tables and chairs underneath. They had a pretty clean bathroom and a variety of rooms to choose from. We just picked a fan room. We're just staying for a short time and be leaving early in the morning. It's the affordable room for Php200/pax. The dinner was really good. Tuna soup. We bought 2 liters of beer and decided to enjoy it at the pension house veranda.
We woke up early in the morning and tried to catch the van going to Tacloban. However, we're an hour early so we decided to take the bus going to Naval. Whenever I got the chance to take the top load ride, I will take it. Ron was tempted and decided to join me. On the way, we really enjoyed the cool and fresh morning breeze with dews. We arrived in Naval 10 minutes earlier so we had breakfast at De la Cruz Eatery in Naval Public Market. We ordered the famous roast-suckling pig or lechon. One of the best with crispy skin and juicy meat.
We spent less than Php1500.00 each for the whole trip.