When there's a will, there's a way. My longing to be in this mountain started last year after scaling Mt. Toubkal twice. Not quite popular among the adventure seekers, this mountain massif in the High Atlas is another alternative when looking for different routes aside from the common Jebel Toubkal. Considered to be the third highest mountain in Northern Africa, this massif stands at a towering height of 4071 masl. Something hindered me from starting to embark on this new great challenge. There were fewer published itineraries and personal blogs. Most of them were guided tours in which you'll never see any well-detailed plans. Just a whopping price in euros or sterling pounds. It was a bit of discovery for me especially the navigation part.
Trekking to M'Goun
After a painful and tiresome search for gȋte (guesthouse), we finally found a middle-range budget guesthouse for 120 MAD per person. A lesson for the day: never settle for less. We found better accommodation. If we had just accepted the previous ones offered to us by that "fake guide", we could have ended in a creepy place. The worst-case was the turf at the toilet.  The host Mustapha was really nice and caring. He even offered us big homemade bread and invited us for dinner with the family. The kitchen was fully-equipped. Since it was a low season during that time, he allowed us to use whatever is in there. But we opted to find a place for dinner and eventually ended up cooking our own dinner.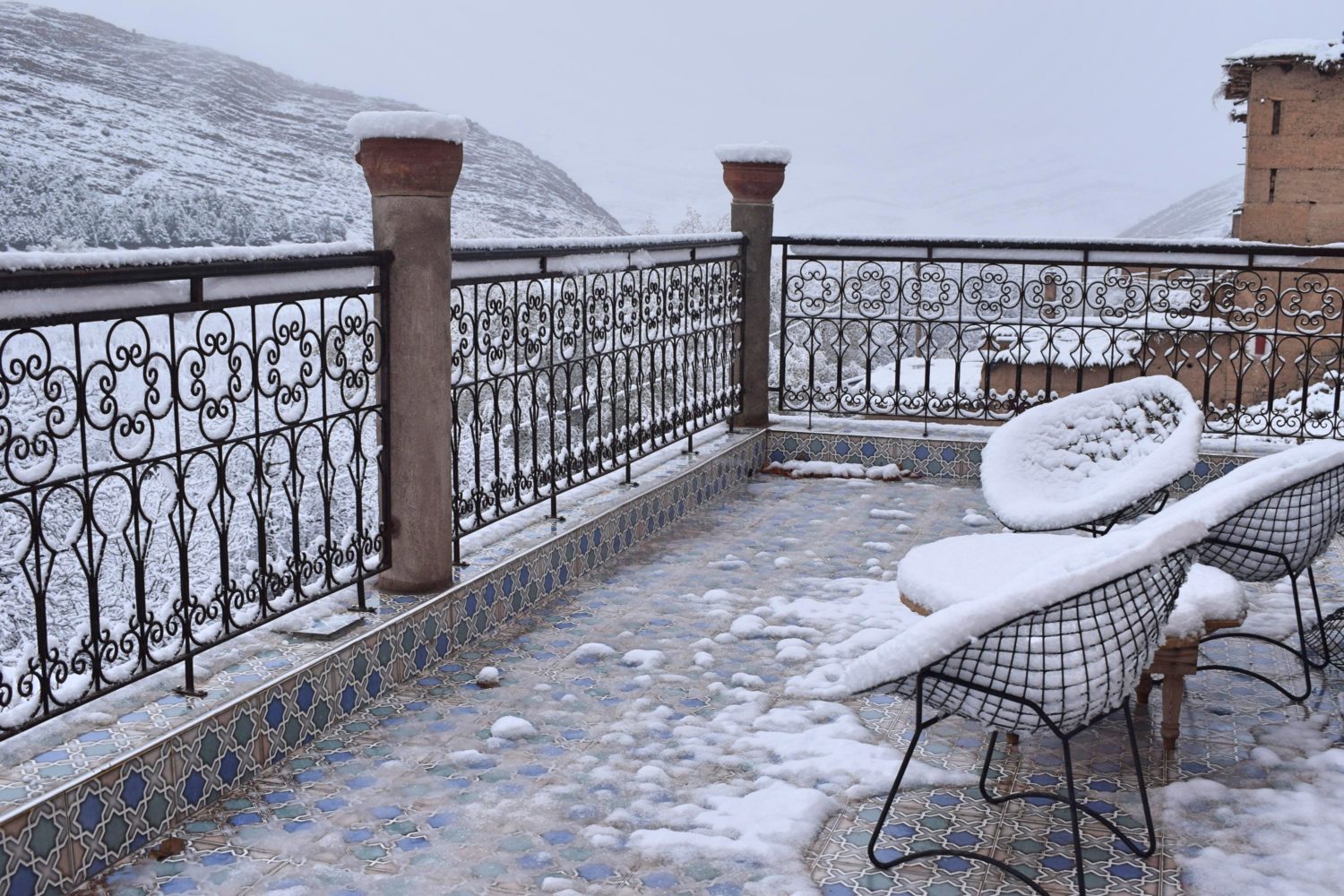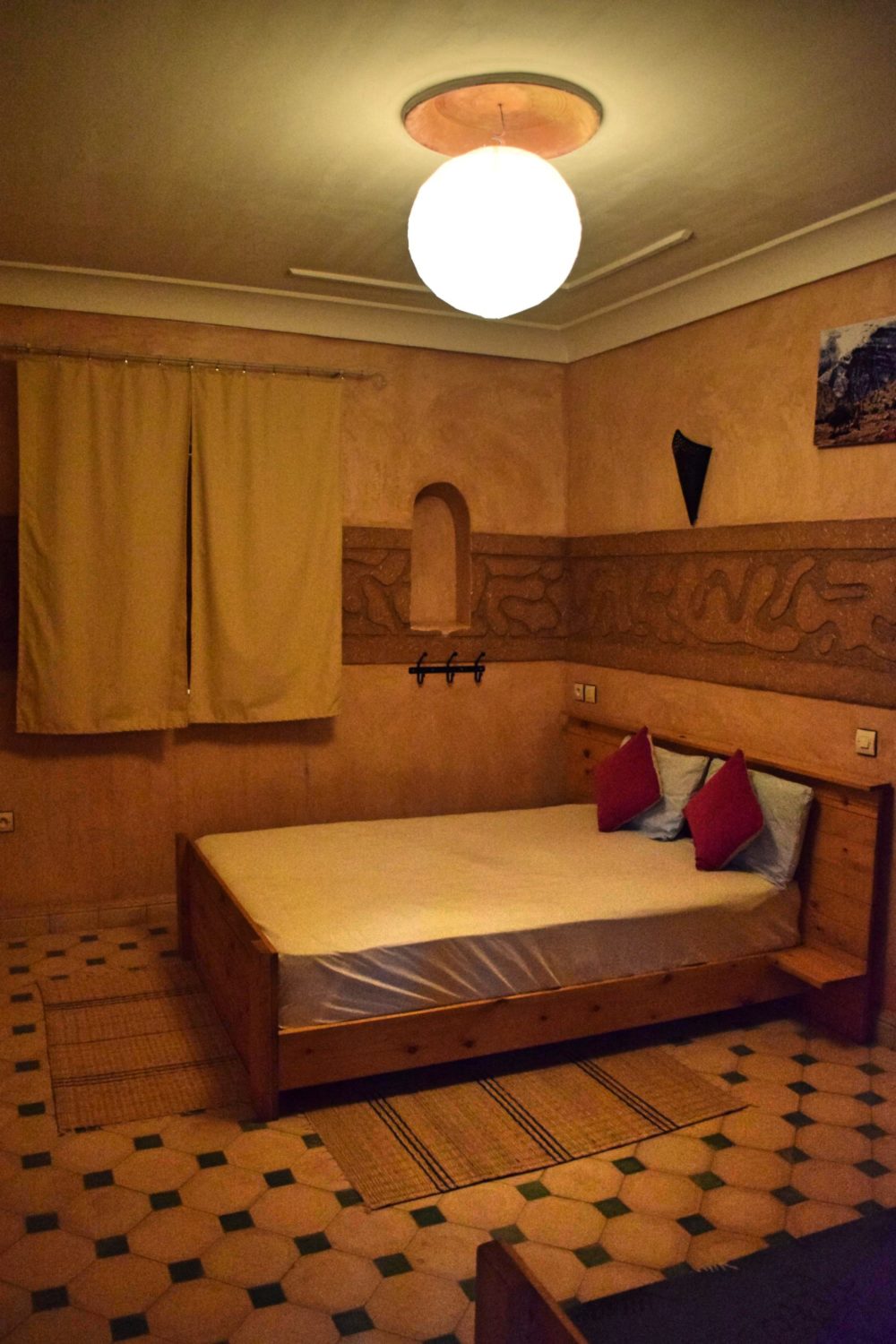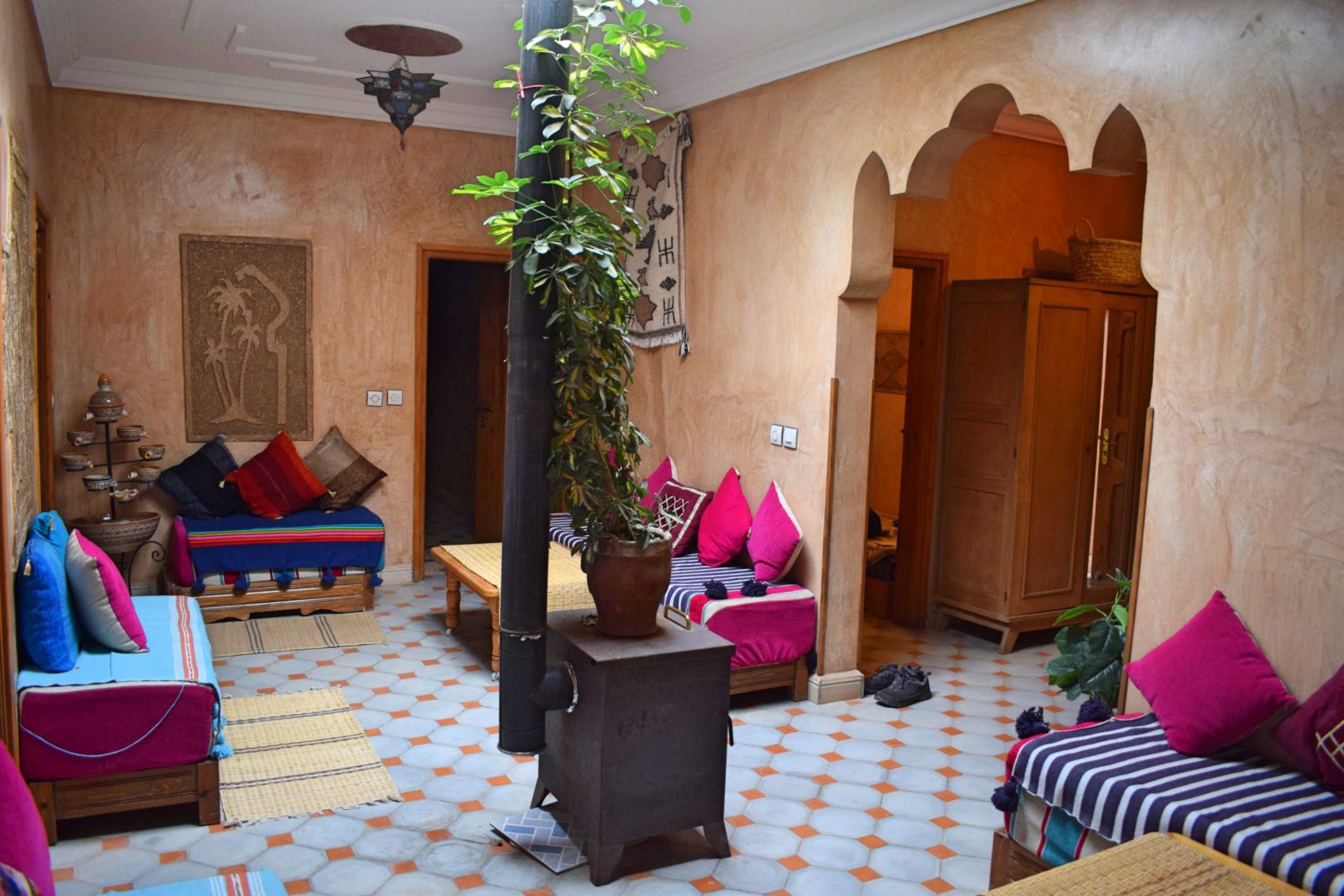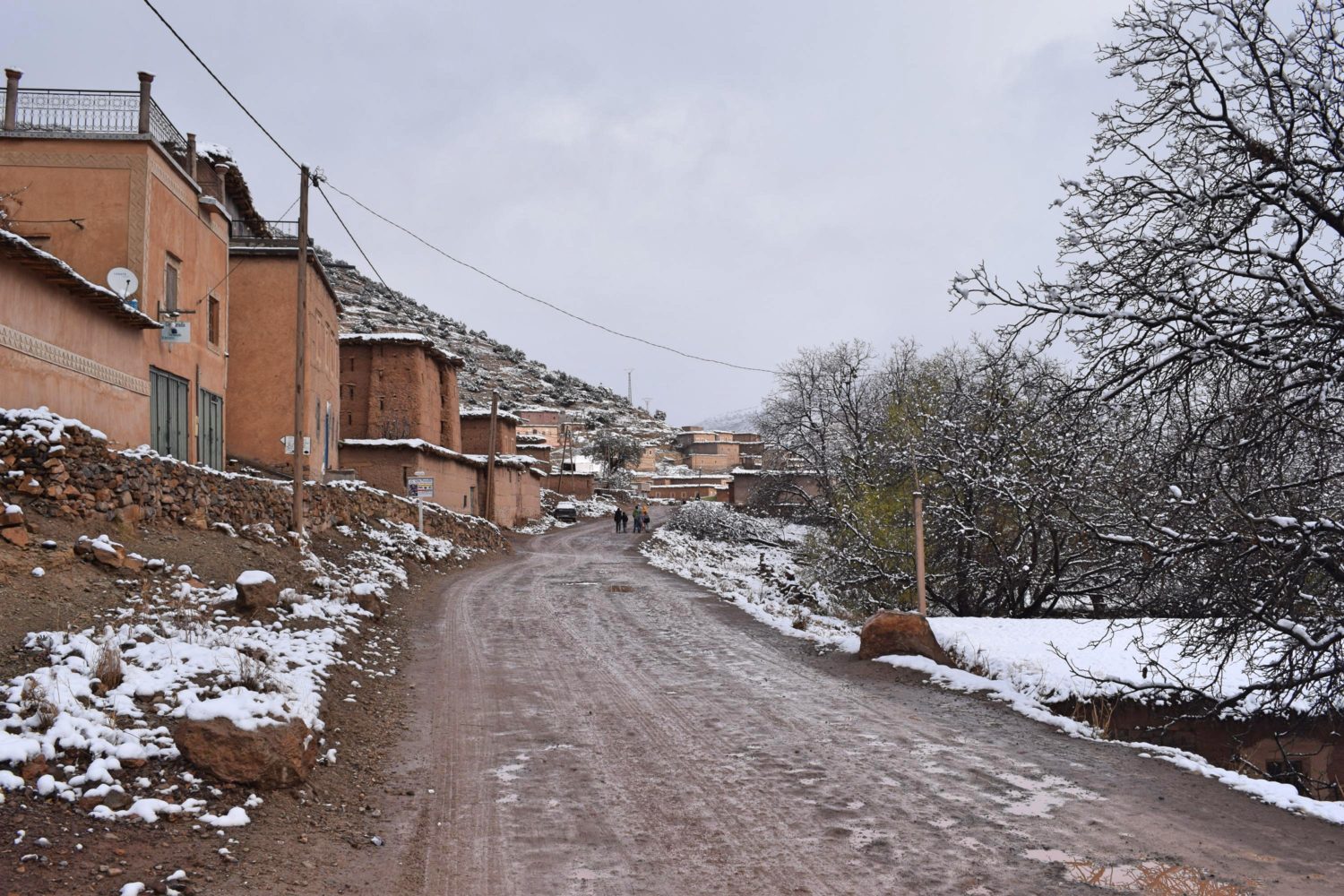 It was snowing outside when we woke up and I guessed everybody was lazy and just wanted to stay on the bed. After a hearty meal we prepared from scratch, we packed everything and headed back to Tabant village and look for some alternative route closer to M'Goun. Equipped with good skills in information gathering, we found a taxi driver that took us to the Arous village- one of the jumping-off points to M'Goun. The bumpy road from Tabant to Arous was perfectly complimented with a dramatic landscape of apple farms, rivers, and the rocky mountains around painted naturally. From Arous, we started the trek and welcomed by the gushing waters of the river from the high Atlas. As we advanced to D'Ikkis- the last village, fresh thick snow started to cover our muddy shoes.
D'Ikkis
The last village before the refuge. So tranquil with few houses and barn made of mud and some wood that protects the muttons, goats, and donkeys from the harsh weather condition. Reaching the gȋte was easy since it was just beside the trail with a visible sign. However, it was closed and we were greeted by a herder beside the guesthouse. He even offered his barn for us to spend a night. That could be our first time to sleep with muttons and goats. Lesson: never settle for less. After half an hour of searching for a place and limited communication to the guy, we surrendered and decided to go back to Arousse. We were on the other side of the guesthouse and even checked the nearby structures and luckily Mohammed appeared and he was the guy whom we're looking for. He was our savior.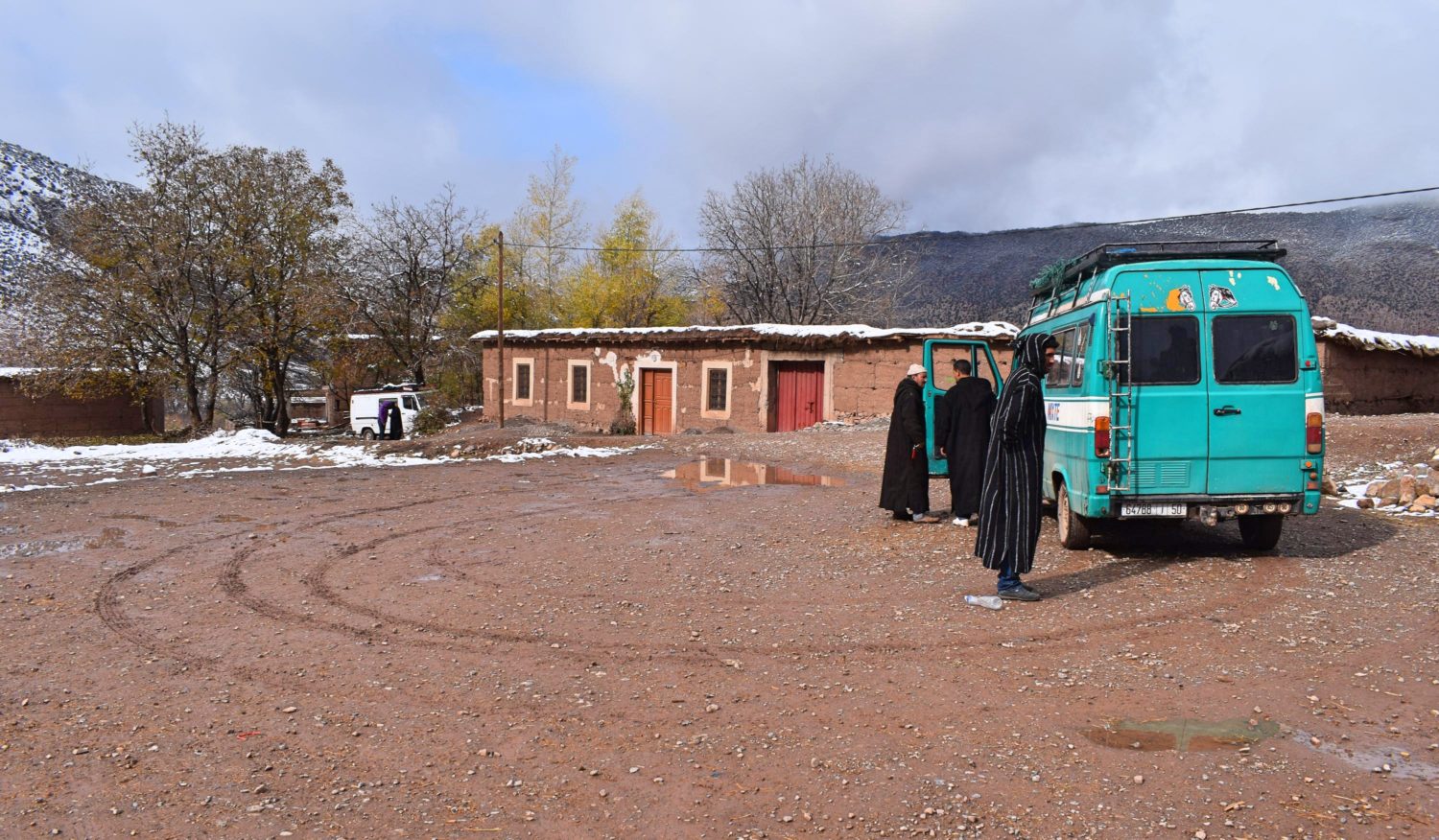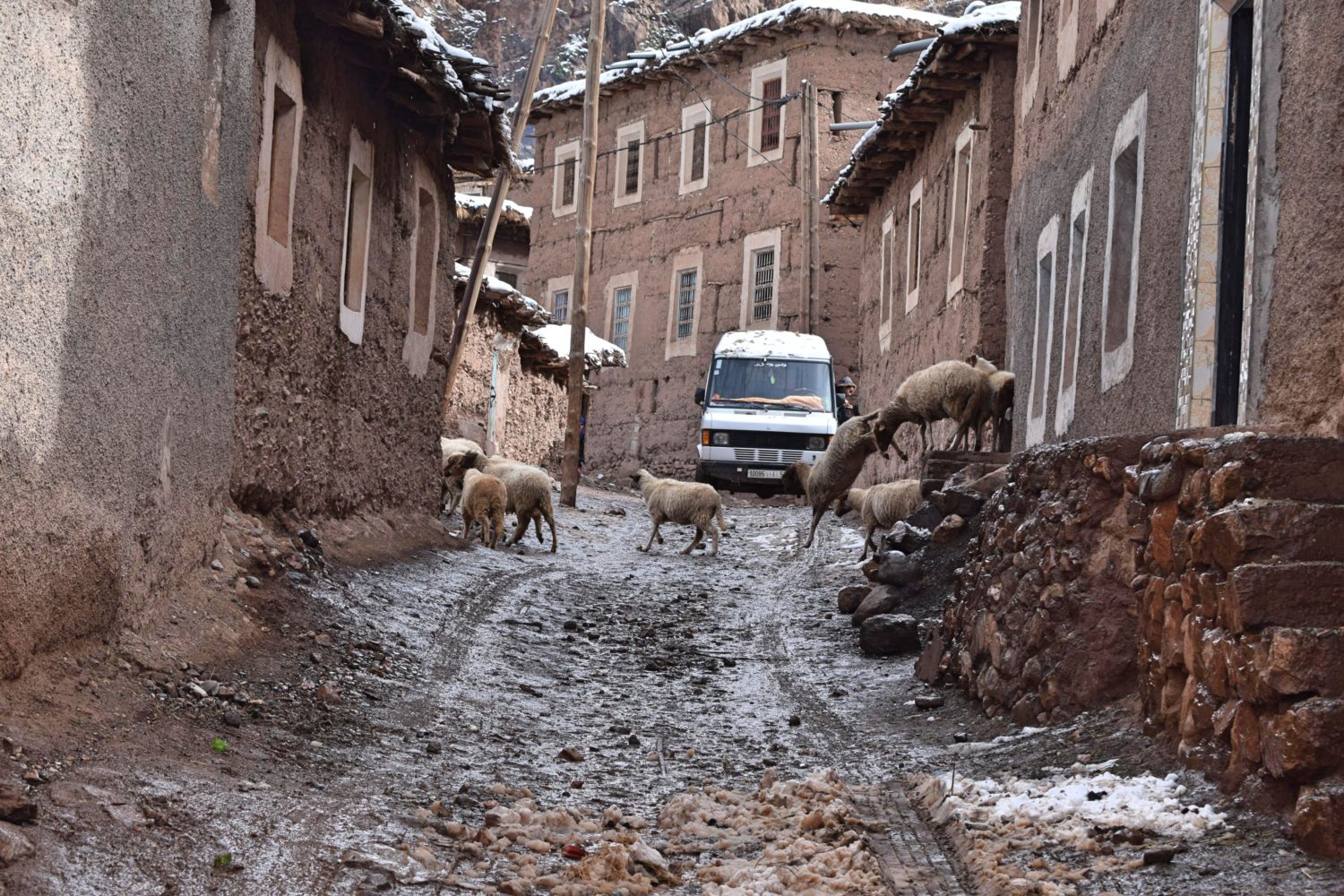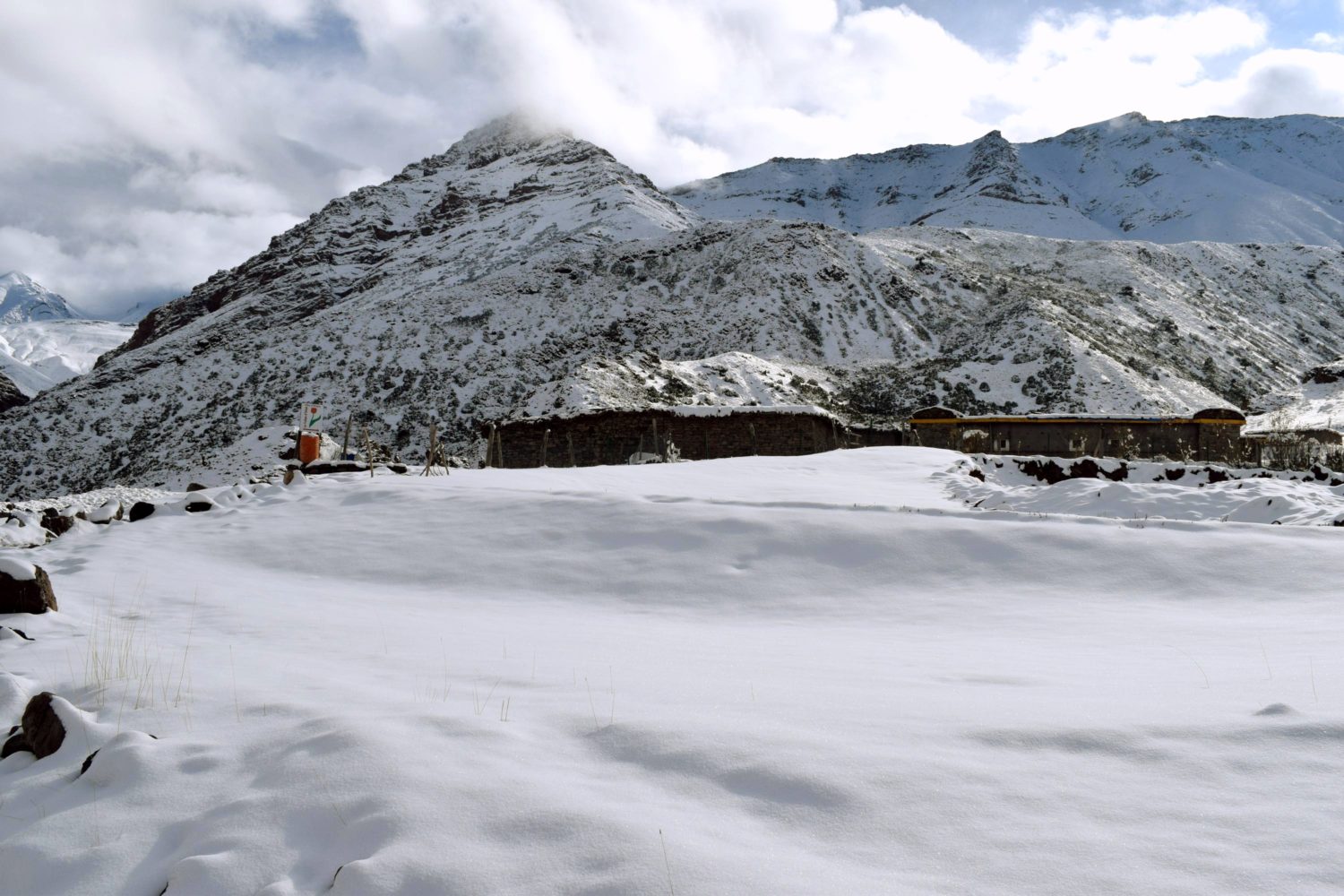 Overnight in La Tulipe d'Ikkis
The gȋte like other refuges in the Atlas mountains is a big enclosed space with 30-40 beds and equipped with kitchen, toilets, and bathrooms and decorated with a small pocket garden in the middle of the building. I assumed our host Mohamed has something to cook for us. Armed with confidence, survival French and hand gestures, we finally became comfortable with him. As we waited for our dinner, he gave us a portable heater which made it cozy and warm for the 3 of us. Hazel would occasionally check the kitchen while Mohamed is out and excited with the cooking tagine. The smell of the spices diffused all over the gîte which made us more hungry.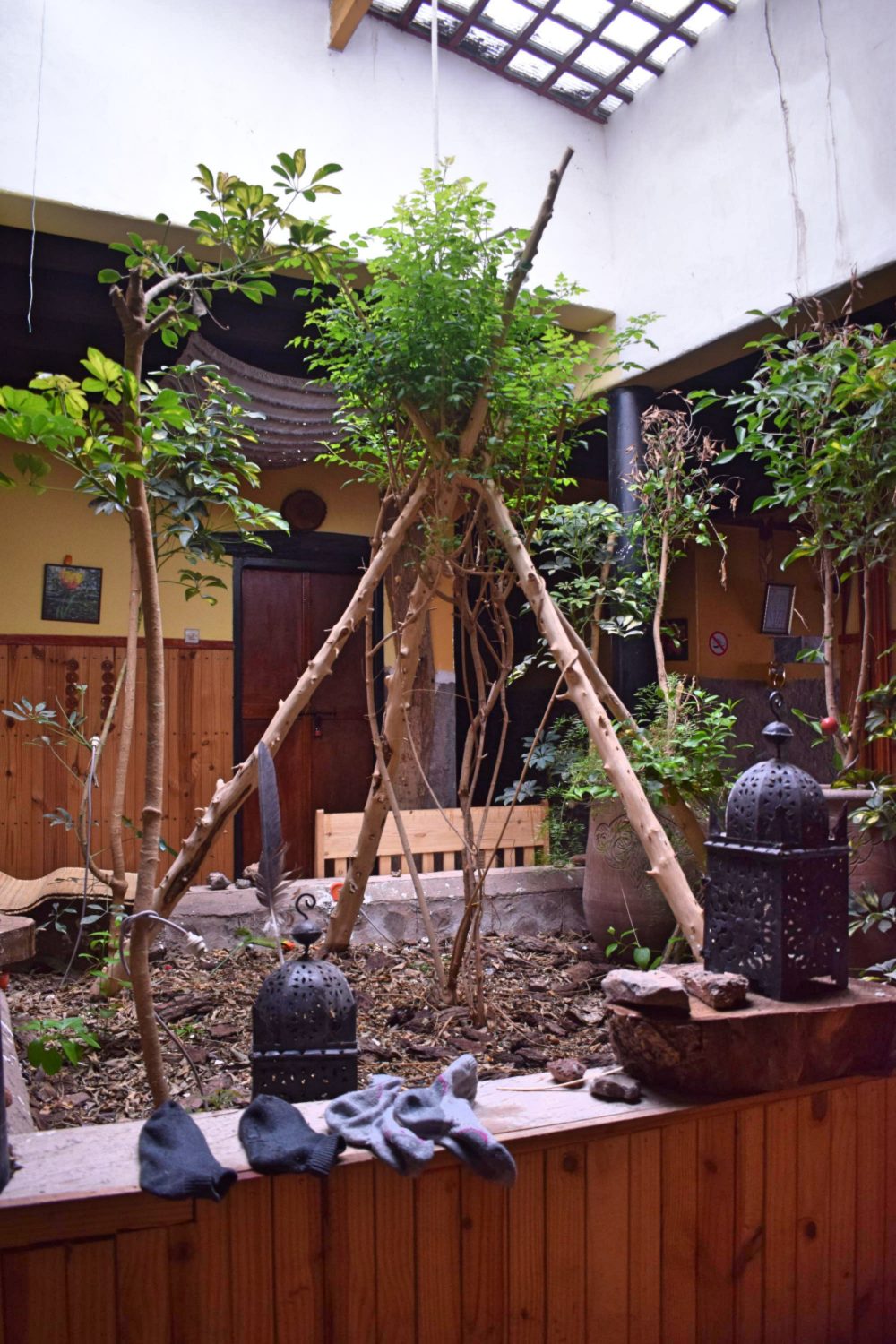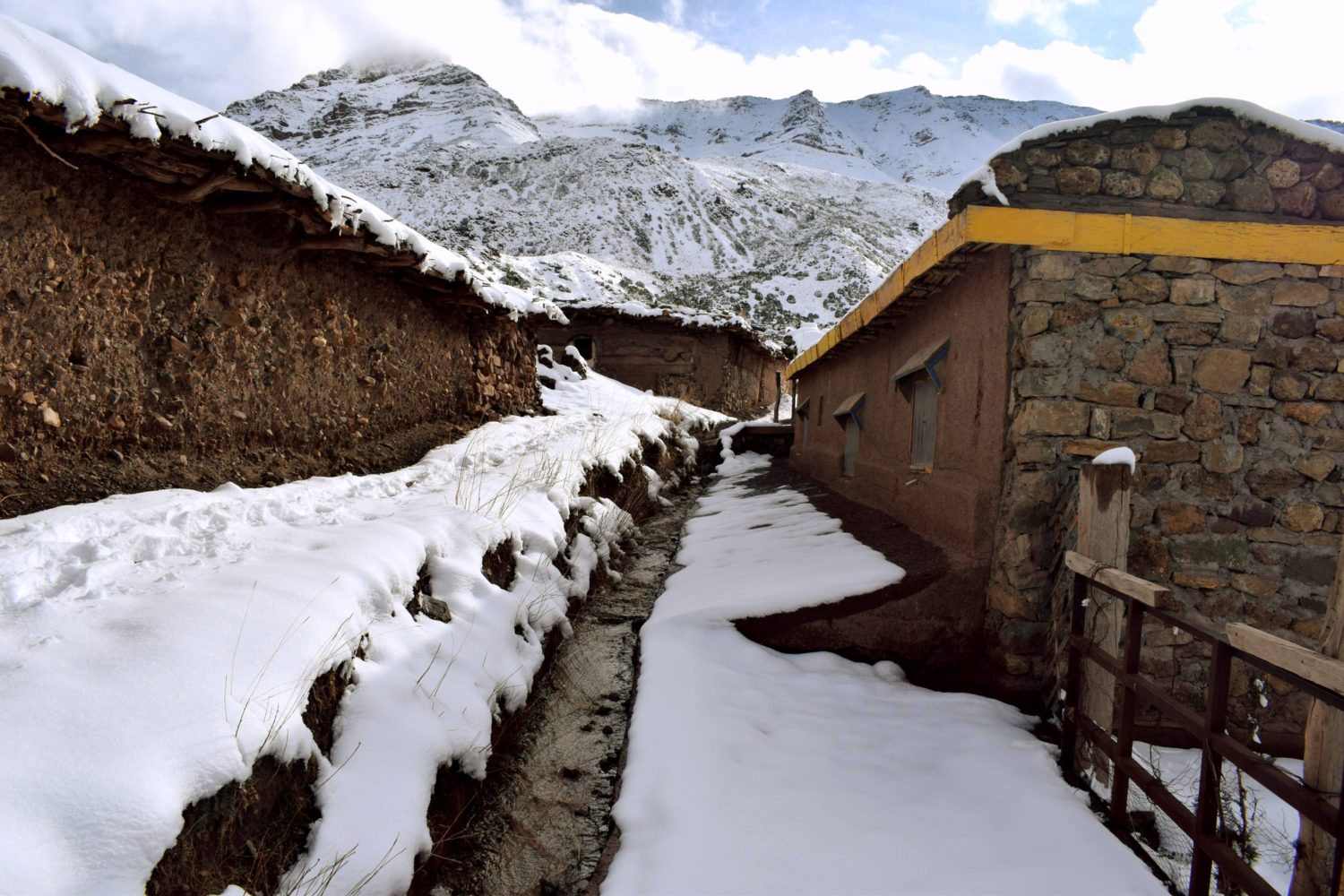 The exquisite dinner of lamb tagine and bread was one of the best I had in Morocco. We were compelled to finished everything except for the apples he served for dessert. You know how the old apples would taste. Tea and coffee were mandatory due to its availability. The instant black coffee was really a big treat after a big meal. After filling our stomach, we hurriedly jumped into our bed and tucked ourselves with thick blankets. That was one of the comfortable sleep I had in the mountains. And I don't know how did they insulate that building but it was superb.
Way To Refuge
After breakfast, geared and packed, we proceeded to the Refuge clueless of the tracks since we were the only people who were climbing that time.  We decided to get back to the gȋte and didn't risk our lives finding the refuge. On the way back, we found a small abandoned hut and make some fresh coffee to warm our belly. It was a nice treat while Josh happily explored the nearby barn. We arrived at the Gȋte Tullip D'Ikkis and informed Mohamed (caretaker) that we didn't push through with the summit. We'll surely go back next time. Probably not in winter. I'm pretty sure there will have a revenge climb.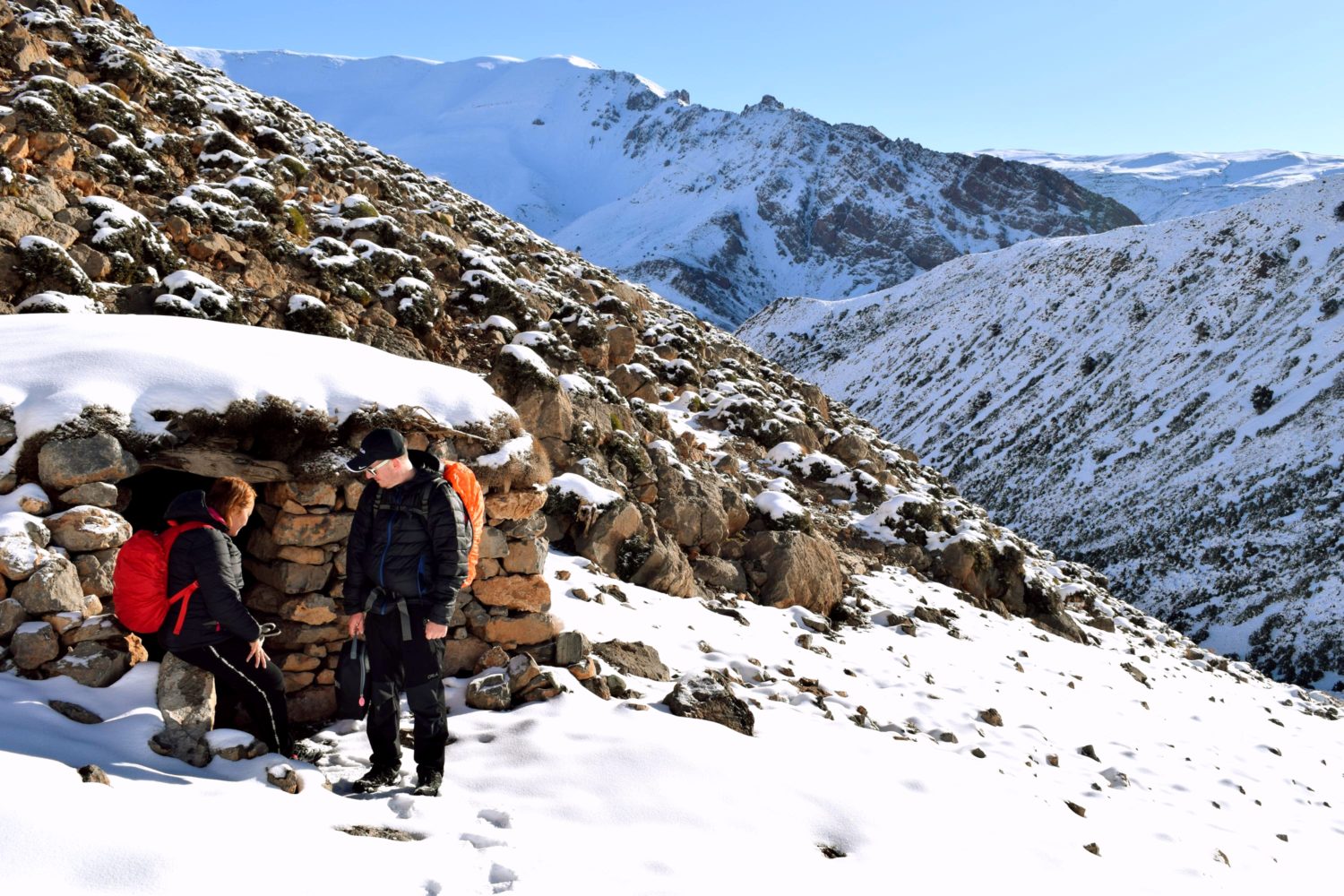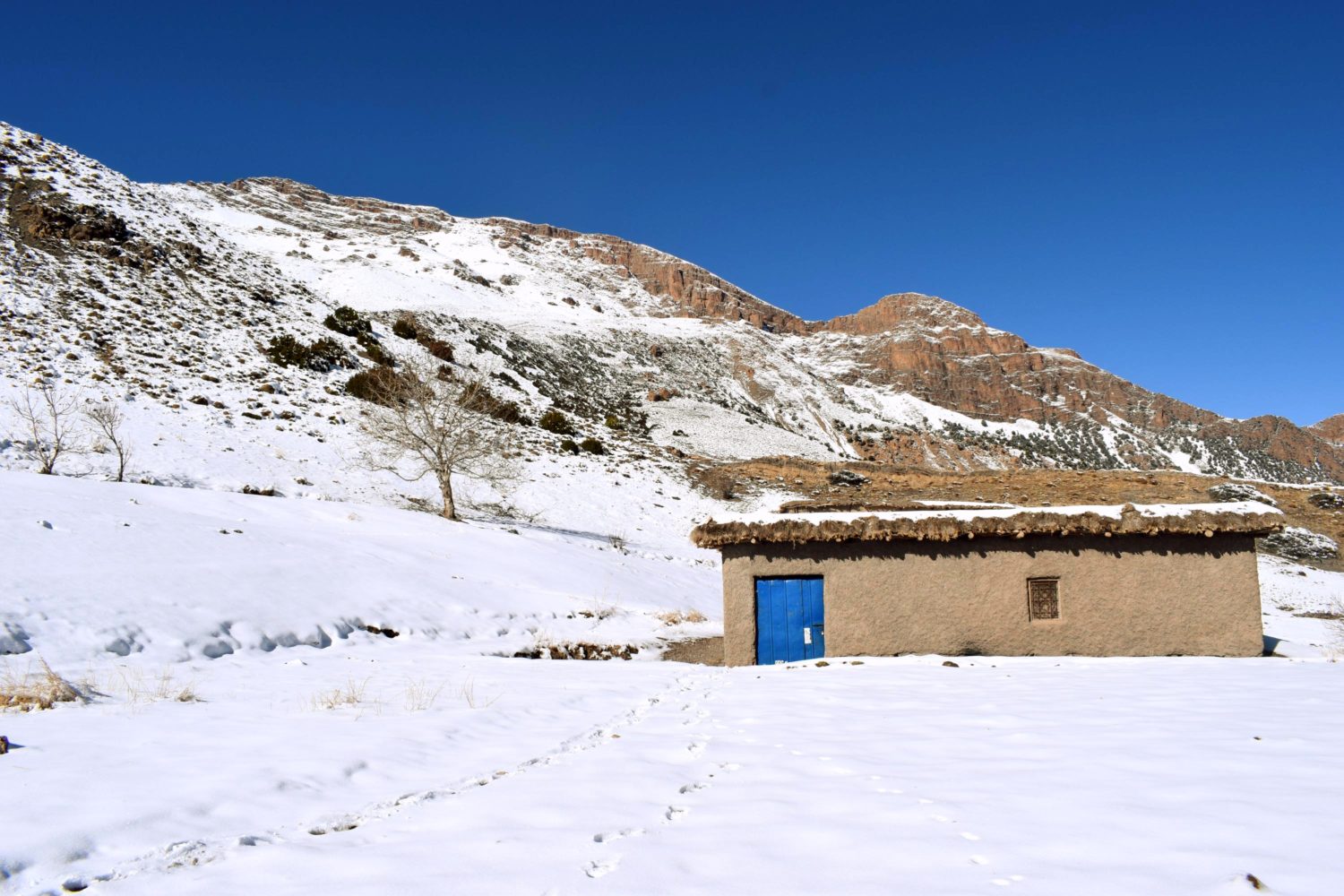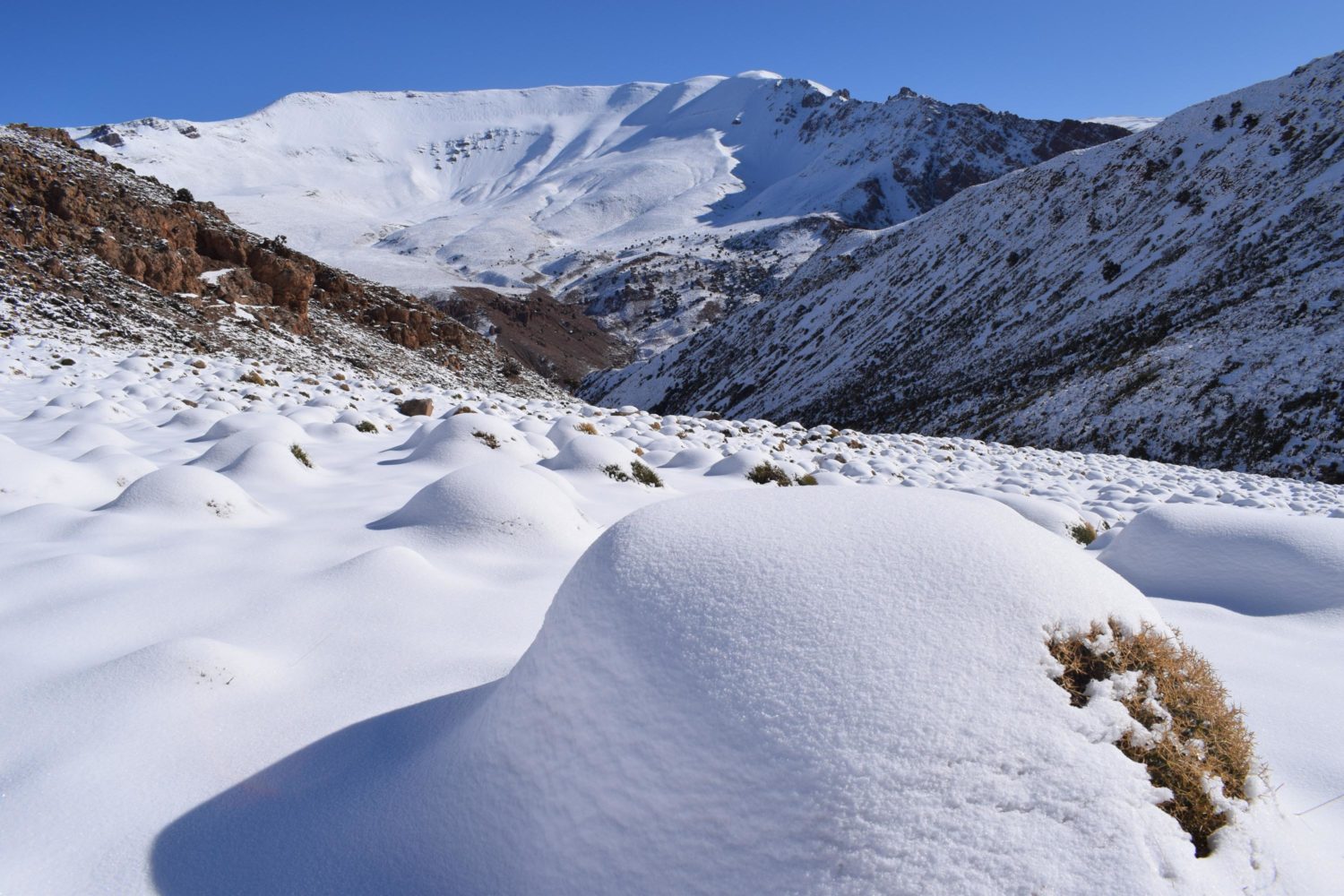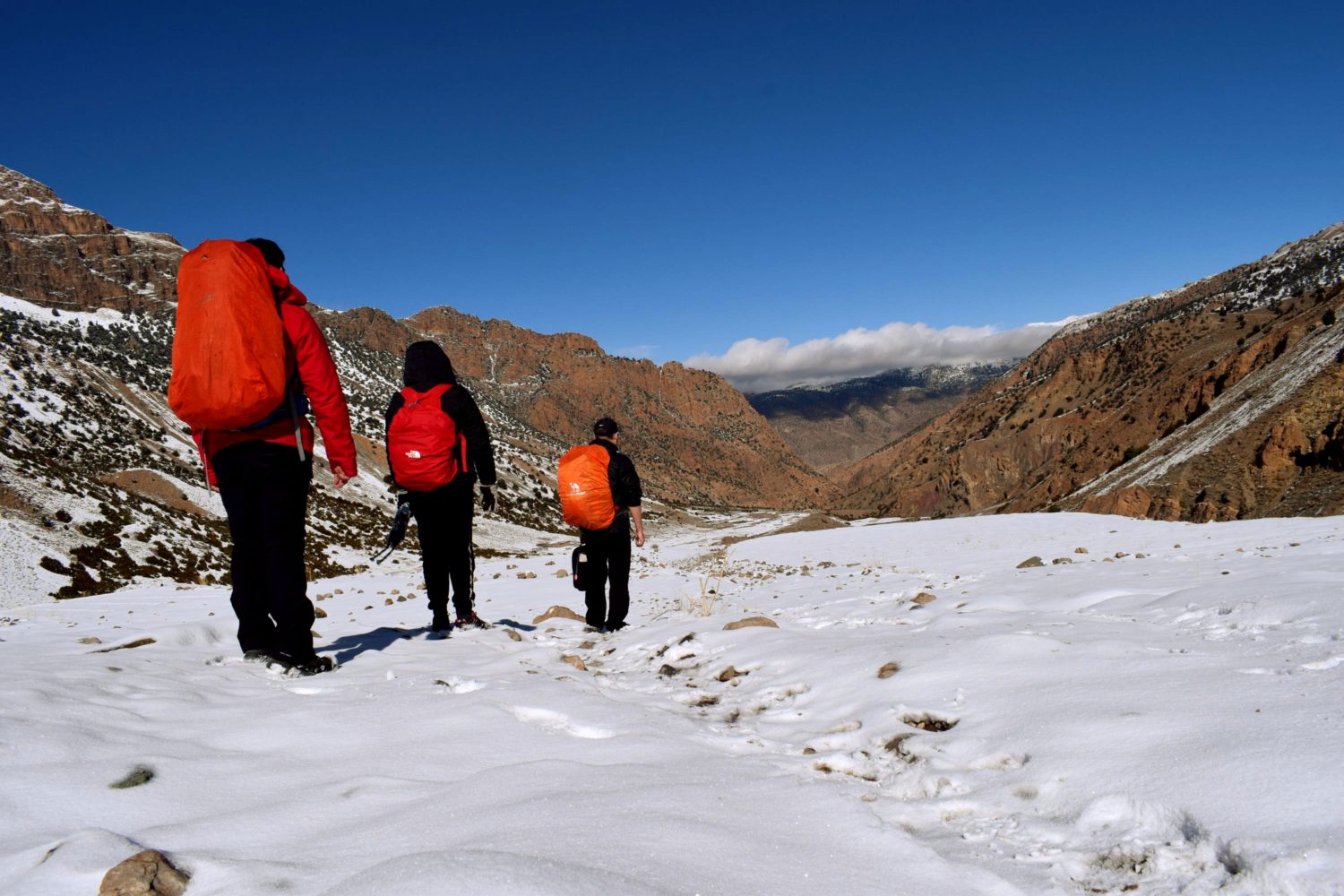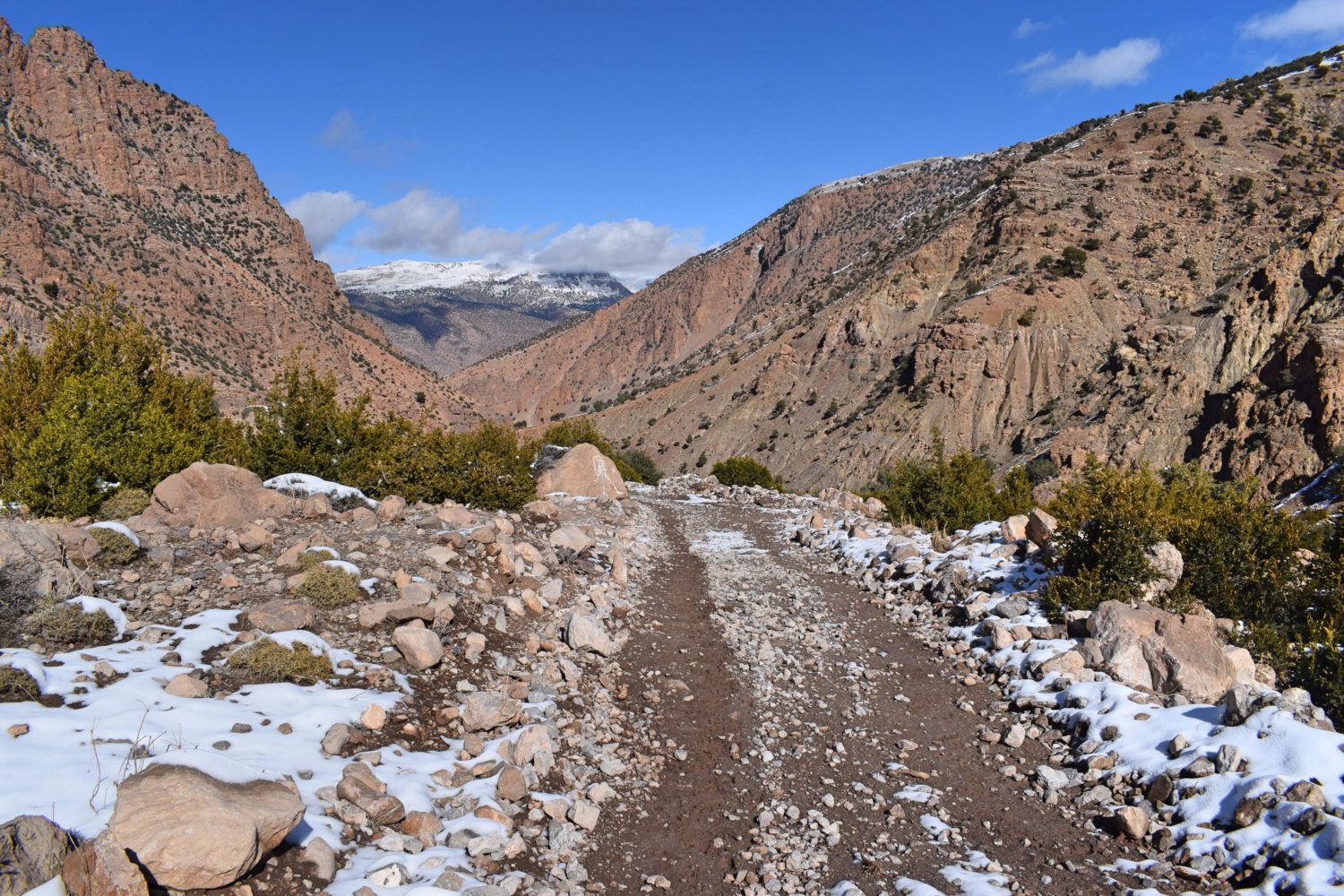 Reaching Arous, we walked all the way down to Agouti passing through some mud and rock houses with some wooden roof and mixed with shrubs. Rotten apples were scattered on the ground signaling the post-harvest and some farmers segregating stocked potatoes were the usual day scene. The landscape after Arous was so majestic and it was a good idea to walked for more than 2 hours. It was only us in the middle of nowhere. Reaching the village of Agouti, we hopped into a small Mercedes Benz taxi that took us back to Tabant where we took a transfer taxi to Azilal. A long journey but was worth it. Till next time.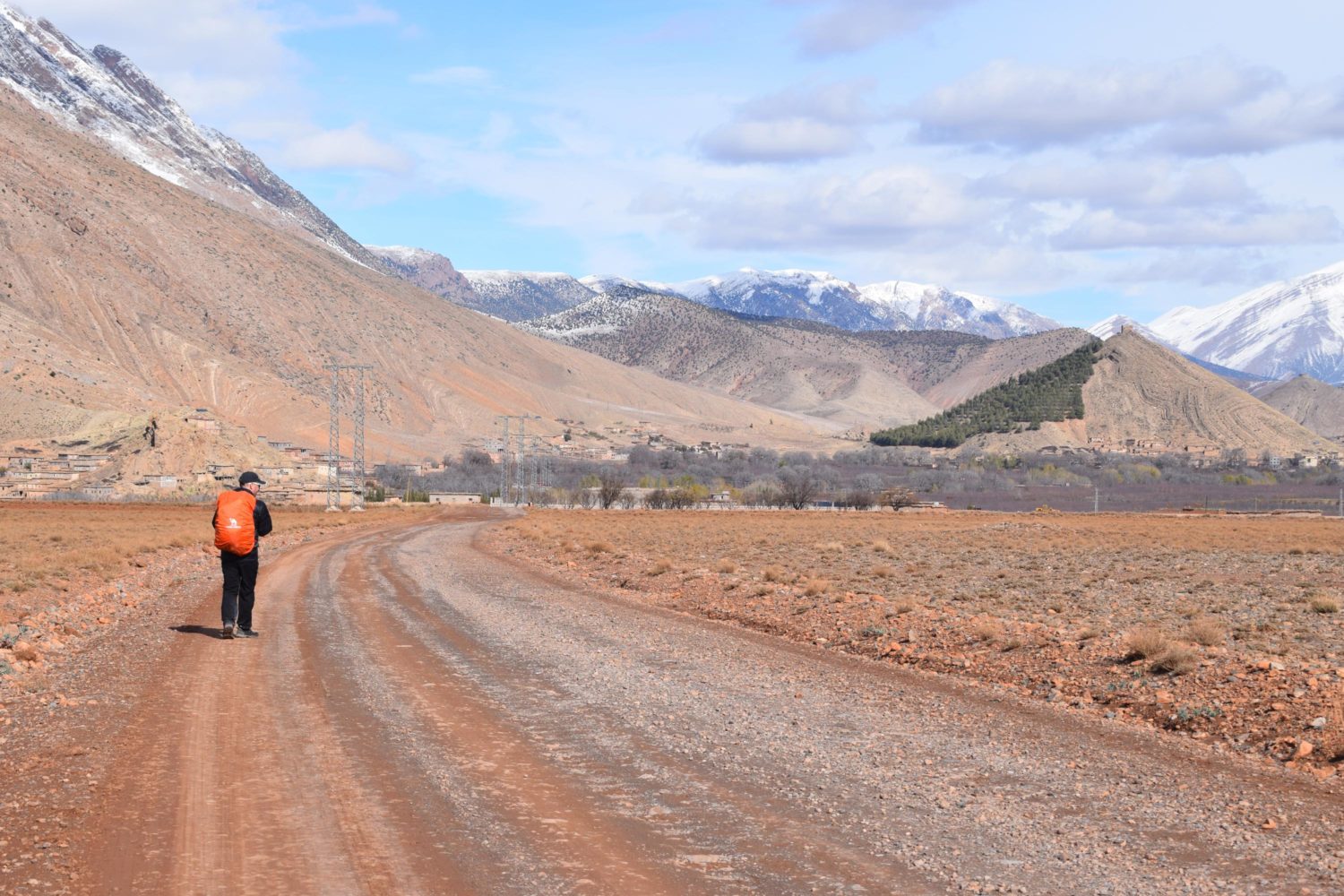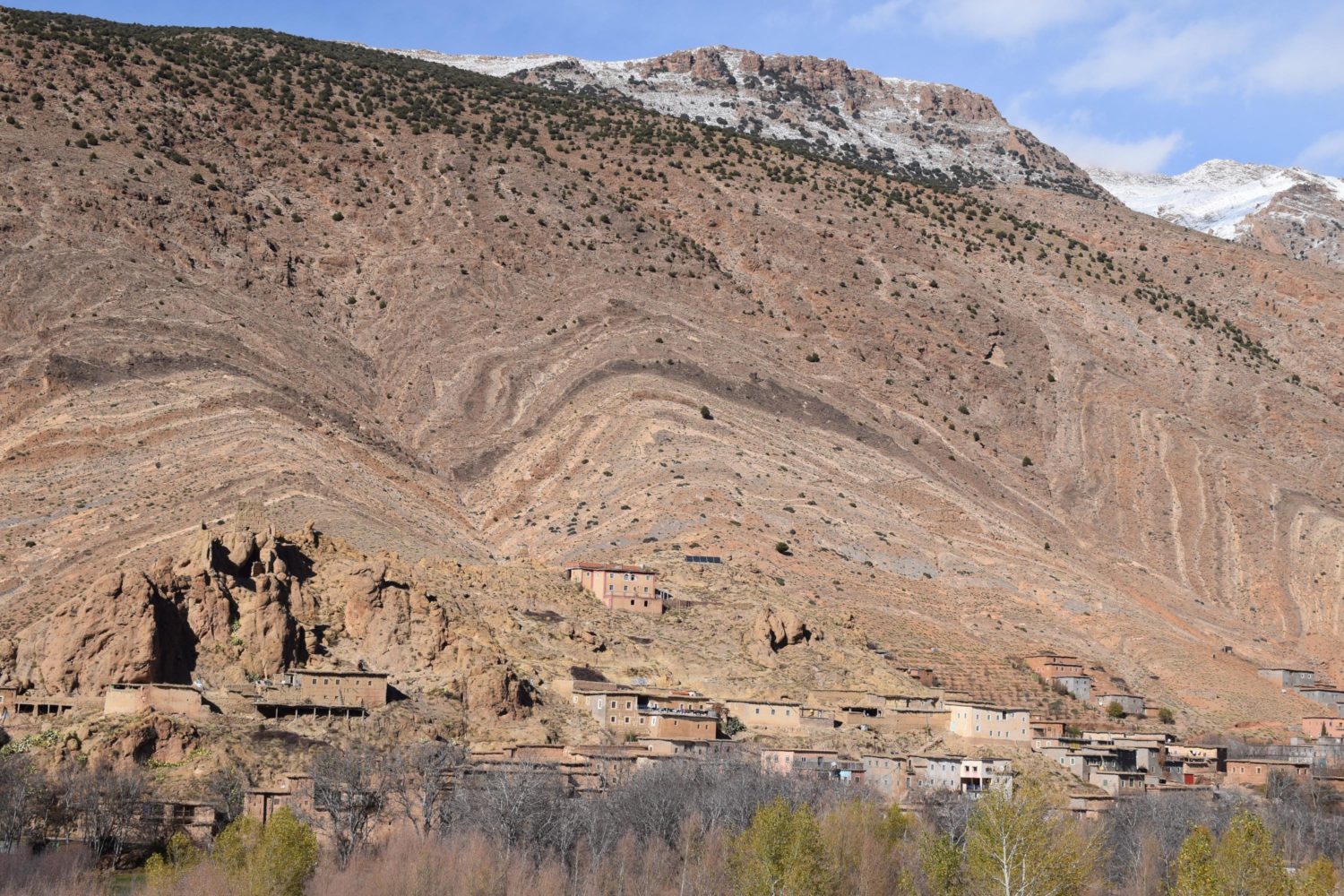 How To Get There: From Rabat, we took a CTM Bus to Beni-Mellal for 100 MAD. 145 MAD for the return trip to Rabat. The following day, we started to move closer to Azilal through Gare Routiere Azilal. In Azilal, you can find a small bus or taxi heading to Arous. But I suggest just take a direct taxi to Arous in Azilal. From there, you'll start the trek until the last gȋte in Tazib Ikkis or if too early, can go straight to the refuge.
Expenses:
Rabat to Beni-Mella via CTM    100 Dhs
Hotel Dar Essalam                  150 Dhs
Beni-Mellal- Azilal                   40 Dhs
Azilal-Tabant                           40 Dhs
Gîte Mustapha                        120 Dhs
Tabant-Arous                          33 Dhs
Gîte Tullip D'Ikkis                    183 Dhs ( 400/3 + 50 tip)
Agouti-Tabant                         10 Dhs
Tabant-Azilal                           40 Dhs
Azilal-Beni- Mellal                   40 Dhs
Dinner                                   50 Dhs
Hotel Dar Essalam                  118 Dhs
Dar Essalam-CTM via taxi        5 Dhs
Beni-Mellal-Rabat via CTM       125
——————————————–
Total: 1054 Dhs per person
UPDATE:
July 22, 2020. I had the chance to re-visit this stunning mountain 8 months after the last visit to M'Goun Geopark. It was summer and pretty hot like 40'C. The arid landscape was more favorable compared during winter where you see flowers in full bloom, trees generously fruiting, farmers harvesting their wheat and potatoes which is a common crop in the last village of Tazeb Ikkis. My second attempt to summit M'Goun was another failure. I encountered an accident that forced me to recuperate at the Gîte Tullip D'Ikkis for 2 full days. Luckily, I felt better on the 3rd day so I slowly descended to Arous and walked all through Agouti. From there, I took a grand taxi to Tabant Amskar for 10 Dhs and finally another grand taxi to Azilal for 80 Dhs. I was impressed with their observance of 50%  seating capacity due to COVID-19. By the way, I passed by another hiker along the trail and informed me of the closure of the Refuge Tarkeddit so it's better to send them an email when planning to spend a night at the refuge.