My wife and I had been living here in Morocco for quite sometimes and we love to explore all the local cuisine around. So far tried some of them. I know that we still have a lot to try. I'm pretty sure we will taste them all. Food is always part of the culture. Every country has its own unique food, flavor, and spices. We love to cook and now I am mastering the art of cooking tagine. First, I cooked the ones with dried fruits such as apricots and dates but my wife didn't really like it so I switched to learning the one with vegetable and chicken. I learned my first tagine cooking lesson from a Moroccan couchsurfer we had a few weeks ago and can't wait to make it on my own. So when we had a Portuguese friend visiting, I made my first chicken tagine and it was a success! I really appreciated all my Moroccan friends for taking an extra effort of sending some local dishes at home especially during the pandemic lockdown. Here some of the common food we had tried in our first few months here in Morocco. I will be adding some food in this article from time to time. In the meantime, sit back and enjoy reading!
Salad Marocain. Morocco is blessed with fertile lands which gives an opportunity for farmers to plant a variety of fruits and vegetables. Due to its abundance, they are sold at a very affordable price. Moroccan salad is a perfect starter for lunch or dinner. This photo below is a well-decorated plate of salad with tektouka buried deep under lettuce and it's good for 4 persons. But I guess, this is too much for us. Piece of advice: order first the one that's good for 2 to avoid food wastage.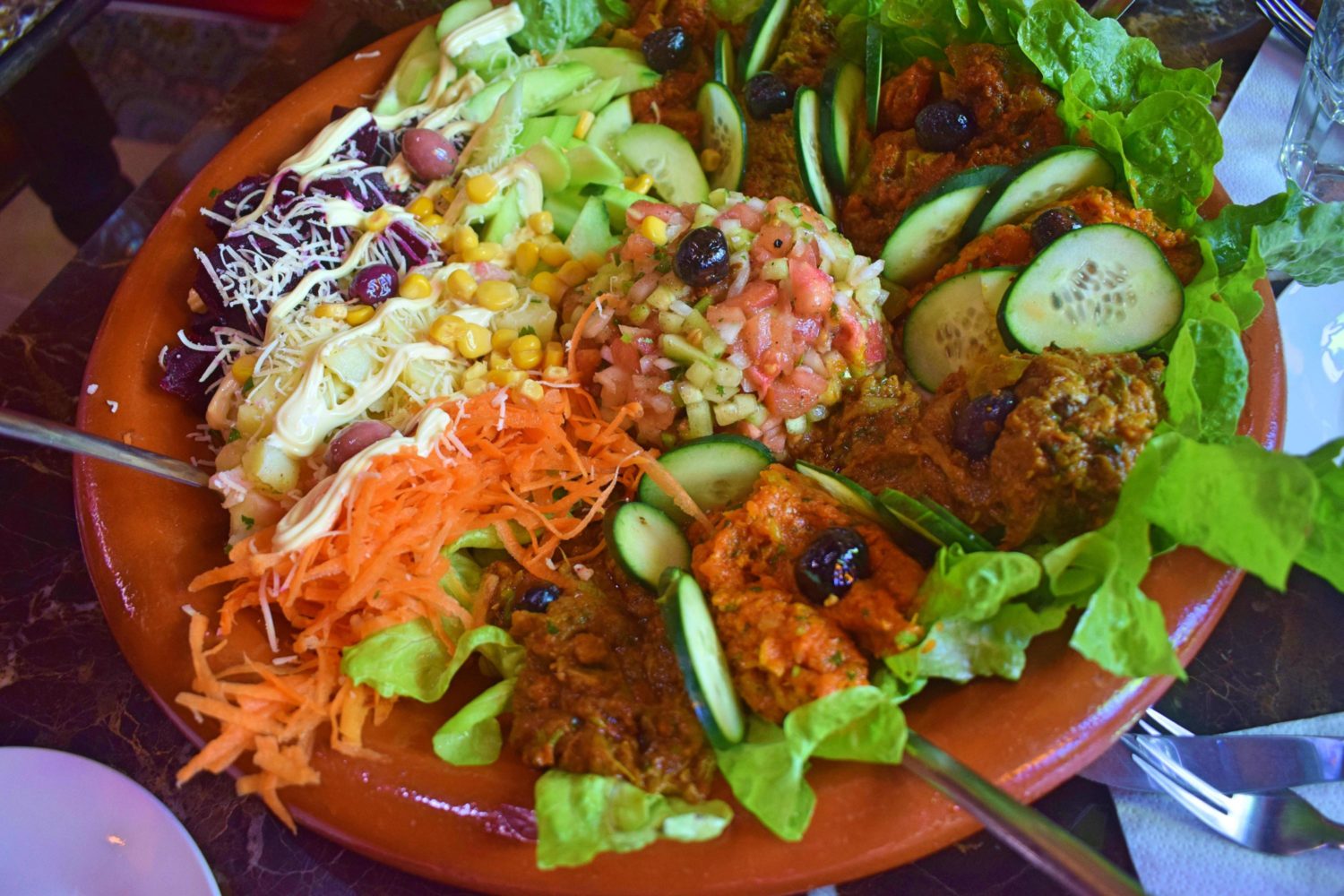 Tagine. You'll see this everywhere you go and I suggest you try them all since it comes in different variations. It comes in any meat, seafood, or pure vegetables. The common tagine you can order in restaurants includes chicken, ground meat, goat meat, or lamb. It is affordable in medinas for 20 Dhs including bread. Derived from the Arabic word "tājun " which means "shallow earthen pot". Ancient preparation of this meal was even mentioned in a famous 9th century Arabic book of "One Thousand and One Nights"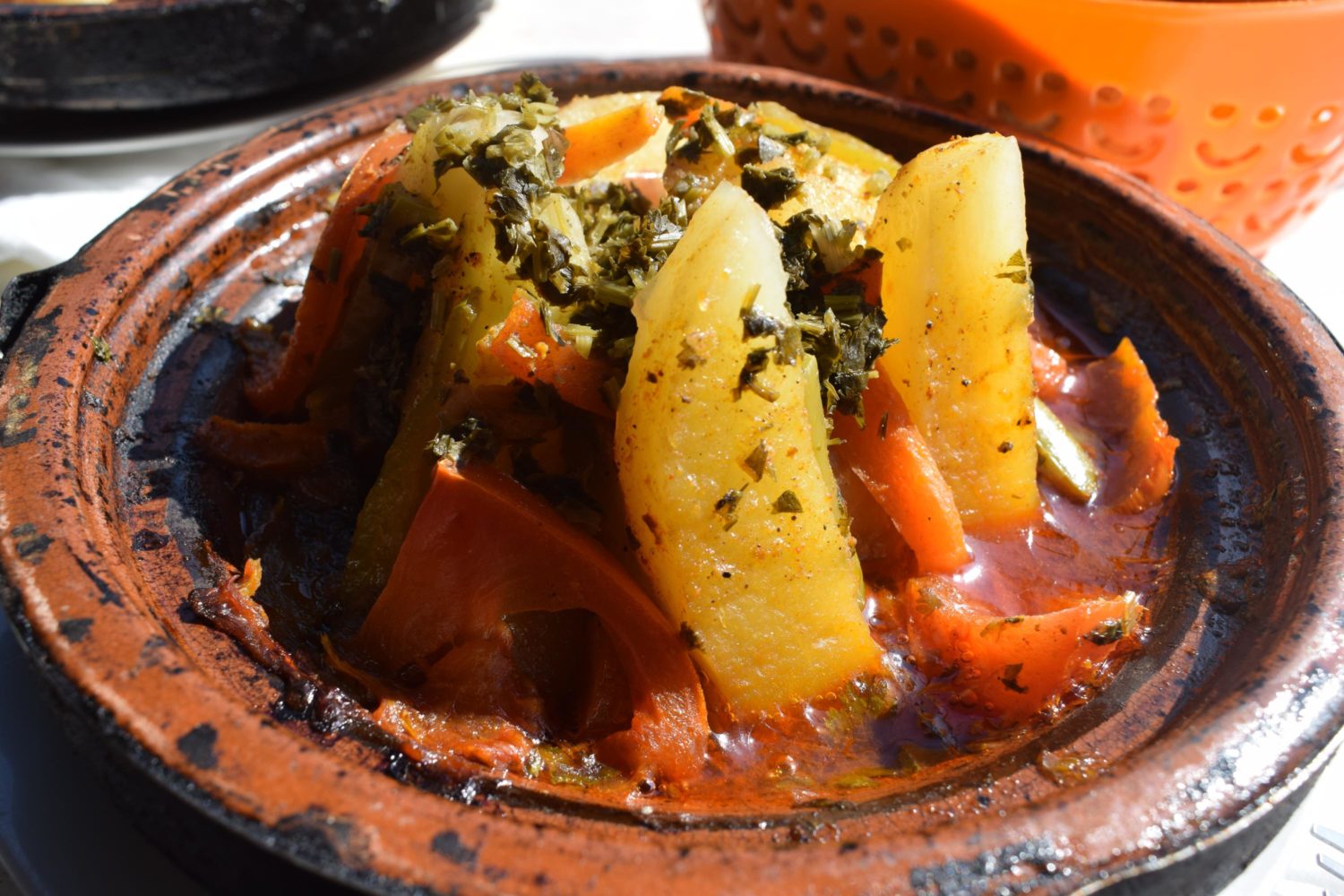 Couscous. In Morocco, women have the authority to make this special dish and are only served on Fridays. Though they are restaurants in tourist areas that serve couscous in any day. I was a bit curious as to why they only serve this on Friday. I asked some of my Moroccan friends and they all have the same answer. According to them, Friday is a holy day (Al-Jumah) for Muslims so they would usually prepare special food.  A cultural tradition for most of them. It is a Maghrebi dish of crushed durum wheat semolina steamed patiently and is traditionally served with a vegetable and meat stew on top. The special ones are made from 7 different vegetables with beef. It is everybody's pride to say that "my mother has the best couscous". Heard of this like a hundred times and I can say that they all have the best couscous. It is perfectly paired with traditional leben– a strong tasting and thick type of fermented beverage. You can order this in restaurants, medinas, or best when prepared by lovely mothers at home. The prices vary but a single serving couscous without leben starts at 35 Dhs.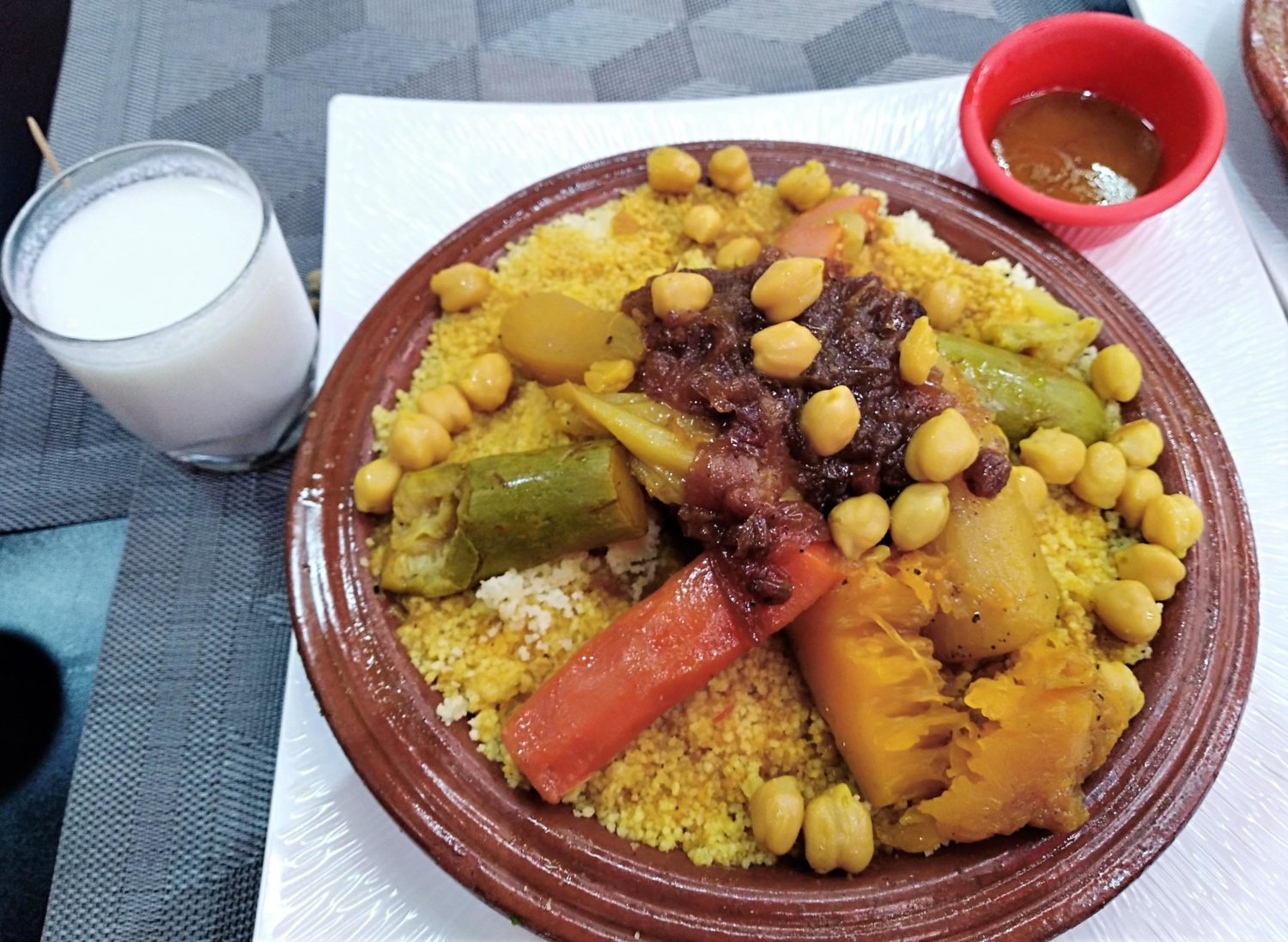 Tangia. Derived from the name of a cooking vessel called "tangia" where the meat is slowly cooked with wood fire overnight. It's basically a vegetable-free dish with few spices such as ground cumin, saffron, preserved lemons, and a bit of olive oil is added which harmoniously mixed with meat. Some versions are mixed with onions and tomatoes but very rare. This dish is unique in Marrakech although it has been copied in some cities such as Rabat, Casablanca, and other places in Morocco. You can buy it per kilo of meat. I need to go back to Marrakech in order to check other tangia places.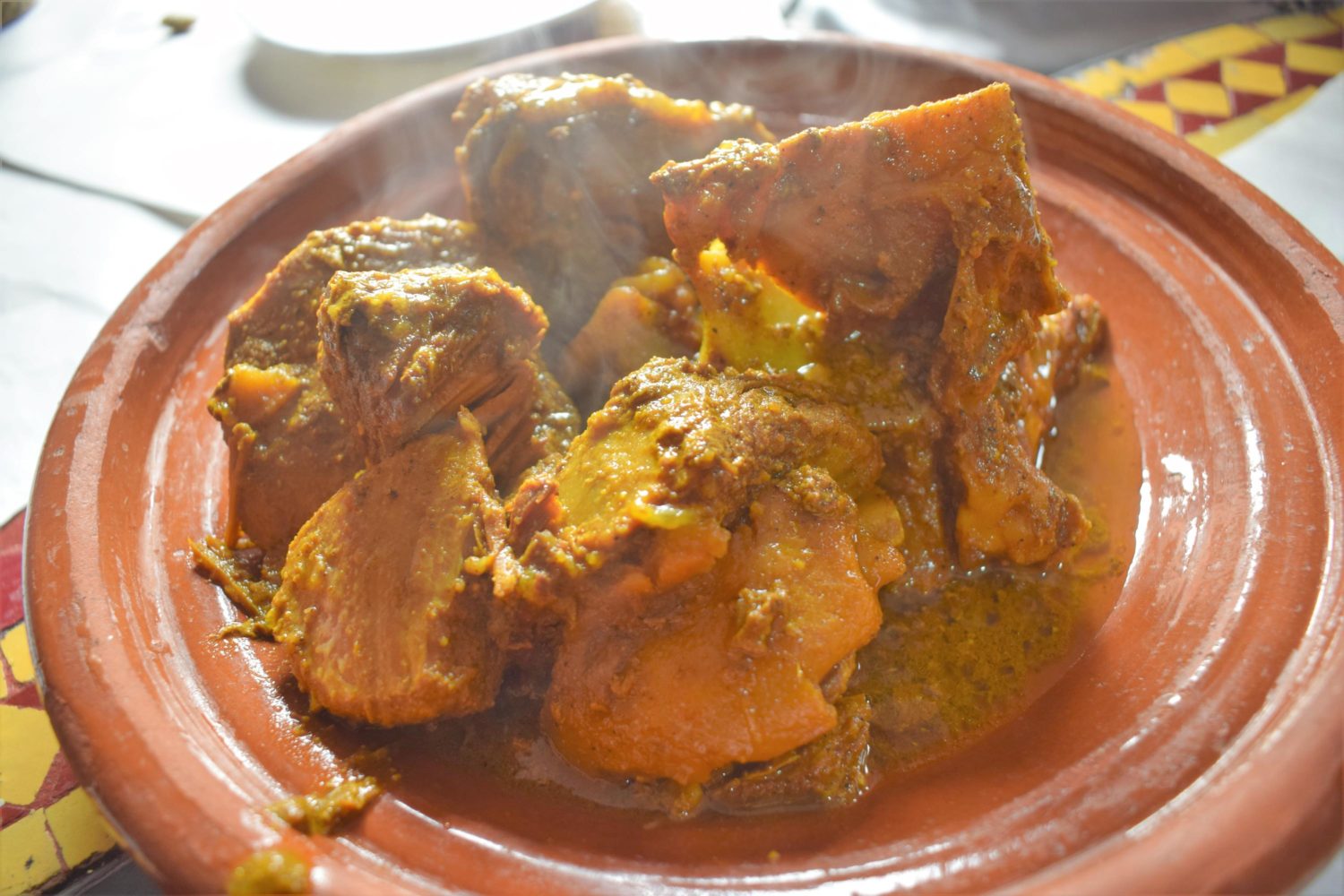 M'rouzia. Thanks to my good friend Amjad for always introducing me to traditional Moroccan dishes! Another festive food usually prepared during Eid El-Adha. The lamb shoulder is the preferred part cooked by adding a generous amount of onions, honey, almonds, raisins, ras el hanout, ginger, saffron, cinnamon, salt, and butter. It can be stored for several days.
Méchoui. Derived from the Arabic word šawa meaning grilled/roasted. Another unique dish from Marrakech is the whole lamb spit-roasted from the bottom of the ground. Also famous in Algeria, this fatty, tender juicy roasted lamb can be found a few meters away or mostly around the big square of Jemaa El-Fna. There's also plenty of stores selling fresh méchoui all over Marrakech. Don't be bother by vendors shouting since this is a normal scenario like in a bidding show.  People are queuing starting at 10h00 to buy this special dish. You can also eat at their restaurant and have the fresh serving direct from the pot or from the ground. A kilo of méchoui costs 170 Dhs. Served with bread and of course mint tea! Piece of advice: look for it early morning. It's normally sold-out fast!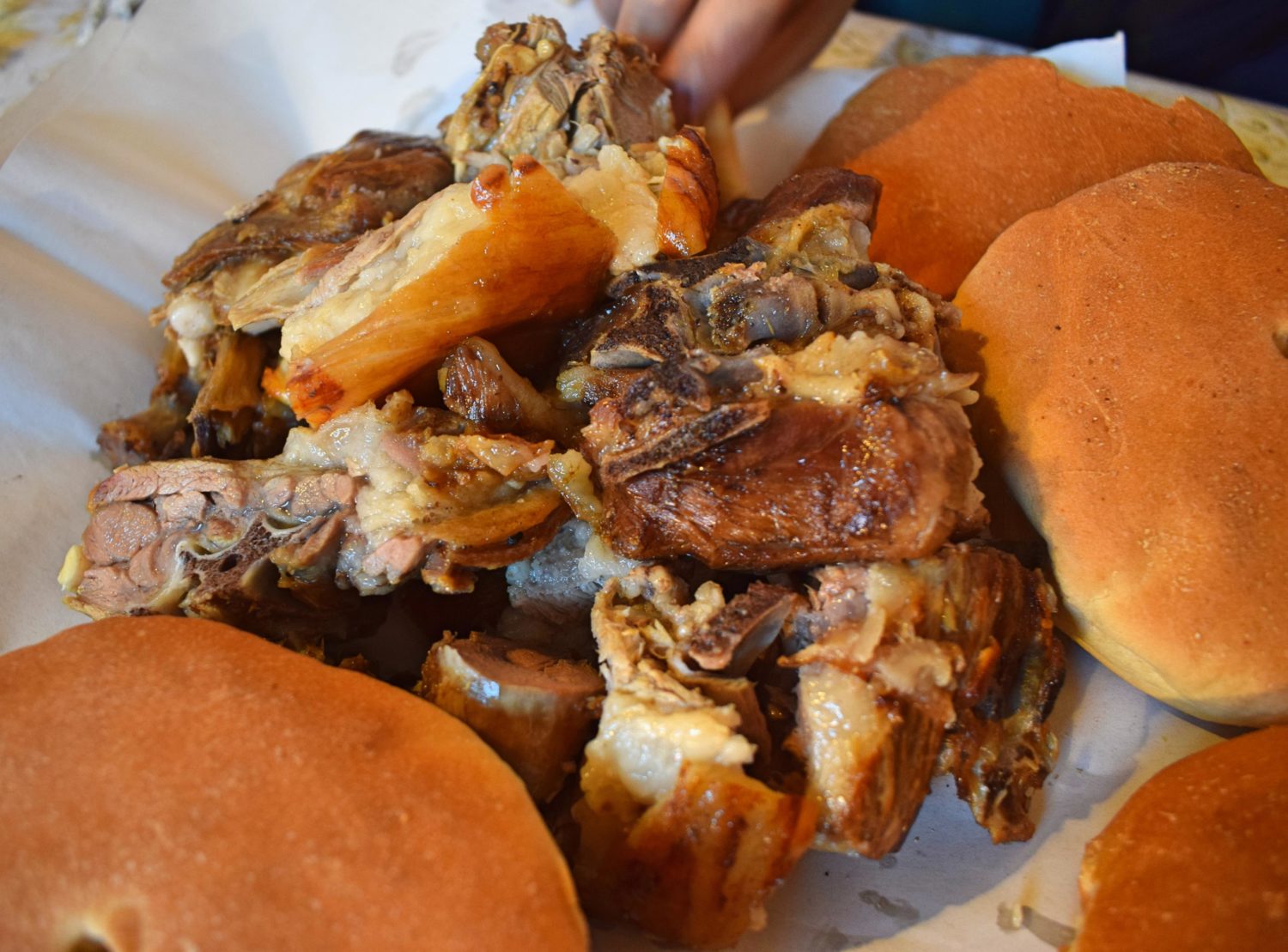 Kefta. One of the foundations of a number of Moroccan dishes. It is delicious served with fresh salad or bread. It is made either from ground beef or lamb seasoned with cayenne, coriander, paprika, onion, cumin, fresh parsley, salt, and pepper all mixed and thrown to a hot grill. They are everywhere from medinas, sidewalks, transport terminals, and restaurants.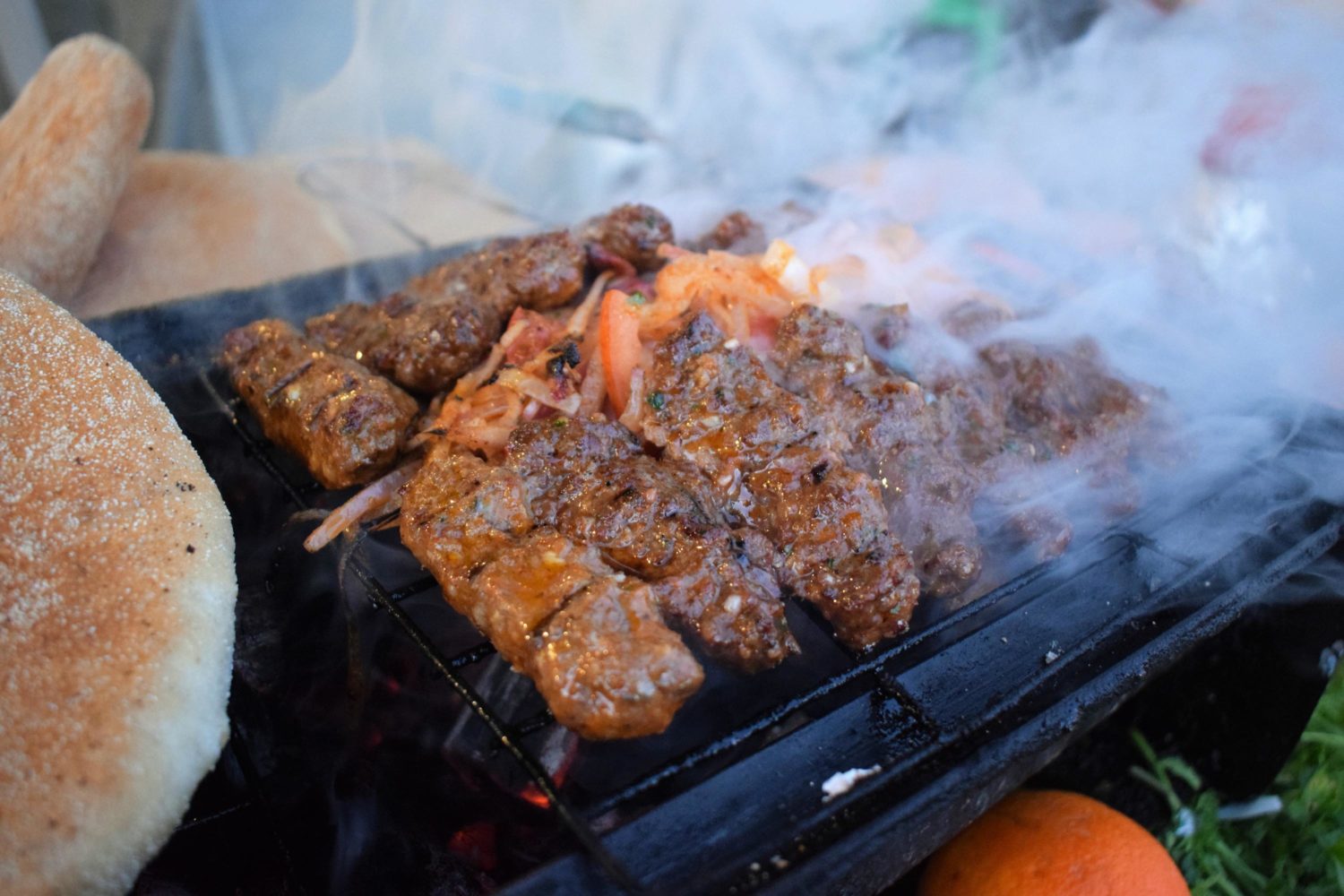 Pastilla. A traditional Moroccan dish enjoyed in Maghreb countries. It has also spread recently to Algeria and Tunisia. Pastilla is said to be "uniquely Moroccan, intricate and grand, exquisite, lavish, fabulously rich and fantastical. It comes with either chicken, fish, offal, and spices wrapped with homemade warqa dough. You can order this everywhere from restaurants or even in the medina. Prices differ from sizes. Single serving starts at 10 Dhs.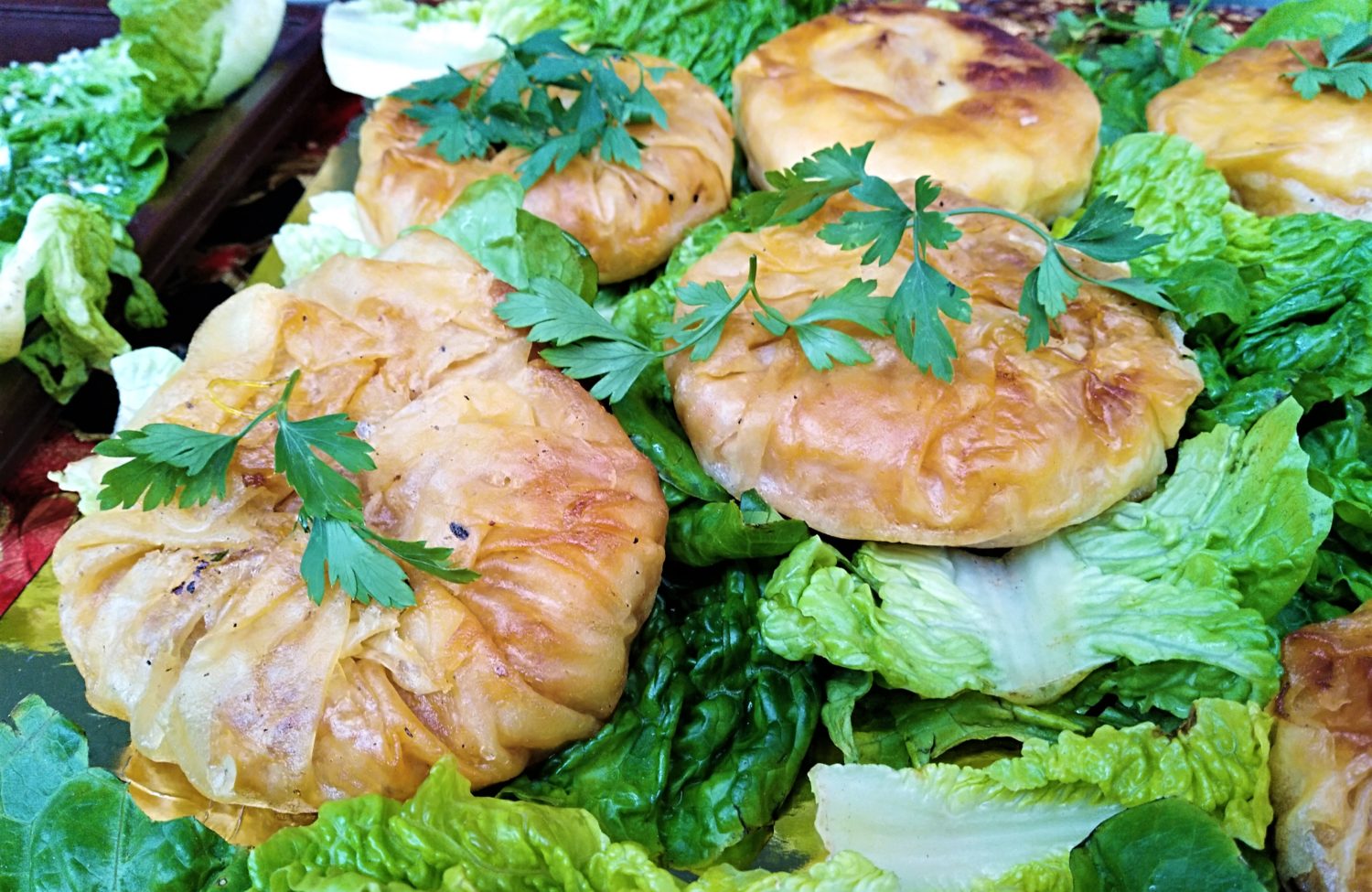 Briouat. I had tried a lot of briouat or briwat in different parts of Morocco but this one I had recently from Temara (a suburb of Rabat) really caught my attention. One day, a friend let me try her product including Moroccan cookies which we really loved.  Highly recommended! The flavors were just perfect. Worth it for 7 MAD a piece. For orders, please call Hasna at 0662 681845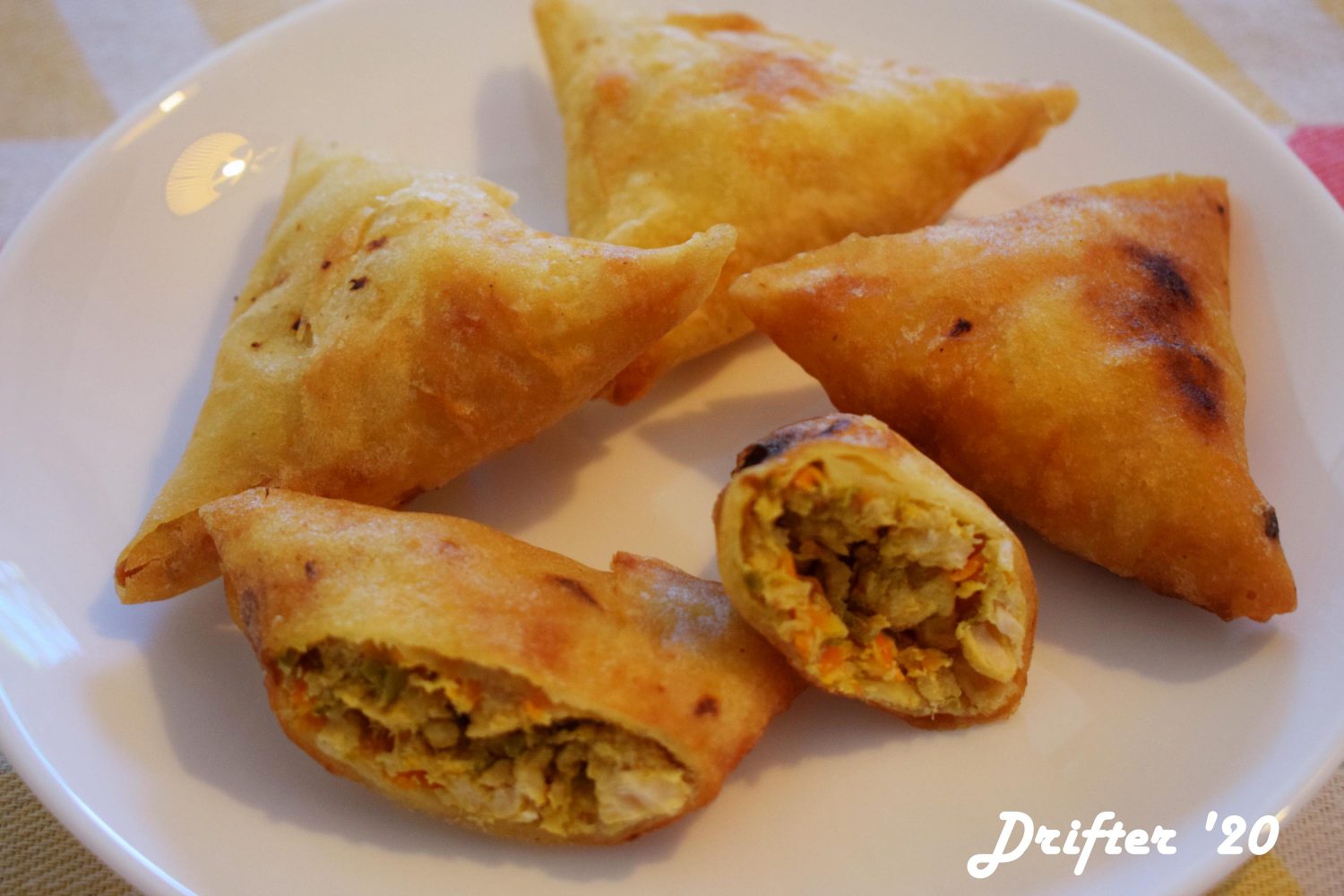 Rfissa. Another traditional Moroccan dish served in various special celebrations is this filling dish mainly made from chicken and lentil stew, meloui, onions, helba seeds, saffron, and flavored with a common spice of Ras El Hanout. It comes with different versions, some may add tomatoes and herbs.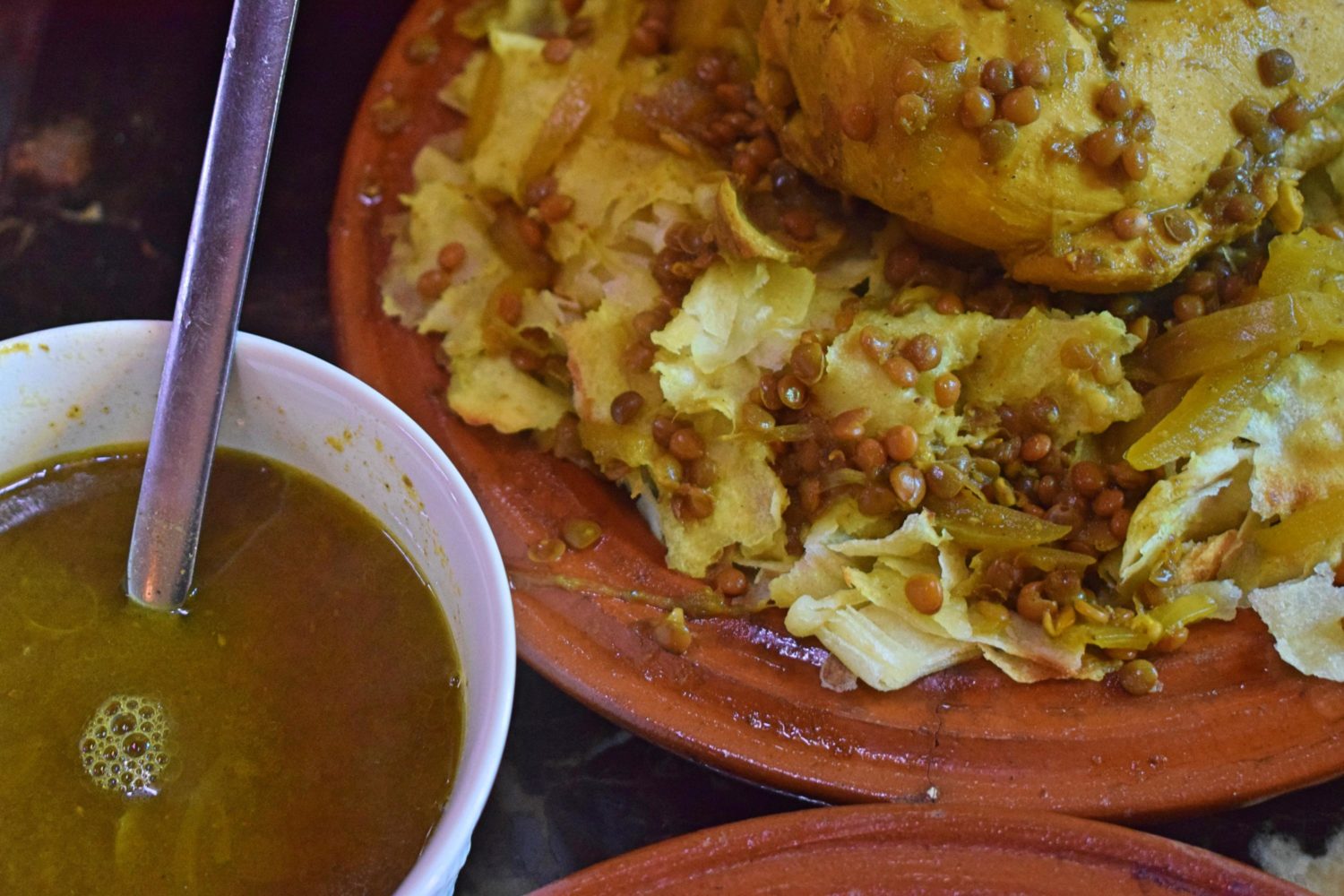 Seffa. A dish served after the entrée. This fabulous dish is one of my favorites usually made from saffron chicken hidden under a huge pile of vermicelli and garnished with raisins, cinnamon powder, and powdered sugar. It also comes with lamb or beef.
After indulging yourself with all these dishes, it is now time for dessert. I will keep on adding photos. In the meantime, let's enjoy these sweet goodies.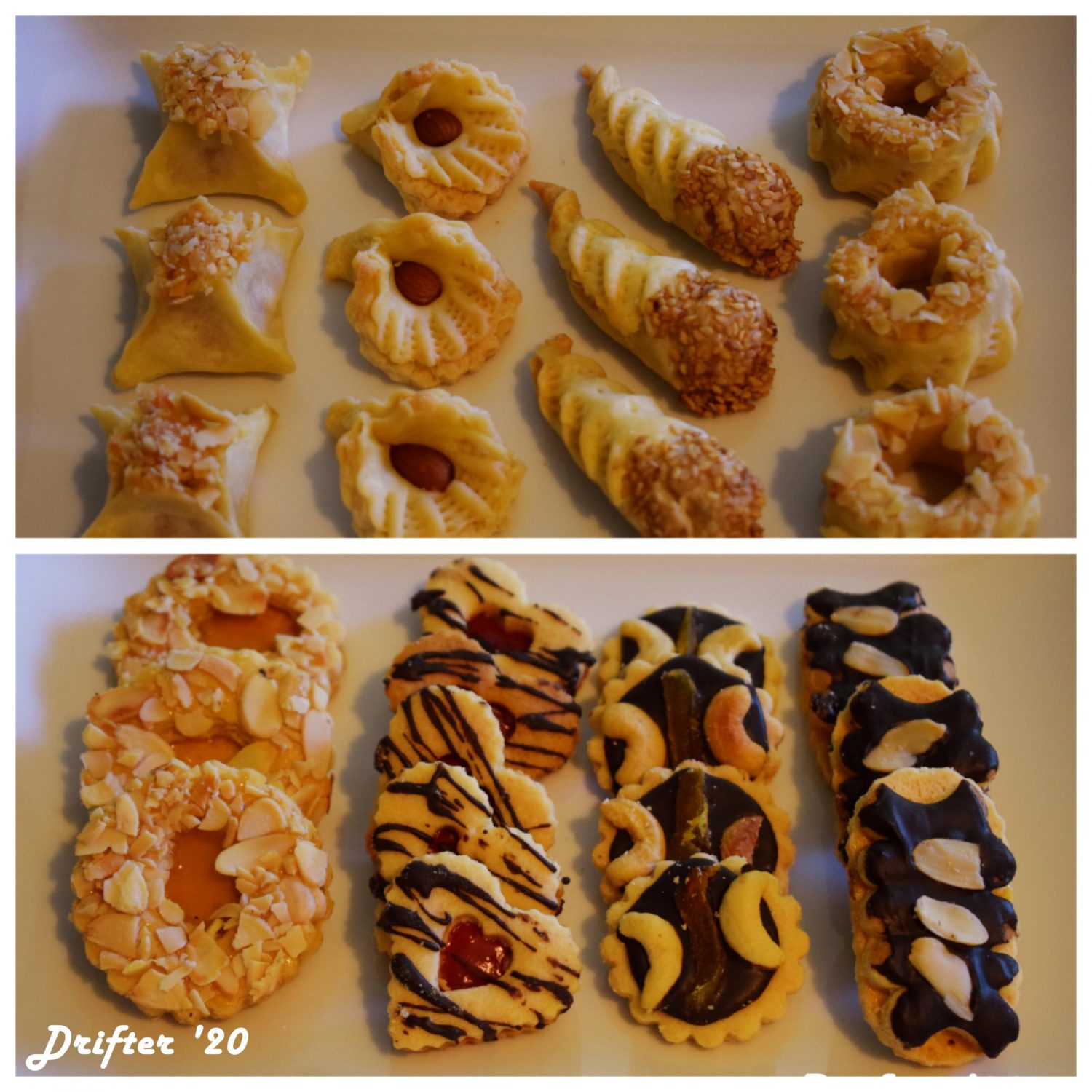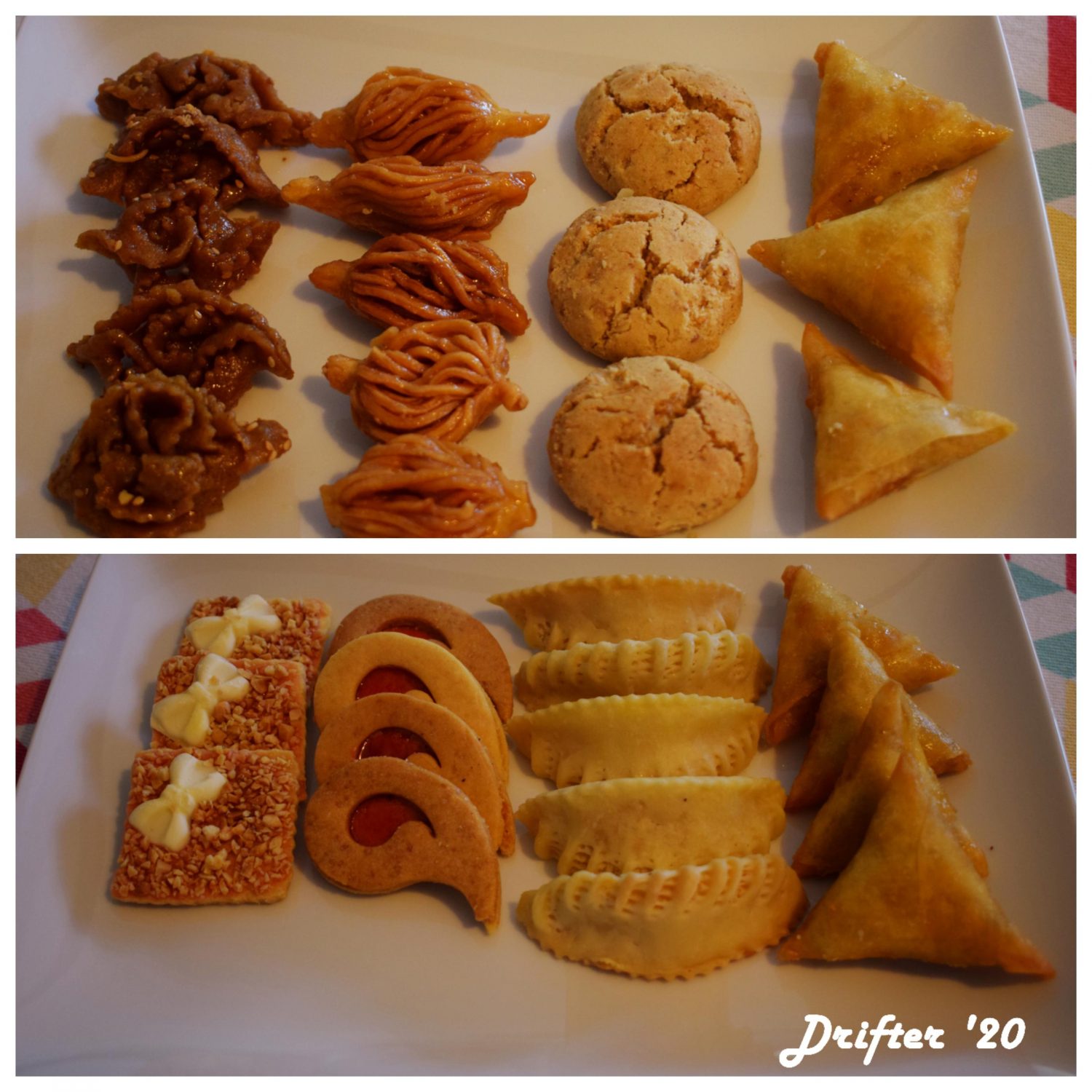 Zamita. This is traditionally prepared during Ramadhan is a sweet treat perfectly paired with attay (mint tea). Consists of flour flavored with a lot of different spices all combined and stored for future use. I was amazed by how all these ingredients perfectly blended to produce a sweet and hypnotizing aroma. It can also be prepared with cereals and roasted seeds as Moroccans would say, there's no set recipe for zamita. In the Fes-Meknes region, it is prepared while they sing traditional songs or reciting poetry. The photo below was prepared with melted butter in boiling water, slowly adding the mix and finally with honey. Some would just add sugar and boiling water.